Hundreds of residents, city leaders and stakeholders came to the St. Pete Youth Farm's Black History Month Workday event.
BY J. A. JONES, Staff Writer
ST. PETERSBURG — St. Pete Youth Farm's Black History Month Workday, held on Saturday, Feb. 27, was an inspiring community celebration. Hundreds of residents, city leaders and stakeholders came to spend time enjoying the outdoor events and prepping the farm's various work zones.
The farm itself already looked well on its way to providing lots of fresh vegetables for the community — many beds already boasted vibrant rows of leafy greens — and the day would create several new zones ready for planting.
The events started before the published time with a neighborhood cleanup, followed by a morning yoga session. The Youth Farm's hardworking Collaboration Manager Carla Bristol shared her excitement as she greeted those arriving to help set up before 8 a.m.
"What would be the chances that we have not one, but two city-sized buses on our property at St. Pete Youth Farm?" she asked, referring to NOMAD Art Bus, providing interactive art for youth, and the PSTA Black History Bus, covered with a dynamic purple-blue art mural created by Zulu Painter.
The St. Petersburg Mounted Police were there showing off two gallant and gorgeous horses, and Pop provided breakfast Goes the Waffle, along with ample fresh veggies, snacks and hydration. A highlight was the pickled banana relish product made by Youth Farm ambassadors, as the farming interns are called, with the assistance of Ruth Miner Glass.
Additionally, people could buy mango trees, enjoy drummers and cultural dance performances and children could choose from a selection of books being given away.
The event offered a powerful sense of community pride, production, intergenerational teamwork, and most importantly, an example of what St. Pete youth can do with the proper support, opportunity and mentorship, which is exactly why it was important to hear Rep. Michelle Rayner share about a new bill, HB13.
Rayner is co-sponsoring the bill in the House with Senator Darryl Rouson sponsoring it in the Senate.
She updated her constituents on that and other work she is doing as part of the House Justice and Appropriations committees during her recent "State of the District: Virtual Townhall" on March 8.
"HB13 is our urban agriculture bill," said Rayner, who said she is very excited about it and believes it will be on the agenda during this legislative session.
"This is a bill that allows programs like the St. Pete Youth Farm, the Allendale Community Garden and so many other organizations to be able to have land within an urban area to be used to grow produce for the community. But moreover, it gives local governments the discretion to be able to use vacant land for community gardens so that it doesn't become a nuisance and it doesn't become something that gets silenced within the city."
Rayner said this is vital, especially since the pandemic has caused great food insecurity. 'We know that a lot of areas within our district are food deserts. People need to eat, and people need to have access to food," she asserted.
The bill, Rayner said, will help bridge the gap to healthy food in the community, enabling Florida to support working on "creative ways to eradicate food deserts — and we already have folks within our district that are doing this work."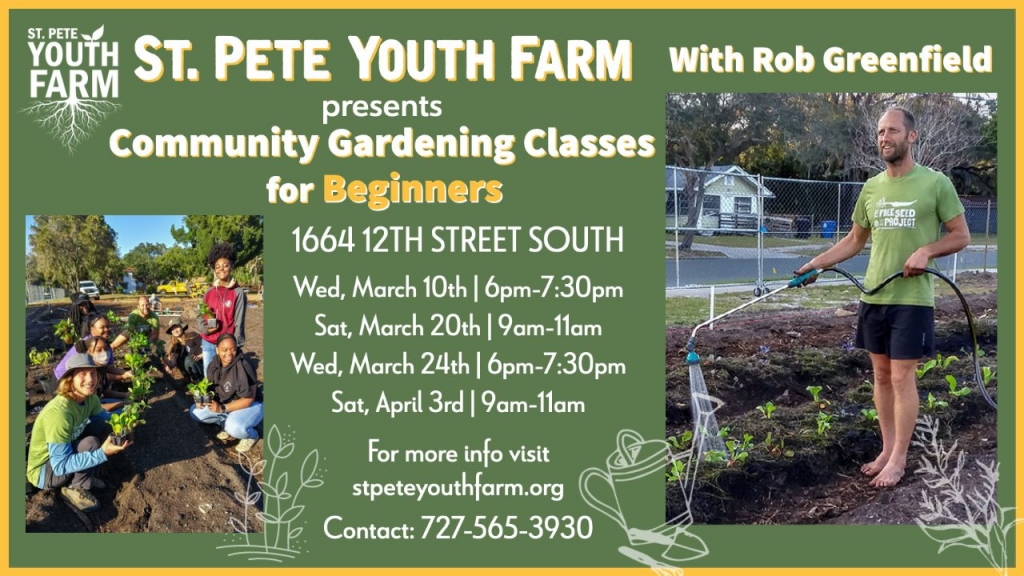 The St. Pete Youth Farm and Bristol is one example of those doing the work in the community, and for the Youth Farm, the future looks bright. The farm will soon boast a hydroponic greenhouse through a partnership with the USF St. Petersburg Campus, which recently received a $25,000 grant from the project's Ford Foundation.
The Youth Farm is also offering free community gardening classes with guest instructor Rob Greenfield, running three more sessions – Saturday, March 20 (9-11 a.m.), Wednesday, March 24 (6-7:30 p.m.) and Saturday, April 3 (9-11 a.m.). You can find more events on the Youth Farm Facebook page.
Bristol undoubtedly expressed the thoughts of all who attended and supported that day when she said, "I can't wait to all this land is growing lush with food everywhere."