Bishop Manuel L. Sykes will celebrate 29 years of service at Bethel Community Baptist Church next weekend with a full schedule of events from April 22-24.
ST. PETERSBURG — Bishop Manuel L. Sykes has been the senior pastor of Bethel Community Baptist Church for 29 years, and that's a cause for celebration! Join the anniversary celebration April 22-24 at Bethel Community, 2901 54th Ave. S.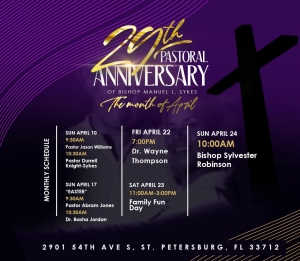 Sykes is a native of Jacksonville, where he graduated from William Rains High School in 1974 and enlisted in the United States Air Force. In 1977, he received the call to the ministry while serving his country, serving as associate pastor in various churches in New Mexico, Texas, Florida, and New Jersey. He was also a Battalion Chaplain for the Army National Guard's 50th Armored Division.
Following his discharge, Sykes enrolled and graduated from Luther Rice Seminary with a Bachelor of Arts Degree in 1983. He completed his master's degree and doctorate from Drew University in Madison, N.J., focusing on region and society.
Bishop Sykes has been a prominent leader in the St. Petersburg community since his call to serve at Bethel Community Baptist Church in February of 1993. While living in St. Pete, he has served as a chaplain at the VA Medical Center, St. Anthony's, and Bayfront Hospitals.
"Therefore, I am called by God to build a spiritual house. I must use the word of God for the design, the people of God for the materials, the gifts that the Holy Spirit give them to complete each phase of the project. Then it will be presented to God for His approval and acceptance," said Sykes.
The anniversary celebration weekend will include Rev. Dr. Wayne G. Thompson, First Baptist Institutional Church, on Friday, April 22 at 7 p.m. and Bishop Sylvester Robinson, Peace Progressive Missionary Baptist Church, on Sunday, April 24 at 10 a.m.