Bob Devin Jones and Ya Levy-La'ford
By J.A. Jones, Staff Writer
ST. PETERSBURG – The Studio@620 presented its 2018 Honors Awards in Dec. at Openhouse, an airy gathering space at 1113 Central Ave.
The evening saw an array of long-time supporters also gathered to remember and pay tribute to Studio@620's David Ellis, who led the organization alongside artistic director Bob Devin Jones.
Last year's Studio honors went to visual artist Ya Levy-La'ford and architect Tim Clemmons. The Ola Mae Jones Emerging Artist Award was presented to choreographer and dancer Alex Jones.
Of the honors awards, Bob Devin Jones acknowledged, "It gives us the opportunity to say, 'thank you' to this wonderful community, and this is our latest way of saying 'thank you' to Tim Clemmons and Ya La'ford."
La'ford, a Bronx-born artist who splits her time between St. Pete, Kingston, Jamaica and New York City, is well-known for her mystical and evocative geometric and hieroglyphically-inspired works.
Her work has shown throughout the U.S., in Europe, Africa, Asia and South America. Widely-awarded, she has been a Tampa Bay Best of the Bay Artist and a Kennedy Center Citizen Artist Fellow.
Bob Devin Jones' emotion was evident as he presented the award to La'ford, saying, "One of the most wonderful things about any artist is that they give us more to see, and Ya has given us so much to see," noting her strength and commitment to her work.
La'ford returned the sentiment graciously, sharing, "Bob was one of the first people that I met when I came to St. Pete with my husband and it [his welcome] was a warm 'yes.' He sowed seeds of compassion and love that inspired me to grow."
Clemmons is a St. Pete resident, an architect and an urbanist. The executive director of PLACE, he is best known for his residential projects. He also designed the Morean Arts Center, Morean Center for Clay and has handled historic preservation work of Snell Arcade and Armature Works in Tampa.
Alex Jones is currently the Dance Artist in Residence at The Studio@620. He has performed in Tunisia, Africa, with the University of South Florida, and is currently a dancer at Walt Disney World. He is on the faculty at the University of Tampa and is a graduate of the University of South Florida's Dance Department.
The Studio@620 founder G. David Ellis passed on March 11, 2018. A student of industrial design, he worked for many years with the Smithsonian Institution. He was one of the founders of Great Explorations, The Hands On! Museum, and along with his wife Astrid, who was on hand that night to accept the honor on his behalf, was a volunteer at Community Tampa Bay's Anytown community leadership program for youth and young adults.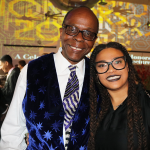 Ellis launched The Studio@620 in 2004 alongside Bob Devin Jones with a mission of bringing people from diverse cultural backgrounds together to experience artistic and educational programs in a variety of art forms.
To learn more about The Studio@620's 2019 Season, visit it online, http://www.thestudioat620.org.
To reach J.A. Jones, email jjones@theweeklychallenger.com