Rev. Frederick Douglass Haynes, III, senior pastor of Friendship-West Baptist Church in Dallas, had the crowd on their feet Monday at the 33rd annual MLK Leadership Awards Breakfast
BY RAVEN JOY SHONEL, Staff Writer
ST. PETERSBURG – The St. Petersburg Metropolitan Section of the National Council of Negro Women (NCNW) held their 33rd annual Dr. Martin Luther King, Jr. Leadership Awards Breakfast Monday, Jan 21 at the historic Coliseum.
"On this day, we come together to remember the life, the legacy and the service of the Rev. Dr. Martin Luther King, Jr," said Mayor Rick Kriseman as he welcomed the crowd. "We do so in the spirit of community and togetherness."
He went on to reflect on Dr. King's words in a 1967 speech when he said, "A time comes when silence is betrayal."
"Friends, we cannot both honor the legacy of Dr. King and sit in silence. Those two things cannot exist together. We know our nation is at a crossroads and when all is not well with the state of our union, all cannot be well in the city we love and call home."
Citing another one of Dr. King's 1967 speeches entitled "The Other America" where he talked about those lifted up by economic opportunity and prosperity, and those who have been economically and racially oppressed, Kriseman said he sees the parallels between America of the late 1960s and America today.
"There are still too many Americans seeking opportunity and finding none," he said, adding that this division of opportunity and hope is at the heart of our political division in this country.
Kriseman said this is why he is a believer in service to the community. He encouraged everyone to engage in some type of service every day throughout the year.
"I want you to serve. Serve in the name of Dr. King; served in the name of your city of opportunity, serve in the name of kindness, compassion and empathy."
Deputy Mayor Dr. Kanika Tomalin played the role of mistress of ceremony. She was ecstatic to introduce Dr. A. Lois Keith, the national vice president and national co-chair of membership for the NCNW.
"This Martin Luther King, Jr. Leadership Awards Breakfast is probably, I would be safe to say, the largest in the country at this time of day," she said, adding that she could not wait to get back to Washington, D. C. and tell the national office what St. Pete is doing.
"As we continue to remember and celebrate Dr. Martin Luther King for his commitment to equality to justice to humanity and to social change, we are reminded that the struggle for genuine equality is both incomplete and urgent."
She urged the Metropolitan Section to keep up the work they are doing, and she challenged them to continue to be that "beacon of light to women and children by leaving no one behind."
Keynote speaker Rev. Frederick Douglass Haynes, III, senior pastor of Friendship-West Baptist Church in Dallas is a prophetic pastor, passionate leader and social activist. His response to Rabbi Abraham Joshua Heschel's 1968 remarks about America's future depending on how the country responds to Dr. King was one word: chaos.   
He said it is quite evident that America has responded and produced this present chaotic political climate characterize by deep division not just economically but also racially.
"It has left us in the chaotic shadows in embolden racism, predatory patriarchy, unvarnished greed, military madness and ugly xenophobia."
He went on to say that there is something almost hypocritically about celebrating the legacy of Dr. King who dreamt of a better America and yet every day we live with his nightmare.
"The nightmare did not end in the 60s. There is a nightmare that lingers, and it lingers in the present chaos that we find ourselves in, so before you rush to "I have a dream," make sure that we are aware of the nightmare of chaos we find ourselves in this present time," he preached.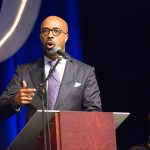 Rev. Haynes, III said chaos is manifested not only in the wealth gap and the racial divide, "the chaos is revealed in what we see going on in this country right now," he said, asking everyone to pray for our federal workers who are being held hostage to a "political temper tantrum."
"It's not fair, and it's unjust and a reflection of the chaos we are in. We must follow Dr. King out of this present chaos toward community," he averred.
The morning continued with the awards presentation to community leaders who have made an extraordinary personal commitment to serve humanity. Also, this year, a $65K endowment from the Ralph W. Young Family Foundation made it possible to give out 13 Educational Incentive Awards to deserving students.
Dr. Martin Luther King, Jr. Leadership Award
Senator Darryl Rouson
Dr. Martin Luther King, Jr. Humanitarian Award
Rev. Clarence Williams, Greater Mt. Zion AME
Dr. Martin Luther King, Jr. Educational Incentive Award
Lamaya Benslimane
Leah Dudley
Lauryn Latimer
Sierra Lowery
Anissa Mathis-Taylor
Sa'Coya McKenzie
Akaecia Poole
Kaila Priester
Miles Richardson
Shenyah Ruth
Daniel Sanders
Jalen White
Aniyah Willis
Brittany Bria Gordon Excellence in Achievement Award
Daniel Sanders