The St. Petersburg Metropolitan Section of the National Council of Negro Women held its 37th annual Dr. Martin Luther King, Jr. Leadership Awards Breakfast on Monday, Jan. 16, at the historic Coliseum.
BY FRANK DROUZAS, Staff Writer
ST. PETERSBURG — The St. Petersburg Metropolitan Section of the National Council of Negro Women (SPMS-NCNW) held its 37th annual Dr. Martin Luther King, Jr. Leadership Awards Breakfast on Monday, Jan. 16, at the historic Coliseum. Last Monday's breakfast was the first in-person event since 2019 due to COVID-19.
Pinellas County Commissioner Rene Flowers filled in the gap when the scheduled master of the ceremony could not attend.
Mayor Ken Welch welcomed the almost 1,000 people, saying that as we celebrate King's legacy in St. Pete, we must remember the symbolism of the dream and, more importantly, the substance of what the dream is about.
"Dr. King understood that lies, misinformation, and hate can only be overcome by truth, facts, and love," he said. "That is the substance of the dream … and like the late Congressman John Lewis, Dr. King knew that speaking the truth and being unwavering in the fight for equality and challenging the status quo often meant creating trouble — good trouble, necessary trouble."
King believed that civil rights and economic justice were equal components of the dream, Welch pointed out. That's why he was in Memphis in the spring of 1968, fighting for fair wages and benefits for the sanitation workers — it was the same year that St. Pete sanitation workers were fighting the same battle.
"Economic inclusion is the substance of the dream," the mayor said, adding that his administration will continue to have an unwavering focus on substantive and impactive efforts that include housing, economic developments and the redevelopment of the historic Gas Plant area.
This year's keynote speaker was Rev. Dr. Walter T. Richardson, author, retired pastor and chaplain of the Miami-Dade police department. An advocate for social justice, he has been a leading voice for social change throughout Florida.
He became Sweet Home Missionary Baptist Church pastor in Perrine, Fla., in 1983 and retired in 2010. Richardson also served as an adjunct professor of religion at St. Thomas University, where he taught world religions from 1989 to 2015.
"To have a national holiday named after a Black person was beyond our imagination when I went to school in the early '50s," he said.
Richardson noted that in one of his speeches, King encouraged people to take advantage of their time by siding with the poor and disenfranchised and adopting "dangerous unselfishness" as their M.O.
"Like King, I was born the son of a preacher," he said. "My North Carolina-born parents raised me in the church, just like King."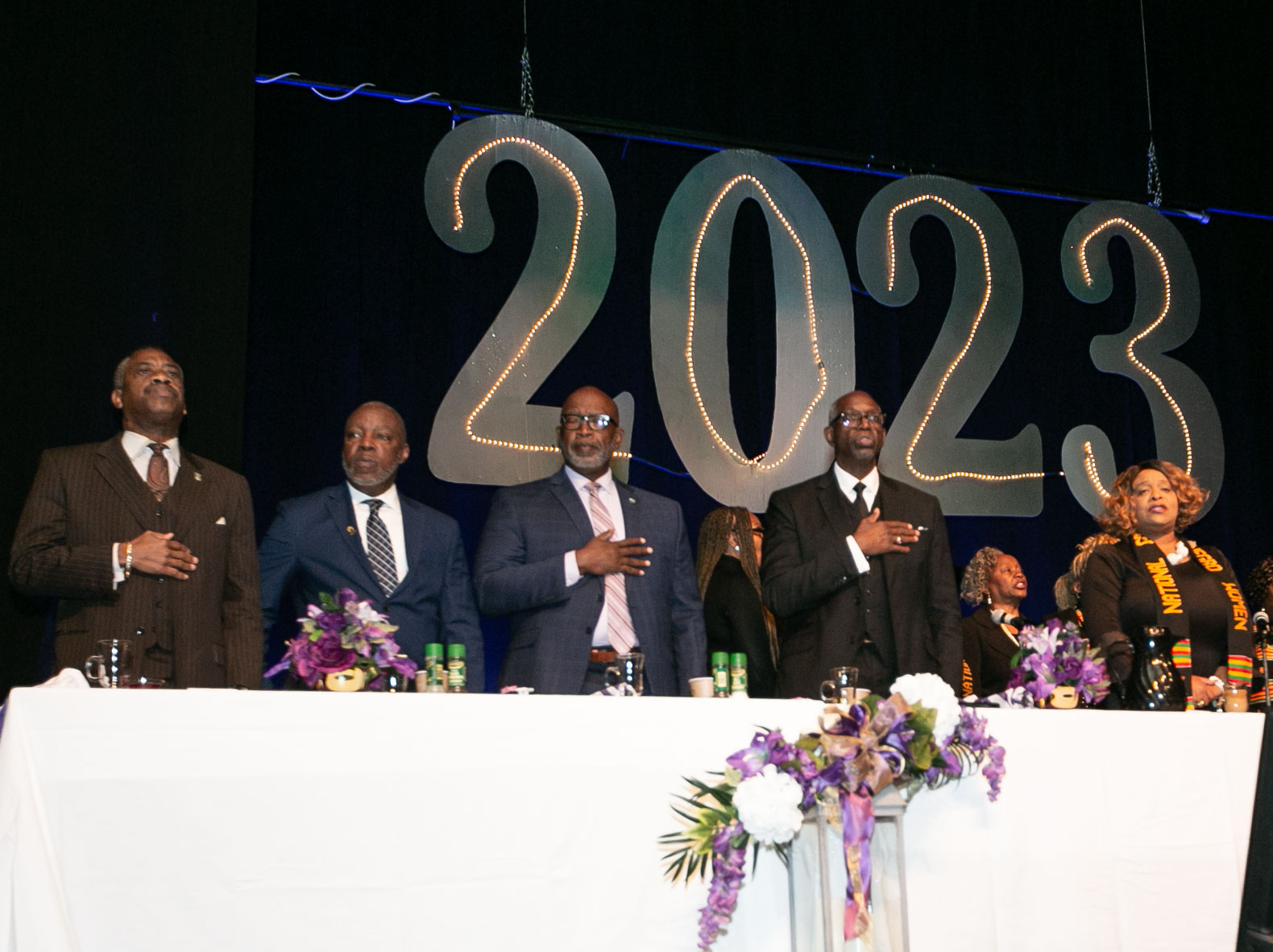 Richardson, a fifth-generation preacher, noted a list of similarities between King and himself, such as being an unusually bright young student, memorizing entire chapters of the Bible and knowing all the verses in his church's hymnal.
In 1962, Richardson's father purchased a membership in the NAACP for young Walter and his younger brother, and the following year took Richardson to the now-famous March on Washington for Jobs and Freedom, where King delivered his "I Have a Dream" speech.
"I was there!" he said. "I got a chance to see Mahalia Jackson sing!"
King influenced his life, Richardson explained, and it is time now to impact, improve, impress, and impose "our values and input our wisdom on the next generation — even in this age of contradictions, where abnormal is normal and normal is abnormal!"
We live in a time where lies are accepted as truth, people no longer speak to each other or pray over their food anymore, Richardson pointed out, noting the lack of human touch with how the people — namely young people — connect these days.
"No personal one-on-one communication, just pictures, and emails and Instagram and TikTok and earphones!" he said. "No eye contact! Disconnection! That's wrong, and it's abnormal!"
When "politics are scandalized, and one-parent families are normalized," when "no faith is rationalized, and decency is demonized," then it is "time for us to bring about a change," Richardson boomed in his preacher's cadence.
"King was born at the right time," he said. "King made changes because he was at the right place, at the right time … a deconstructionist, not always politically correct but always consistently socially sensitive, always on the cutting edge."
Richardson urged everyone to be "a raging workaholic working for the cause of freedom."
"We've got to do it now," he said. "We can't wait. We can't wait because jail is still overcrowded with Black and Brown men. We can't wait because the skies are still overcast with the darkness of unemployment … bills are overdue, communities are overflowing with poverty."
He pointed out that 90 percent of Black pastors do not have a seminary education. Dr. King was a part of the educated clergy, he said, adding, "we need more; we can't wait."
Ethel Peeples Robinson, SPMS-NCNW president, said, "we have a goal in our hearts, we have a goal in our mind, and that goal is promoting and educating our children. That is the foundation of our breakfast today.
"Today is another way the NCNW chooses to recognize Dr. Martin Luther King, a man who was instrumental in fighting for the Civil Rights Act and the Voting Rights Act," she said, adding that he was awarded the Nobel Peace Prize in 1964.
Robinson said that the NCNW will continue to keep King's legacy and dream alive by "standing on his dream and principles of giving back to others."
Tempress "Tee" Solomon, president of NCNW Florida State Coalition, called Dr. King a "drum major for justice."
"His journey in life was to fight for justice, equality, and unity for this nation," she said. "And he fought a good fight, worthy of us being in this Coliseum at this time and on this day because we know years ago, we could've been nowhere near this place."
The morning continued with the awards presentation to community leaders who have made an extraordinary personal commitment to serve humanity. Lynn Harrell-Johnson received the Humanitarian Award and Rev. Kenny Irby received the Leadership Award. Both awardees are celebrated as leaders in the community and embrace the ideals of Dr. King to promote the improvement of humanity.
This year's Brittany Bria Gordon Excellence in Achievement Award was given to Janiah Autumn Dennard from Gibbs High School. She has plans to attend Clark University.
Also, a record number of 27 scholarships to deserving local graduating high school students:
| | | |
| --- | --- | --- |
| Name | High School | Scholarship |
| Onaopemipo Adebowale | Boca Ciega High School | Ralph Young Scholarship |
| Ayanni Davis | Boca Ciega High School | Ralph Young Scholarship |
| McKinley Davis | Boca Ciega High School | Ralph Young Scholarship |
| Mykenzi Davis-Cowart | Boca Ciega High School | Ralph Young Scholarship |
| Gregory Franklin | Boca Ciega High School | Ralph Young Scholarship |
| Stevye Franklin | Boca Ciega High School | Ralph Young Scholarship |
| Amari Grayson | Boca Ciega High School | Ralph Young Scholarship |
| Alan Heron | Boca Ciega High School | Ralph Young Scholarship |
| De'Linda Johnson | Lakewood High School | Ralph Young Scholarship |
| Malachi McCloud | Boca Ciega High School | Ralph Young Scholarship |
| Amira Metcalf | Boca Ciega High School | Ralph Young Scholarship |
| Ameriah Miller | Boca Ciega High School | Ralph Young Scholarship |
| Alicia Mitchell | Boca Ciega High School | Ralph Young Scholarship |
| Zharia Montgomery | Boca Ciega High School | Ralph Young Scholarship |
| Ryan Morrow | Boca Ciega High School | Ralph Young Scholarship |
| DeMarria Raiford | Lakewood High School | Ralph Young Scholarship |
| Daja Simmons | Boca Ciega High School | Ralph Young Scholarship |
| Nekayla Simmons | Boca Ciega High School | Ralph Young Scholarship |
| Shamaria Taylor | Boca Ciega High School | Ralph Young Scholarship |
| Tiffany Thompson | Boca Ciega High School | Ralph Young Scholarship |
| Miya Turner | Boca Ciega High School | Ralph Young Scholarship |
| Allen Myka | Hollins High School | Guilford-Robinson Scholarship |
| Collin Brown | St. Petersburg High School | Guilford-Robinson Scholarship |
| Ny'Jai Bruce | Boca Ciega High School | Guilford-Robinson Scholarship |
| Skyy Dorsey | Boca Ciega High School | Guilford-Robinson Scholarship |
| Cierra Hubbard | Boca Ciega High School | Guilford-Robinson Scholarship |
| Trinity Smith | Boca Ciega High School | Guilford-Robinson Scholarship |
Photo Gallery