PETERSBURG – The Gibbs Class of 1968, Inc. held their 50th Holiday Extravaganza Saturday, Dec. 22 at the historic Coliseum in downtown St. Pete.  More than a 1,000 people celebrated the holidays with family and old friends.
The year was 1968, Dr. Martin Luther King, Jr. and Senator Robert Kennedy were both assassinated, setting off a string of riots and protest, but for the few graduates that met at Sylvia Wells Moore's parent's home that Dec., it was nothing but good times.
Even though their tassels had just been switched from the right side to left a few months earlier, Moore thought it would be fun during the holidays for those who went away to college or to the armed services to get together with friends who stayed home.
As the crowds got larger, the celebration was moved from Moore's parent's home to different venues around the city, eventually landing at the National Guard Armory on 38th Avenue South.
Since 1993, the Class of 1968 has been dancing the night away at the Coliseum with generations of partygoers lining the dance floor. From children to parents to grandparents, everyone was dressed to the nines and showing off and out.
All are welcomed to the city's largest class reunion, and with it only costing $25 a head, you can't afford not to go!
With the proceeds from ticket sales, the Class of 1968, Inc. turns around and gives the money right back to the community. They donate to worthy causes and organizations such as the Sickle Cell Disease Association, and when a classmate is sick or passes away, they make sure their families are not forgotten.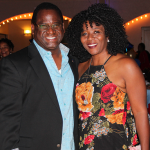 However, the bulk of the proceeds go to their annual scholarship awards program held at the Enoch Davis Center. Any deserving senior who has maintained a 2.5 grade point average or higher and has an accredited letter of acceptance to a four-year college or technical school is eligible.
A half a century has passed since a few friends gathered to catch up on old times. Now, classmates come from all over the country every year to attend the largest class reunion the city has ever seen.