By Keisha Bell
So, what do you want to be when you grow up?
This is a well-intentioned question, one that is commonly asked to children. It is a question which changes to, "What do you want to do," when tossed in the minds of dreamers and goal-chasers. Over the years, it is a question that grows silent to many but not to all.
Meet Ava Marie DuVernay, an award-winning film director, screenwriter, producer, film marketer, and film distributor. At the 2012 Sundance Film Festival, DuVernay became the first black woman to win the directing award in the U.S. dramatic competition. In 2014, she became the first black female director to be both nominated for a Golden Globe Award and to have her film nominated for the Academy Award for Best Picture.
In 2017, DuVernay became the first black woman to be nominated as a director by the Academy in a feature category for the film "13th". That same year, "13th" won a Peabody Award. In 2018, it also won a Columbia Journalism School duPont Award.
In 2018, DuVernay became the first black woman to direct a live-action film with a production and marketing budget between $150 million and $250 million. DuVernay was born on August 24, 1972, in Long Beach, Calif. She is a graduate of UCLA.
Initially, DuVernay's goal was to do traditional journalism. She had obtained an internship with CBS News and was assigned to help cover a high-profile murder trial. It was then that she became disillusioned and dared to try something different.
Answering the question of "what do you want to do," DuVernay decided to utilize her talents in the public relations field. She began working as a junior publicist at 20th Century Fox, Savory Pictures, as well as, a few other PR agencies. Then, in 1999 DuVernay opened her own public relations firm which she named The DuVernay Agency.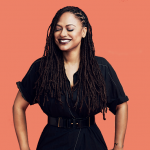 Owning her own PR firm would not have been the answer DuVernay would have given as a child to the age-old question designed to dare her to set goals and dream. Life experience gave her exposure. Self-awareness informed her that traditional professional categories were stifling her creative potential. Courage dared her take a chance on herself.
DuVernay works her dream and in due season she reaps its rewards. For example, her second narrative film, "Middle of Nowhere," had its world premiere at the 2012 Sundance Film Festival. There, DuVernay made history when it won the U.S. Directing Award. For the film, she also won the 2012 Independent Spirit John Cassavetes Award. Note, "Middle of Nowhere" bore out of a script that DuVernay could not get financed in 2003.
Many are quick to toss ambition aside because the road to its acquisition is bumpy. DuVernay has a lengthy list of accomplishments as she proactively works to open doors for others to enter. Through disillusion, she continues to create her answer the age-old question. She dares and she does.
Keisha Bell is an attorney, author, and public servant. www.emergingfree.com