By J.A. Jones, Staff Writer
ST. PETERSBURG — The City of St. Petersburg revealed the second part of its

conceptual redevelopment plan of Tropicana Field

during "The Tropicana Master Plan – Scenario 2" community meeting, held  Monday, Aug. 6 at the University of South Florida, St. Petersburg.
The city's press release for the evening called the Tropicana Redevelopment planning "…a once in a generation chance to create new opportunities for growth, economic development, and an enhanced community."
Undoubtedly the city was referring to, among other things, bad blood left behind among south St. Pete's African-American community members, many of whom experienced a sense of betrayal, loss and downright theft after their community was demolished when the Gas Plant neighborhood was torn down to make way for the stadium.
The decimation of the community was followed by more insult to injury when the many plans for neighborhood improvement, jobs and resources never came to pass.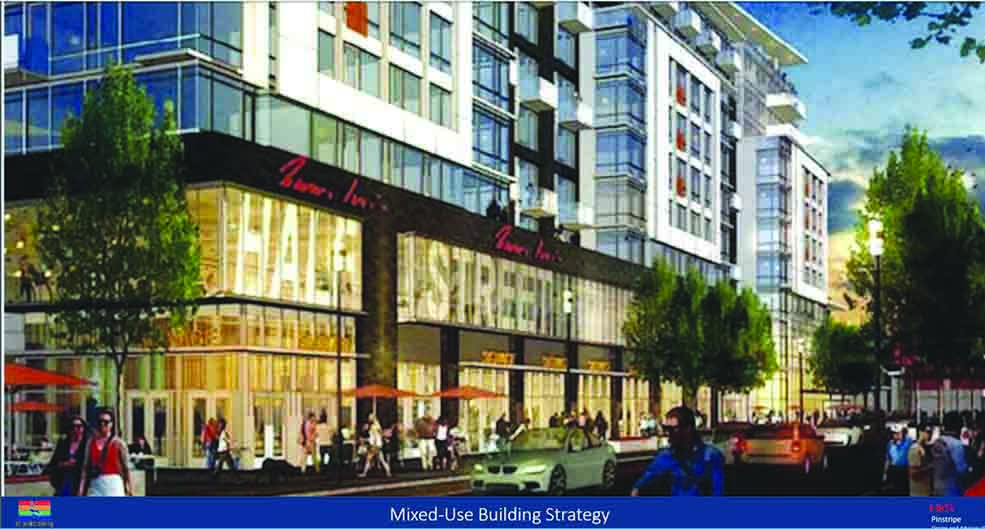 At Monday's meeting, the packed house was shown renderings and maps that envisioned what the 85-acre Tropicana Field might look like if the Rays team indeed departs from the stadium. (Scenario 1 was unveiled in 2017 after similar community meetings were held, to offer a vision of the redevelopment plan if the Rays planned to remain in St. Pete.)
In 2016, HKS Architects, Inc., a Dallas and New York City-based firm won the bid (out of a field of seven) to handle the redevelopment. HKS team members were on hand to guide the meeting and PowerPoint display.
After the presentation by HKS, those in attendance were asked to take part in breakout sessions where they could share their input with city staff and HKS team members in an abbreviated question and answer period.
Breakout stations were labeled by the five identified topics for input: 1) History & Equity, 2) Job Creation, 3) Affordability, 4) Arts & Culture, and 5) Transit, Transportation & Mobility. They were also encouraged to fill out the public comment cards distributed upon arrival.
Attendees were then asked to return to their seats for a follow-up session, where those remaining were able to listen to some of the gathered questions and get responses from the city staff and HKS team members.
The Master Plan maps displayed attentiveness to inclusion and a commitment to servicing south St. Pete, Midtown and its northern neighbors. The development suggestions included renderings of improved transportation (bus) hubs, areas designated for a job training/education/entrepreneurial incubator, mixed-used buildings, oodles of retail space, an attractive promenade and a redeveloped 16th Street.
Most surprising was a stab at moving I-75 to repair the breach it created in the region and replacing it with walkable streets and green space that would connect Campbell Park and the south side to the Tropicana area more organically – an idea that community members in attendance responded to with great approval.
However, the massive size and expense of the proposed redevelopment was not lost on anyone in the room. One couldn't help but wonder — after hearing that the Rays leaving the city would mean the loss of 1,000,000 visitors annually — where in the world would the dollars come from to foot the bill for the proposed plans.
Lifelong St. Petersburg resident Mary L. Johnson said that while she was impressed with the development plan, she hoped it would truly end up being all-inclusive because previous plans had no advantage for the African-American residents who originally resided in the area.
"All of that land that Tropicana Field now has was once in the black community – and we, again, got eliminated with nowhere to go, nowhere to express our culture. There was no sense of happiness in this whole deal for any of us," stated Johnson.
Councilmember Gina Driscoll was excited that much of the planning still awaited ideas shared by residents.
"That's why we did this tonight so that people could give some input and really help shape what this is going to be for everyone."
Driscoll said she liked that the plan included "a connection to every neighborhood that surrounds it. That's important to me, and I think it's important to the community…that everybody can go there and say, 'this place is for people like me.'"
But community leader Jabaar Edmond was skeptical, calling it a "check the box" meeting that wasn't designed for real community input.
"I don't think the questions were effective or remotely important; the survey was redundant and I don't see how they can effectively use the data they received from a limited group of people because over 80 percent of the participants had left," said Edmond, regarding the quick dispersal of many people after the breakouts. "Besides plastering the Gas Plant name on it, it felt contrived and deceptive. Nothing mirrored the black community to me."
Maureen Camphire, a former educator and current member of FAST (Faith and Action in Service Together) currently volunteers at Daystar Life Center where she said a large number of those seeking help could not afford to pay rent.
"A great deal of our clients are paying more than 50 percent of their income in rent, and it's just unaffordable. My concern and question to this group is how much of the housing will be allocated to affordable housing? CNAs, waiters, hotel staff – they need to have housing in place for our workforce."
"I think this is an opportunity to really change downtown in many ways, make it more walkable and pedestrian-oriented, spread out the center of downtown and give us more of an inner-core for the city," commented filmmaker and resident Kristy Anderson.
For more information on future public meetings, visit

www.stpete.org

.
To reach J.A. Jones, email jjones@theweeklychallenger.com.