Andrew Walker has fond memories of growing up in the historic Gas Plant neighborhood.
By Frank Drouzas
ST. PETERSBURG — Hundreds of Black families, businesses, churches, and community spaces were displaced or destroyed by the construction of Tropicana Field. Former residents of the Gas Plant and Laurel Park neighborhoods and their descendants share memories of a safe, supportive, and thriving community and the lasting impact of its demolition.
The story of the Gas Plant and Laurel Park neighborhoods is both unique to Pinellas County as well as a history that has been repeated across this country, across generations of Black and Brown communities. If we are to move forward with race equity, we must know, understand, honor, and be changed by our collective past.
Taking trips to the library, bicycling through the neighborhood, and marveling at the imposing cylinders at the gas plant are childhood memories for Andrew Walker.
"It might have been James Weldon Johnson Library, and that was a fun spot to go to," he said, speaking from the grounds of the old district. "Also, I went to church at First Baptist [Institutional], and that was on 16th Street. And there was a railroad track close by. It's hard to kind of remember all of this because I'm looking at empty space now or other stuff is there!"
Walker also remembered some of the small businesses that lined the district, such as Brown's Cleaners and Mr. Al's Barbershop.
"I used to go and get a haircut at Mister Al's Barber Shop," he said. "The more I talk, the more things that start to remember!"
Walker and his friends explored different paths throughout the neighborhood — bicycling or walking — and one point of wonder for him was the enormity of the huge gas cylinders, from which the Gas Plant neighborhood got its name.
"I always wondered about the magnitude of the gas containers," he recollected. "As a kid, they were huge, and I never really knew what was going on or what was in there."
Walker summed up his old memories of the neighborhood: "Riding bikes, walking, just having fun, basically. The Gas Plant area was a fun area to do a lot of different things. It was just a fun place to hang out with the other young kids."
Click here to watch videos of residents recalling their gas plant memories.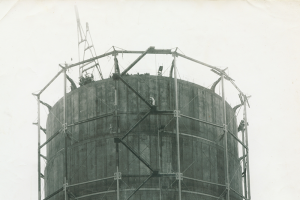 Andrew Walker recorded his memories of growing up in the Gas Plant District on Dec. 12, 2021, at the Gas Plant/Laurel Park Reunion.