TAMPA BAY — The University of South Florida has expanded a program that guarantees admission to any of its three campuses to students who attend local high schools that serve historically underrepresented families.
Through the Guaranteed Admissions Pathway Program, or GAPP, students at 17 Title 1 high schools within USF's geographical footprint can secure their place by sustaining a 3.7 GPA by the end of their junior year and earning 1100 SAT or 22 ACT score. Title 1 schools are those where high numbers or high percentages of students come from low-income families.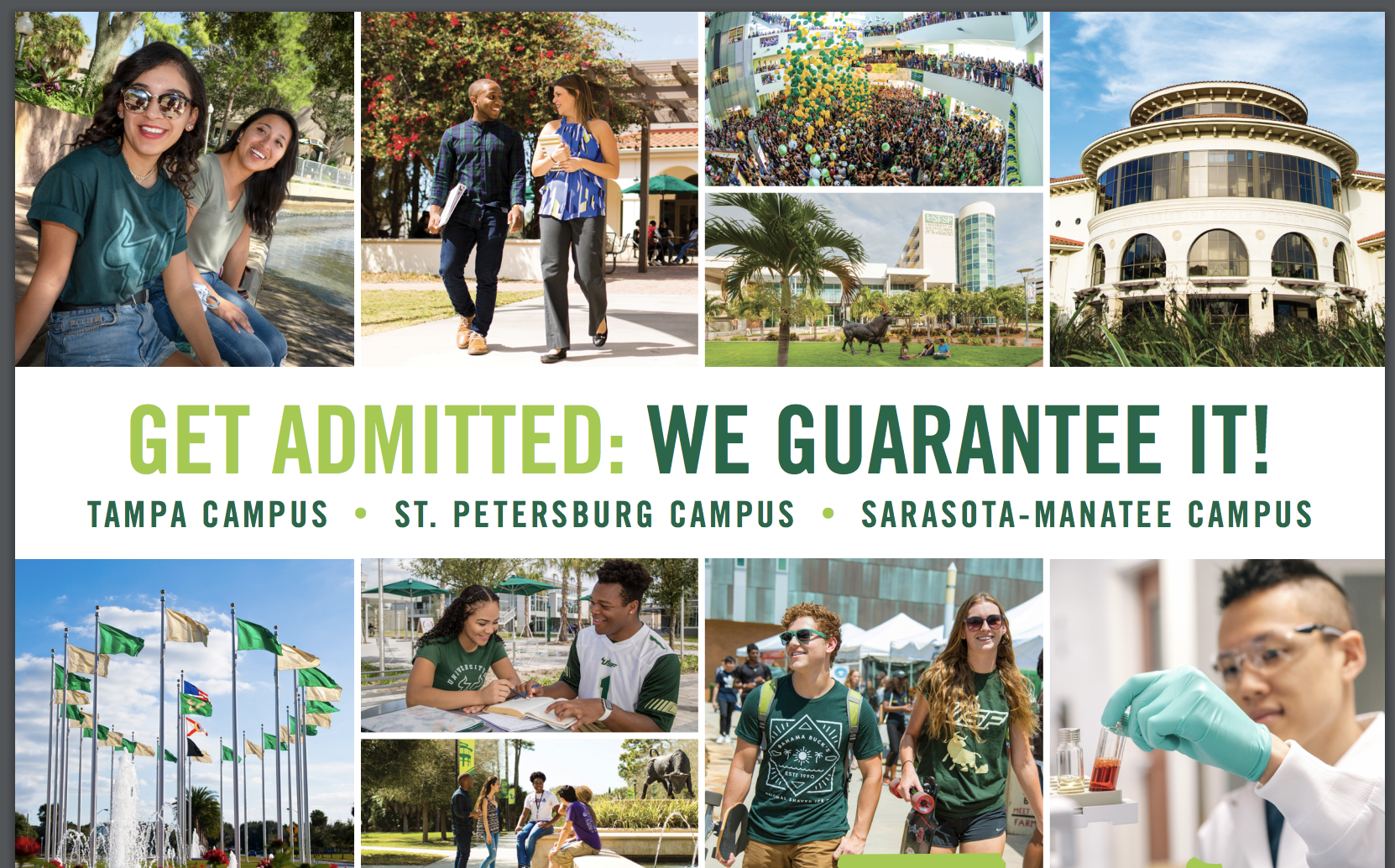 For the admissions process this year, the number of eligible high schools for GAPP nearly doubled from nine to 17 across Tampa Bay. The program's goal is to increase higher education access for students from underrepresented groups and economically disadvantaged backgrounds.
"Through this access program, we hope to enroll students from the Tampa Bay area who will attend college locally and hopefully keep their talents here to contribute to the community," said Laura Zuppo, interim regional assistant vice chancellor of enrollment planning and management at USF's St. Petersburg campus.
High school students who apply with the academic criteria met can select any USF campus to attend. They will also be granted priority consideration for the History of Achievement Scholarship, an academic award of up to $2,000. Students can apply to GAPP just by completing the regular USF admissions application.
"GAPP will increase the diversity of our student body, which creates a healthier and more sustainable community," said Creah Demps, coordinator of outreach & access in USF's Office of Admissions. "It also has the added benefit of enhancing our engagement and collaboration with our local high schools."
A key component of the program's success is the collaboration with principals and guidance counselors. USF's Office of Admission engages with leadership in eligible high schools to ensure students are aware of GAPP, attend events related to the access program and stay on track with the admissions process to take advantage of this opportunity.
"In many cases, we are engaging students who are the first person in their family to go to college, so it is really important for them, and especially their parents and guardians, to fully understand the college admissions process," said Zuppo. "We recognize the need to engage students early on – when they are early in their junior year and even sophomore year – so they can make a plan both academically and personally to reach their goal."
For Michael Vigue, principal of Boca Ciega High School, GAPP can really provide a way into college for many students who were not considering higher education.
"We began our collaboration with the USF St. Petersburg campus with the expectation of getting more of our students who typically wouldn't continue their education after high school to go off to the university and then come back and give back. The hope is that this program will both diversify college campuses while giving our students the opportunity to succeed," said Vigue.
GAPP is one of several USF programs that seeks to enhance access and graduation rates for higher education. It joins FUSE, a transfer program between USF and eight Florida state colleges that provides seamless academic pathways for students to complete their associate degree, guaranteeing admission into specific majors at USF, Pinellas Access to Higher Education  (PATHe), a program for Pinellas County students who begin at St. Petersburg College and transition to the USF St. Petersburg campus, and the Student Support Services Program, a unique summer entry program that provides effective academic and personal support to increase retention and graduation rates for a diverse student population.
Students who apply to GAPP by the priority admissions deadline, which has been extended to Jan. 1, 2021, could also be identified for these other access programs.
Eligible high schools for GAPP include:
Hillsborough County
Armwood High School
Hillsborough High School
Jefferson High School
Kathleen High School
Leto High School
Middleton High School
Pinellas County
Boca Ciega High School
Dixie Hollins High School
Gibbs High School
Lakewood High School
Sarasota & Manatee County
Bayshore High School
Booker High School
Central High School
Southeast High School
Pasco County
Gulf High School
Zephyrhills High School
Lake County
Leesburg High School