BY HOLLY KESTENIS, Staff Writer
ST. PETERSBURG – Victory Christian Center Church officially welcomed Donald Freshler as their new pastor last month. Pastor Freshler is no stranger to the church, located at 3012 18th Ave. S. Over the previous 14 years, he's worked in various capacities for the house of prayer.
Initially starting his tenure as a greeter, Freshler quickly rose through the ranks to spread the Word of God as not only a Sunday school teacher, but a youth and community bible study teacher.
Mother Carlene Harris first met the pastor during bible study.
"I was pretty much burned out on organized religion," she said, but in Freshler she found a precious treasure. An encourager to get her back on the road to religion, and a respectful, caring person willing to do the Lord's work, Harris couldn't help but sing his praises. "Pastor Donn changes you, and he's not afraid to get his hands dirty."
The newly appointed pastor didn't just wake up one day after a life of sin and decide to minister, however. At the age of 13, while a member of his neighborhood church, young Donn agreed to surrender his life to Christ. He later joined the United States Air Force where he served for 20 years.
He is known among his friends as a man of principle; a man who puts the needs of others before his own; a man with an impeccable work ethic.
"He's one of those people that whenever someone needs him to do something, he'll do it," said Harris.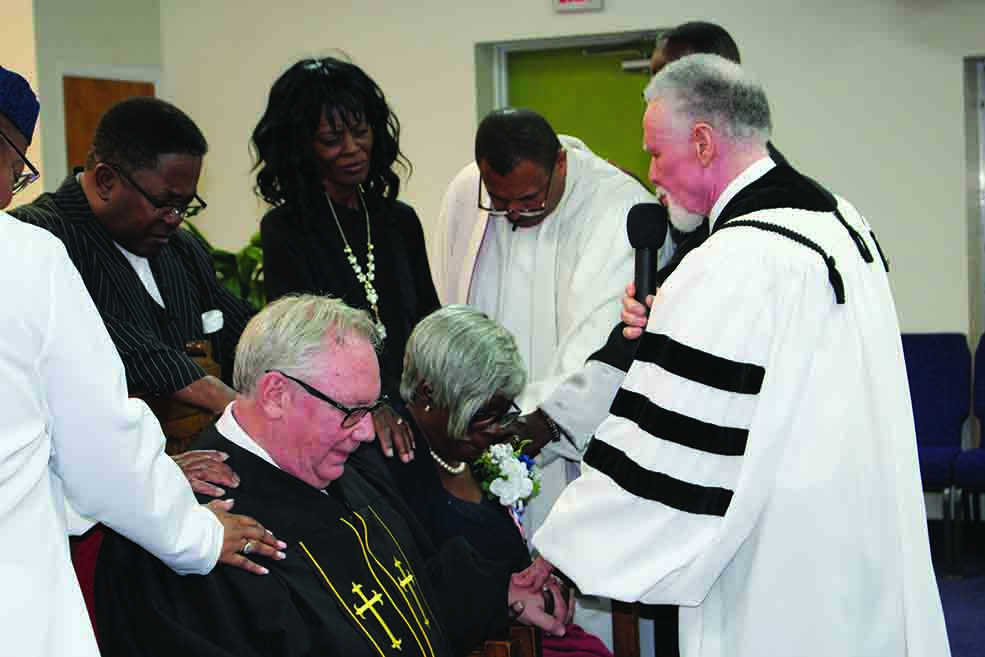 One after another, spiritual leaders from all over the city chimed in to pay their respects to the man taking over the reins for recently departed Pastor Claude Williams. Pastor Williams formed the church back in 1992 and was a respected pillar of the community and responsible for building up Victory Christian Center's membership.
Rev. Deborah Green made history five years ago as the first woman pastor to lead a Missionary Baptist church and is a longtime supporter of Victory Christian.
"This church, Bishop Williams, he built the church," she said. "This is solid."
Being such a firm supporter of the late Pastor Williams, Green admits having difficulty with arranging her thoughts on the newly appointed pastor.
"Normally I can put a message together in 24 hours," she said, "but God had me let this marinate because there is a big task ahead, and this man is the man that God has chosen."
Green soon found the words and used them to bestow upon Freshler the responsibility of being watchful.  She called on him to conduct an official spiritual appraisal; to take inventory of the house of God in order to see what still needs to be done to ensure its continued growth and spiritual integrity.
"You've got to move forward because what was yesterday is yesterday," said Green, "and what is today is today."
She continued with advice for not only Freshler but his congregation, informing them to always stay in God's will, to watch over the church and its members attentively and to always guard against the enemy.
Elder Charles Clark was introduced to Freshler roughly 15 years ago. They were paired together in a ministry. At first, Clark wasn't sure if their different personalities would work, but he soon came to rely on the future pastor.
"Over time I understood," he said. "I needed someone who wouldn't break down when I was acting squirrely. And that was him."
Each speaker also couldn't stop discussing the loving relationship Freshler has with his wife Jean of 28 years.
"They are a team," said stepson Malcolm Fletcher.
Fletcher recalled meeting Freshler for the first time. He was weary, the man of the house at only 13, he didn't know if this man coming to dinner was in it for the long haul. But Freshler kept coming around, trying to be Fletcher's friend, teaching him about life.
Fast forward to 1990 and Fletcher recalled being flooded with a lifetime of positive memories with Freshler.
"I'll never forget being his best man and thinking this is the best friend I could ever have," said Fletcher.
Pastor Ulysses Burden, Jr. of Power for Living Ministries, Bishop Robert Young of The Lord's House Church, along with Mt. Pilgrim Missionary Baptist Church Pastor Clark Hazley, Sr. and Pastor Don Gaskin from New Philadelphia Community helped to install Freshler as head of Victory Christian.
When the newly installed pastor finally stood to speak, he couldn't stop thanking all his well-wishers for their support and kind words.
"You get that spark and it becomes a flame, and that flame becomes a fire," he said. "The next thing you know you just have joy."
Join Freshler and his wife Jean on their wonderful new journey as Pastor and First Lady of Victor Christian Center Church.