BY CINDY CARTER, Staff Writer
ST. PETERSBURG – The ladies of the

Naomi and Titus 2 Covenant Alliance

(NT2CA) held their "Just For You Day" event May 26 at the downtown Bayfront Hilton. The community came out to celebrate eight beautiful ladies who have selflessly served their families and community.
First established in 2009 to honor local community women of faith and courage, each year the event recognizes extraordinary women who represent the legacy of the biblical characters, Naomi, Ruth and the biblical characteristics of the women in Titus 2.
Women 50 and over who have a positive impact on the community are invited to walk the red carpet. These honorees are commonly known as Naomis.
"We honor mothers, grandmothers, teachers and mentors who have been willing to sacrifice in order to make a positive difference in our lives," said Kena Bryant, a Ruth in the organization. Ruths are women aged 49 and under who seek God and the future empowerment of all women.
This year's theme was Love in Action, and although food and entertainment were provided, the real delight was watching the honorees walk the red carpet. With their ritual of acceptance, each woman showed poise and confidence as they took their seats front and center.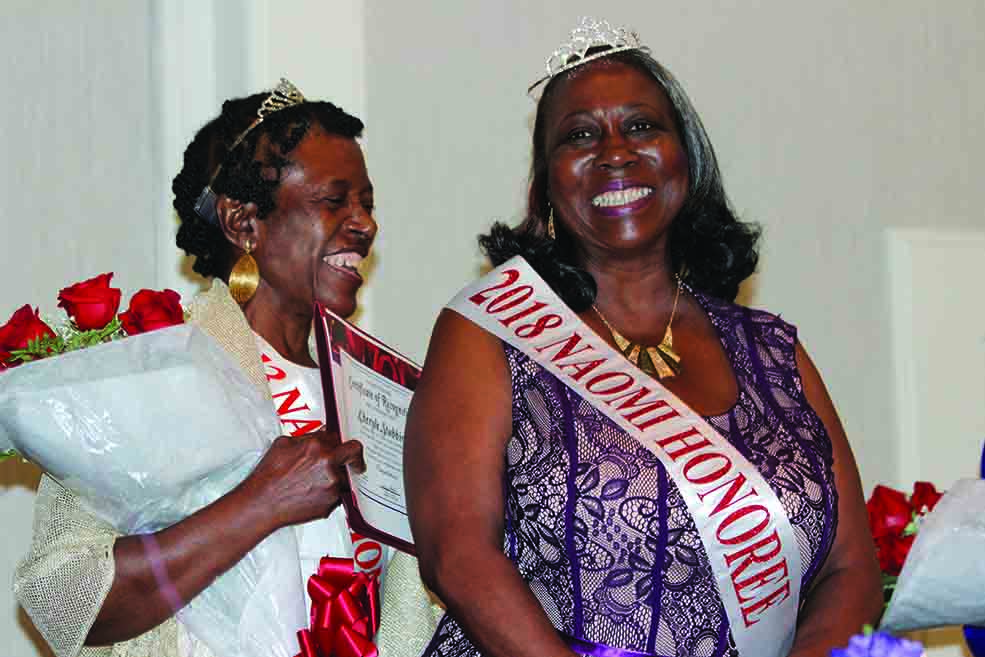 Ruth Lyvonia Green of Church of God in Jacksonville was the keynote speaker for the afternoon. She spoke on staying in God's favor and how scripture dictates that it is the time of acceptance, to buckle their seatbelts, put on their garments, and praise the positive.
"Women here are waiting for God to answer some prayers and to dry some tears of grief," she said. "Women here are waiting for God to breathe some life into some dead situations."
But Green encouraged the Naomis, Ruths and women of the world to explore the theme of love in action and to recognize the need to give of yourself even when the world isn't giving back to you.
As a teacher and a minister, Green knows that life and busy schedules can take over but wants women to continue the legacy of making time to honor each other for the things in life they are doing well.
She wants everyone to recognize that God is in their lives even when they don't see something tangible to prove it. Maybe it's the marriage you take for granted, or the safety you've enjoyed in life. Perhaps it is unforeseen danger that Jesus saw fit to move out of your way.
"I don't know what he's got for me. I don't know what he's got for you," she said, "but we can appreciate it by following and obeying his commands. By putting the love of Christ in action."
After the honorees were crowned with a tiara, a sash laid upon their shoulders and given roses, they were serenaded by international recording artist Belinda Womack. Tears running down many of their cheeks, the newly crowned Naomis took their place in history.
Founder of The Naomi and Titus 2 Covenant Alliance Ministries, Inc. Naomi Teralyn Hodge is proud that what started as a "Just for You" day quickly blossomed into an organization that honors community woman of faith and sacrifice.
Hodge searched out many places of worship looking for influential women but found many looked the same as their younger counterparts. She set out on a mission to encourage women over 50 to get back to being teachers and role models in the community.
Ruth Gennifer Buckins talked on the various sponsorships from local organizations and current NT2CA projects such as The St. Petersburg Free Clinic Women Residence Outreach, Mothers of College Students Mentoring Program and the work they are doing with Next Stepp Pregnancy Center, among other organizations.
"We want to thank Naomi's for letting us expand our footprint here," said Buckins, who spoke on the John H. Chance Scholarship Fund in honor of Pastor Chance who was known as a teaching machine. "It's because of you and your families and everyone in this room that we are able to make this a reality."