By J.A. Jones, Staff Writer
PINELLAS COUNTY – As businesses, employees, entrepreneurs, and nonprofits scramble to re-configure expenses, United States historical and recent data indicates that black and brown communities will feel the economic fallout of COVID-19 more deeply than others.
A recent article by the Center for American Progress noted that the current economic "disaster" occurring since businesses have shut down amidst stay at home orders and health precautions has been necessary, but comes with dire consequences:
Nowhere are the effects of this current emergency more acute than in communities of color, which have long endured occupational segregation, economic exploitation, and employment discrimination. These factors put people of color at greater risk of unemployment and limit their ability to weather economic downturns. The coronavirus does not discriminate based on race, but without immediate action, its economic fallout will disproportionately affect communities of color.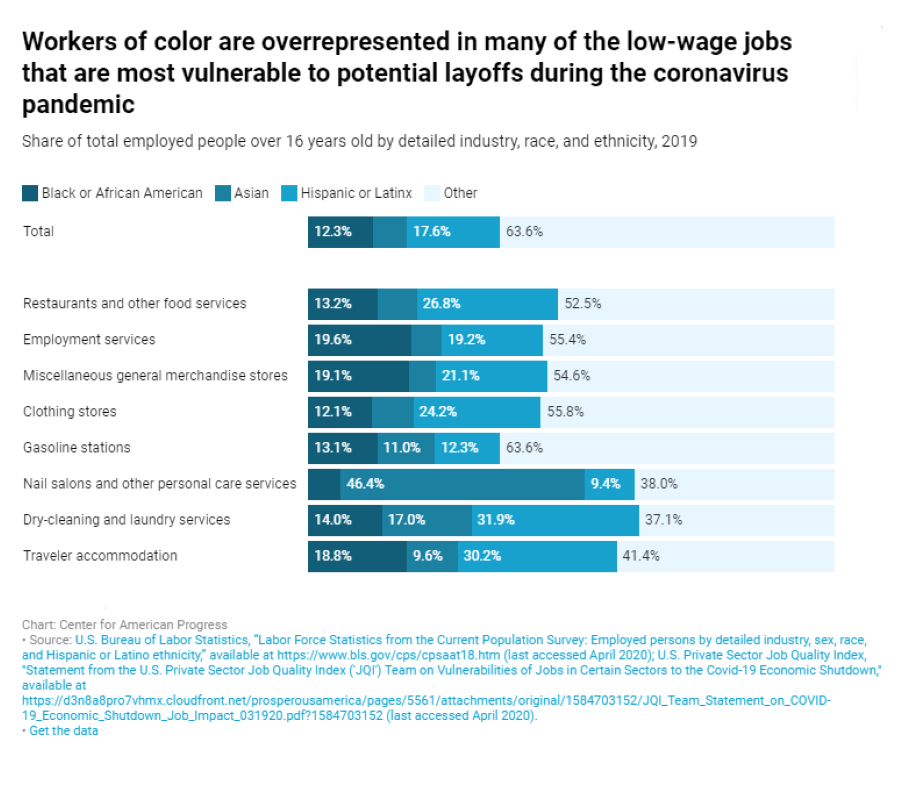 In Pinellas, the City of St. Pete and many community partners have joined to strategize on ways to combat the painful financial collapse.
The Foundation for a Healthy St Petersburg has established racial equity in all aspects of health as one of its platform priorities and has instituted a COVID-19 response that "prioritizes race equity in all interventions." In keeping with this mandate, on Tuesday, April 21, they held a "virtual town hall" designed to address the economic impact of COVID-19 on the community.
Hosted by the Foundation's chief equity strategist, Carl Lavender, the  event presented input from St. Pete's Deputy Mayor Dr. Kanika Tomlin, Watson Haynes, president & CEO of the Pinellas County Urban League (PCUL) Albert Lee, president of the Tampa Bay Black Business Investment Corporation (TBBBIC), Gypsy Gallardo of One Community  and The 2020 Plan, and Duggan Cooley, CEO of Pinellas Community Foundation, fiscal sponsor of the Tampa Bay Resiliency Fund.
The conversation lasted about an hour and was attended by more than 300 viewers working in nonprofit organizations, businesses, educational institutions, and health and service industries via the Zoom video teleconferencing platform.
Tomlin addressed the importance of a courageous attitude during the crisis. "Without question this is an unprecedented time that will try us in ways we've not seen; the struggle is real." But, she added, "We are black and brown people living in America so frankly the struggle is not new. It is a legacy of our lineage. It is the living truth we face every day."
While she admitted that, "Restoring will look different for every person in every corner of our country, our community…and some places sadly may never fully recover," she maintained that St. Pete's historic resilience would carry the community through this immensely difficult period.
Haynes said it was the hardest hit businesses that needed support now. "When you provide dollars to groups like One Community through the Urban League, you're providing dollars for immediate assistance.  We want to drive social enterprise, and we want the multiplier effect."
Noting the support and presence of the TBBBIC on the call, Haynes added:  "We are not worried about whose turf this is — what we're worried about is the guy that's sitting on the other side of the desk that we want to help."
Albert Lee of the TBBBIC noted that he wasn't surprised that St. Petersburg was so proactive in helping small businesses in addressing the crisis, stating that the city has helped lay the groundwork and example of what municipalities can do to help small businesses.
He added that the TBBBIC is built around helping small businesses that typically need less than $50,000 – many of which aren't necessarily "bankable." Lee also shared that black and brown businesses, which are "traditionally underfunded and undercapitalized" will struggle more than others.
Lee said that as well as reaching out to 2020 and St. Pete to help put together a special purpose loan, TBBBIC has worked with Raymond James Investment Partners and Wells Fargo to allocate $100,000 toward the loan fund.
Discussing the initial exhaustion of the SBA $349 billion Paycheck Protection Program – funds of which were gone within the first two weeks – Lee noted that many smaller businesses were eliminated because they lacked the necessary banking relationships.
Specifically, he said it is necessary to develop "relationships with loan officers who could make sure that they reached out to them and make sure that they got their application so that they could get in place to be able to get some of the funding." Lee recommended businesses establish a relationship with banks and loan officers now because these issues will certain be ongoing.
Duggan Cooley, CEO of Pinellas Community Foundation, noted that the 50-year-old community foundation offers a place to invest resources that will be available over a long-term period. Through the foundation, donors can set up gift-giving funds that will be used to support emergency initiatives like the Tampa Bay Resiliency fund – not only during times of crisis, but year around.
Cooley noted that the focus of the Tampa Bay resilience fund is to focus on the most vulnerable in the Tampa Bay community, including those in who have been disadvantaged due to lack of equity due to their race and socioeconomic status.
"We have a long history in our community and our nation of disinvestment, discrimination, bad policy that leads to the disproportionate impact of things like COVID-19, on our black and brown communities. And one way that funders can respond, is to focus their efforts on vulnerability by race and socioeconomic status. And so that is a key point with our fund and our collective work together."
Organizations working with the most vulnerable communities and organizations offering programs addressing race and socioeconomic status can apply at PinellasCF.org.
Gypsy Gallardo noted that One Community immediately realized the impact the shut-down would have on the community. "We raised that alarm and said, 'Hey, this is going to be damaging to a lot of people, it's going to be crippling to huge segments of our workforce.'" She added that on a recent trip to the beach, she noted that 80% of establishments were closed – which would impact hotel jobs, including janitorial staffs, restaurant staffs, and those working in bars and pubs.
For more information on the Foundation for a Healthy St. Petersburg's COVID-19 response, visit healthystpete.foundation.