At 8:37 p.m., a protester called for everyone present to lie flat on the pavement — just as Floyd had done — for almost nine minutes, as a sign of respect to Floyd. Photo courtesy of Danita Harris. Other photos used are courtesy of Frank Drouzas, Jabaar Edmond and Carla Bristol
By Frank Drouzas, Staff Writer
ST. PETERSBURG — By the light of day, they were peaceful, almost serene. As dusk began to darken the sky, they began to stir. Come nightfall, their passion was fully aroused.
The protesters, upward of 300 strong, gathered outside the St. Pete Police Department at the intersection of 13th Street and First Ave North to make certain their voices were heard. This night, June 2, was the latest in a string of consecutive evenings that saw people in the city protesting the death of George Floyd in Minneapolis on May 25.
Floyd, a 46-year-old African-American man, died at the hands of a white police officer while being detained. Cuffed and forced to lie on his stomach, he expired as the officer pressed his knee to Floyd's neck for nearly nine consecutive minutes. For the last two minutes and 53 seconds of that entire time, Floyd was nonresponsive.
Protesters of all races camped outside the police station, some of them sitting on First Avenue, which had been blocked off to traffic, as the twilight air crackled with anticipation. Many had signs. Music blared sporadically. A man arrived with some pizzas, and he was promptly cheered. Soon, the mood grew expectant, and the atmosphere electric.
"The American system was not built for black people to exist in the country," said a protester named Beatrice. "And unfortunately, there's nowhere else for us to go."
She said that too many people grew up being taught racist attitudes and thinking, and it is "really hard to deviate from what you've been taught."
"So I'm just out here supporting people that look like me," she said. "We're tired of dying; we're tired of trying to explain to people why and how we feel, and how things are different for us and how your existence is different from ours. And even if you don't see it and you might not be able to understand it, it's real."
One woman paraphrased writer Alice Walker in asserting that the most common way people lose their power is by thinking they don't have any.
"I feel like all us being here together and just supporting one another, I feel like our voices will be heard," she said. "That's why I'm here. To be heard."
Another woman's message was simple: "I'm just hoping for some change."
Around 8 p.m., the crowd had collected into a condense unit and pressed against the barricades that had been erected all around the police station. They shoved their signs into the air and raised their voices as loud as they could, shouting, "No justice, no peace!" and "Black lives matter!" directly at the heavily tinted windows of the station.
Night had completely fallen when they mobilized, marching and chanting as a group up First Avenue North toward a barrier created by police vehicles, then back again, reforming in front of the station. A few cars turned onto the road from side streets and rolled along with the protesters, honking in solidarity.
At 8:37 p.m., a protester called for everyone present to lie flat on the pavement — just as Floyd had done — for almost nine minutes, as a sign of respect. Many stretched out, face down, and hands behind their backs on the concrete. Some kneeled in reverence. Not a single word was spoken.
One woman stood completely still with her head bowed and one arm raised in a fist. By the end of the nine minutes, her eyes were streaming with tears.
Their voices were loud, and their passion was real.  Protesters marched from the police station to the downtown area, but on the way back, the peace turned into chaos.
Fireworks were set off, and by the time protesters reached police headquarters, officers told them to leave. Police launched smoke and flash bangs to disperse the crowd.  The Pinellas County Sheriff's Office joined in, and several protesters were arrested.
Earlier that day, the St. Petersburg Police Department unveiled new body cameras for police officers. Five prototypes will be tested in the coming months. For now, only Police Chief Anthony Holloway and four officers received the cameras that fit in the front pocket of their uniforms.
The body cameras will turn on when an officer pulls their gun or Taser or if the officer is in an unusual position. Footage from the moment leading up to a drawn weapon will also be shown. Cameras also send an alert to nearby officers and supervisors when an officer is in distress.
In Tampa, city leaders signed off on buying 650 body cameras.
Wednesday afternoon, Holloway, Mayor Rick Kriseman, and U.S. Rep. Charlie Crist spoke with a small crowd gathered outside of the police headquarters.
Holloway plans to hold daily one-on-one sidewalk chats with protesters in front of the police station.
"We're here," said Holloway. "We're not going anywhere; they're not going anywhere, so let's have these hard conversations."
SPPD has arrested upwards of 50 people this week for unlawful assembly, including someone with materials that could be used to make a Molotov cocktail and someone carrying a backpack with mortar-style fireworks.
Wednesday night's rainstorm didn't stop the fifth night of protest. Several hundred people made their presence known by 5 p.m. close to Central Avenue and 34th Street South.
To reach Frank Drouzas, email fdrouzas@theweeklychallenger.com
---
Questioning police tactics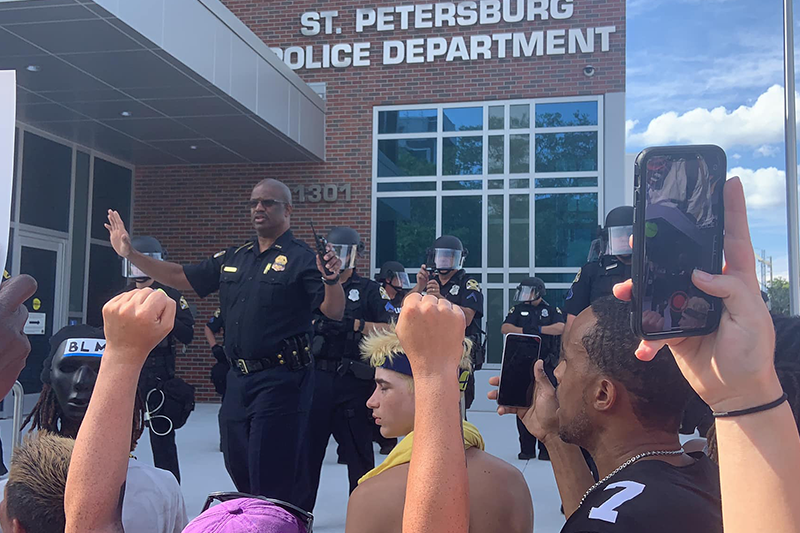 By J.A. Jones, Staff Writer
ST. PETERSBURG — Like many cities across the nation, St. Pete has been the site of daily and nightly protests beginning on Saturday, May 30, sparked by the police killing of George Floyd in Minneapolis.
Daytime protests began peacefully on Saturday, but by nightfall, some news outlets referred to violence outside of the police headquarters Saturday night, leading police to use "non-lethal rounds" and flash grenades."
That did not deter protesters, however. They returned to march and protest on Sunday and each day since. They have been met with various proclamations of support and or warnings against violence from city hall and the police department.
Over the last few days, St. Pete activists have experienced peaceful protests, while questioning police tactics.
St. Pete Youth Farm coordinator Carla Bristol marched in the protests on Sunday, and said it was "peaceful." Yet, Bristol also noted that while protesters were able to march through the streets of south St. Pete without issue, when "…we arrived on Beach Drive, there were multiple police present."
Bristol said this being the case, she wondered why there was a police presence in that part of town, rather than being along the whole route – and questioned why they were on Beach Drive at all.
"This was a reminder of the 'two cities,'" she added.
Bristol was, of course, referring to the well-known existence of separate policies, socio-economic, educational, and employment conditions that mirror and echo the racial divide between north and south of Central Avenue.
School board candidate and educator Caprice Edmond added, "The peaceful protest was a demonstration of solidarity, a demonstration that systemic racism must end. Our lives are depending on it. Seeing the police come out in raid gear was another reality of the times we are facing."
Filmmaker and activist Jabaar Edmond shared, "The protests in St. Pete were some of the most peaceful in the United States and the city administrators should see it as "goodwill," noting that the south St. Petersburg community has been "hurt."
"The city council, mayor, and chief [of police] should also show goodwill," Edmond continued, urging a full review of policies and practices. Edmond is currently working with a social justice policy group called the Social Response Team to develop a platform of policies to present to city officials.
He said the platform includes reviewing policies on body cameras for police officers with taxpayer access to videos, and equity audits on city programs and departments.
The team will also address prison pipeline policing, youth arrest policies, and various programs for youth, including employment and driver education courses.
To reach J.A. Jones, email jjones@theweeklychallenger.com