ST. PETERSBURG – The St Petersburg Metropolitan Section of the National Council of Negro Women (NCNW) held their MLK Day of Service project Saturday, Jan. 26 at the historic Fannye Ayer Ponder Council House where a huge gathering of children, families and partners reflected on Dr. Martin Luther King, Jr.'s dream.
This year's theme focused on reducing barriers to literacy and learning with the belief that family literacy and learning programs help our children succeed. The weather was chilly, but seeing families come together warmed everyone's hearts.
The afternoon was child-centered, family focused and geared to help create excitement in reading, boosting children's confidence to read and to encourage ways to express their feelings in a non-violent manner.
Experts in the areas of expressive reading, poetry, speech, math, spelling and science were on hand. Not to those mention specialist in music, creative artistry, storytelling, song, dance, design and broadcast. They all gave tips while encouraging children to stay in school and reminding parents of the importance of parental involvement as a predictor of student achievement.
Agencies were also present to provide additional resources and information on health, nutrition, domestic violence and other important community concerns.
Exciting, interactive activities that kept everyone busy included arts and crafts, music, dance, book signing with youth and young adult authors, storytelling, creative drama, bullying, mini educational sessions with STEM. Every child received gift bags filled with nutritional snacks, school and art supplies, books, bully whistles, journals and oral hygiene kits.
The MLK Day of Service shines a spotlight on service as a powerful force to unite the areas in which we live and provides each of us with an opportunity for neighbors and local leaders to tackle challenges and strengthen our communities.
Chief Anthony Holloway of the St. Petersburg Police Department and Florida House of Representative Wengay Newton both gave greetings and were encouraged by some of the positive progress being made to reduce many of those barriers.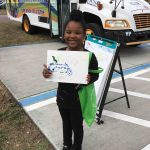 There to capture the minds and hearts of the youth were Korey's Reading Clubhouse, SpringZone Youth Empowerment the police and fire departments, Buffalo Soldiers, American Stage and many more.
Rev. Eddie Robinson, grill master extraordinaire, cooked up hot dogs, hamburgers and delicious kosher sausage while DJ Hurricane kept the afternoon moving.
The mission of NCNW is to lead, advocate for and empower women of African descent, their families and communities, and with funding made possible by Senator Darryl Rouson, who secured monies through the Florida Legislature, they were able to add this project to their roster.