By Allen A. Buchanan, Staff Writer
ST. PETERSBURG –

Mt. Zion Progressive Missionary Baptist Church

celebrated academic success from kindergarten to college Thursday, May 10 in their main sanctuary, located at 955 20th St. S.
The congregation packed the pews as they witnessed another successful year of children and young adults getting their academic groove on and carving out new roads to future success.
This annual commencement program recognizes students from the Mt. Zion Children's Center (pre-K program),

Mt. Zion Christian Academy

(K-5), as well as congregants who are high school and college graduates.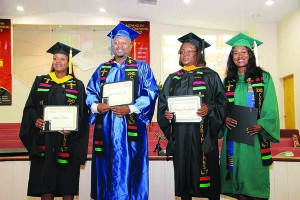 Mt. Zion's mission is to provide educational enrichment from the cradle to career.  They feel it is important to commemorate the accomplishments of our youth, as they promote efforts to close the achievement gap of all children and young adults throughout the community.
It is critical that city, county and state leadership not only witness their success but provide students and their families with encouragement by supporting opportunities and partnerships for continued growth.
"Wow, what a beautiful picture this is; this is a vision being fulfilled," said Rev. Louis Murphy, Sr. as he spoke to the graduates.
Middle Division Youth Pastor Shawn E. Thomas shared with the graduates three points that he tells his three children at home.
"Number one is to love God with all of your heart, your mind and your strength. Number two, serve the people; that's our greatest act is to serve other people. And three, be self-sufficient."
Thomas' message summed up not only the purpose of getting a good education, but he also tapped into the core essence of availing one's self to serving humanity.
Screams of joy mixed with tears filled the church as the graduates proudly walked across the stage to receive and show off their certificates of achievement or diplomas. Principal Franca Sheehy thanked the parents for believing and entrusting Mt. Zion to guide their loved ones to academic success at all levels.
To reach Allen Buchanan, email abuchanan@theweeklychallenger.com