Dr. Katurah Jenkins-Hall is a licensed clinical psychologist and associate pastor of New Dawn Restoration Center, whose late sister contracted HIV in the early 1980s.
BY J.A. JONES, Staff Writer
ST. PETERSBURG – HIV is no longer a death sentence. With testing and treatment, people live an average lifespan — some well into their 80s and even 90s.
Still, with all the advances in treatment, in Pinellas County, HIV/AIDS is rising in the Black community – with most of the cases in St. Petersburg area codes.  And while men continue to make up more than 80 percent of new HIV cases, women are contracting the disease as well.
The focus has been put on the Black Church as a place of power with the ability to change the harmful stereotypes and stigma associated with communities where HIV is being contracted. New research continues to provide ways to encourage the Black Church to provide support for HIV testing and treatment by focusing on it as a social justice issue rather than treading into the emotionally explosive conversations provoked by topics of sexual behavior.
Initiatives such as The Black Church & HIV: The Social Justice Imperative, sponsored by the NAACP, are taking steps to spread a message of compassion, support, and changing health outcomes through testing, prevention and treatment.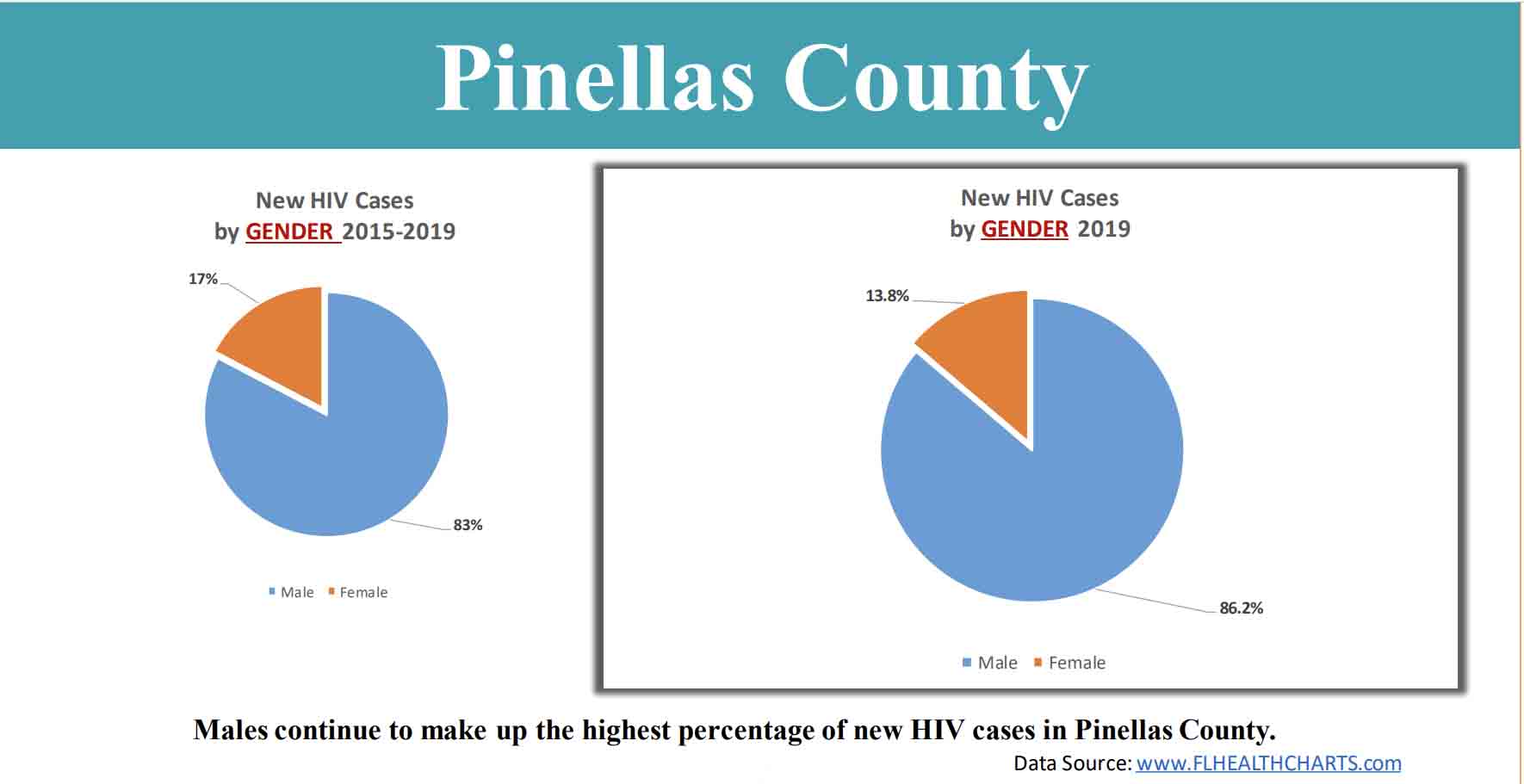 While Black women make up somewhere between 66 and 90 percent of congregations in African-American churches, men still hold most of the leadership roles. It will be up to pastors and church leaders to institute the conversations around HIV testing and treatment without contributing to the stigma, shame, and prejudice that has long been used against same-gender-loving communities who may be at risk – or those at risk due to intravenous drug use.
Dr. Katurah Jenkins-Hall, a licensed clinical psychologist and associate pastor of New Dawn Restoration Center in Tampa, recently shared her personal story of love, loss, and compassion in the face of HIV/AIDS, noting, "The stigma is so important to address."
Jenkins-Hall recalled the 1981 advent of HIV/AIDS in the United States. Five years later in 1986, she got married, with a beautiful wedding reception organized by her sister Gwen.
Within two weeks of that wedding, Gwen informed Jenkins-Hall and older sister Olivia that she was HIV positive.  "At the time, it was considered a death sentence — thank God it no longer is. But at the time, I was devastated," acknowledged Jenkins-Hall.
"I looked at my sister, trying to put on my poker face, and my sister said, 'God can handle this — and we can too.'" So, rather than choosing to "freak out or panic," Jenkins-Hall brought her sister Gwen home to live with her.
"I wanted to take care of my sister. This sister, five years older, was my mentor, my role model — she had the biggest heart in the world, and she was HIV positive."
In 1986, research into HIV/AIDS was still in its infancy, and there was no treatment.
"All we knew about HIV at the time was you could get it through sex with the wrong partner; you could get it through any type of body fluid exchange. And that bleach would kill it," Jenkins-Hall recalled. (Note: There is some research indicating that using bleach helps sterilize needles before intravenous drug use.)
Jenkins-Hall said her sister came equipped with all kinds of bleach, determined to take care of herself. "You cannot be as worried about getting HIV/AIDS as I am about transferring it to you," she recalled her sister saying. Returning to St. Petersburg, Gwen started working in an advocacy group for HIV/AIDS education.
Jenkins-Hall said that at the time, it was "easier" to say one had contracted HIV from a hospital blood transfusion than admit the more "unacceptable truth" – that they had contracted it from IV drug use. But the man that her sister had been involved with died of AIDS; Gwen herself would live for eight years with the disease.
"Gwen was fortunate to be surrounded by family and church friends and communities who loved her and supported her — most women are not as fortunate," said Jenkins-Hall. She recalled watching her sister pound herself repeatedly in the stomach at the end of her life; when she asked her why she was doing it, Gwen would reply, "the pain on the outside is nothing compared to the pain on the inside."
Today, six out of 10 women with HIV are African-American women, with most having contracted HIV through what they believe are heterosexual relationships. For Jenkins-Hall, the pain and suffering of those who live or die with the disease cannot be ignored. And, she shared, it's not only vital for every leader to help prevent the spread of HIV/AIDS, but also for the community to take part in the prevention as well.
"We have to promote education. We have to promote testing. But most of all, we have to allow the space for someone to come forth without shame to say, 'I'm HIV positive, and I need my family; I need my community; I need my church.'"
"The word of God promises as beauty for ashes, all of joy for the spirit of mourning, and a garment of praise for the spirit of heaviness, for those who mourn in Zion," said Jenkins-Hall.  "There are many of us — probably 90 percent of us — who knows someone who's affected by HIV/AIDS. We should reach out to others, to show love, compassion, and a space that is safe."
To reach J.A. Jones, email jjones@theweeklychallenger.com