BY KARIN DAVIS-THOMPSON, Staff Writer
ST. PETERSBURG — When Amiah Adams got the good news, she was so excited she began to cry. A ninth-grader at Dixie Hollins High School, she was recently one of only 100 students selected to participate in Steve Harvey's annual Disney Dreamers Academy.
The program, sponsored by Essence magazine, is a four-day workshop that hopes to inspire attendees and provide them with the guidance and skills to make their dreams come true. More than 10,000 students applied for a chance to attend.
"I know it is such an honor and privilege to be selected for the program," Amiah said. "My chances of getting in were like hitting the lottery, so I was shocked, but at the same time I'm a strong believer in God and God's plan, so it was His plan for me."
Amiah is most excited to meet the other Disney Dreamers as well as Harvey. She's also looking forward to the career guidance the program has to offers.
Her mother, Latanya Adams, is tremendously proud of her daughter, not only for becoming a Dreamer but also for her dedication to her studies and being an honor student.
"I am proud of how focused she is on her academics," Adams stated. "She pushes herself and always sets goals for each grading period."
As for becoming a Dreamer, Adams said she couldn't be happier for her daughter, especially getting in on her first try.
"I know it's a big accomplishment, especially being chosen as a freshman," she asserted. "Many kids apply every year and never get in. I gave her a big hug."
Amiah's resume already includes maintaining a 3.8 GPA, a cadet in the Junior Reserve Officers' Training Corps (JROTC), the Zeta Phi Beta Youth Auxiliary program where she currently serves a president, vice president of the Boys and Girls Club Keystone Leadership Program and a cheerleader for the SideLine Angel Elite Cheer Squad. She also loves reading and listening to music, especially Drake and the Migos.
Amiah is a member of the Academy of Entertainment Arts magnet program at Dixie Hollins where she is learning about filmmaking, digital arts and design. She noted that learning about arts and entertainment fills her creative side and works as a great plan B if her goal of working in the medical field doesn't pan out.
After high school, she plans to attend Bethune Cookman or Howard University and become a perioperative nurse, which is a nurse that helps plan, carry out and assess treatment for patients undergoing surgery. After graduating from college, she wants to enlist in the army as a military officer and serve in the medical unit.
Amiah credits her mom for inspiring her to dream big and learn as much as she can about all that she can.
"My mother reinforces the importance of an education. She calls it the 'great equalizer,'" she said. "I just believe in being my best."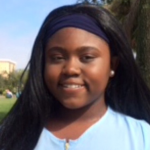 Amiah will participate in the Dreamers Academy at the Walt Disney World Resort from March 21-24, and learn skills that could give her an edge in the job market. She will also get the chance for career exploration by meeting professionals already working in various fields. Mentors, including Steve Harvey, will also work with the students.
"I have already connected with the other 99 Dreamers via social media," Amiah said. "We are already forming friendships, and we are all so excited for this opportunity."
To learn more about the Dreamers Academy, visit www.disneydreamersacademy.com.
To reach Karin Davis-Thompson, email kdavis-thompson@theweeklychallenger.com