Dr. Raymond Arsenault and Judge Charles Williams
BY FRANK DROUZAS, Staff Writer
ST. PETERSBURG — The fifth annual Black History Month celebration of the St. Petersburg branch of the Association for the Study of African American Life and History (ASALH) got underway Feb. 15 at the St. Petersburg Country Club.
"During the beginning decades of the 20th century, it was commonly presumed that black people had little history beyond the subjugation of slavery," said Jacqueline Hubbard, ASALH president. "Today it is clear that blacks have significantly impacted the development of the social, political and economic structures of the United States and the world."
Hubbard explained that the evolving awareness of African Americans' place in history is due in large part by Dr. Carter G. Woodson and his organization ASALH, which was birthed in 1915. More than 100 years later, ASALH continues to disseminate information on black life, black history and black culture to a global community.
This year's annual program celebrated long-time community activist and historian Raymond Arsenault for his latest biography "Arthur Ashe: A Life."  Along with Judge Charles Williams, Chief Judge in the 12th Judicial Circuit, they discussed the life and legacy of the tennis star and civil rights activist in a question and answer session.
"I refer to him as the Jackie Robinson of men's tennis," Arsenault said of the ground-breaking Ashe.
The author noted that when he first began to put the book together, he had no idea of the "layers, the nuances" of Ashe's life story, who rose from utter poverty in Richmond, Va., to become one of the most famous and remarkable athletes in the world.
"He was a great tennis champion," Arsenault asserted, "but he was a true champion off the court."
Ashe spent his time, energy and money to back causes he deeply cared for and was one the first African Americans to play in the apartheid atmosphere of South Africa 1973.
Small and scrawny as a child, Ashe retreated into silence after he lost his mother at age six. Tennis is the thing that brought him back. His father encouraged him at the sport, where he could play at Brookfield Park, a black-only public playground. Ashe discovered he had a knack with the racquet as he regularly beat his older opponents, and won his first national championship when he was only 12.
In 1963, Ashe was selected for the U.S. Davis Cup team–the first African American to do so–and a couple of years later won the NCAA singles title. But sadly, bias still followed the rising star. Arsenault related a story of how Ashe and his white friend were accosted by a white golfer at a club in 1969 because they had the gall to use the tennis court.
"'Get the n–ger off the court!'" screamed the golfer, Arsenault said.
But Ashe handled it all with dignity. If he were alive today, you can be sure he'd be taking a knee for social justice, Arsenault speculated, referencing the kneeling of many NFL players during the anthem to bring awareness to social inequalities.
Williams read from the first chapter of Arsenault's biography: "'Whatever his abilities and talents, there were places he could not go and things he could not do. As he would learn, there were schools he could not attend, bus and streetcar seats that he could not occupy, hospitals where he could not be treated…and tennis courts upon which he could not play'."
To succeed, Ashe would have to overcome, and he had to do so in the capital of the Confederacy—Richmond, Va. Arsenault said that it helped that Ashe had a very nurturing family–cousins, aunts, uncles–that sensed from an early age that he was something special, and not just on the tennis court.
"He was so studious," Arsenault pointed out, "always the best student in his class. And his father made sure that he was incredibly obedient. Of course, he was later famous for being the paradigm of sportsmanship. He never raised his voice, never seemed to get angry, even when he had good reason to."
Ashe died at 49 after contracting AIDS from a blood transfusion, but he never lost his love of the game, Arsenault said. It was never about the money or fame and fortune.
"He had this remarkable character and I think his family had a lot to do with it," Arsenault said
Outside of his family, it was Ron Charity, Richmond's best black tennis player when Ashe was a boy, who saw something special in young Arthur and encouraged him. No stranger to bias himself, Charity tried to enter the Richmond men's tennis tournament year after year–only to be turned down year after year. Charity and Ashe would go on to win the American Tennis Association tournament as a doubles team. The ATA is the country's oldest African-American sports organization.
Even when Charity borrowed $30,000 from Ashe for what turned out to be an unwise business investment, Ashe never said a word about it to his friend for losing every penny of it.
"That $30,000 was a lot to Arthur in those days," Arsenault said. "That tells you about the measure of a man."
Another man who helped shape the life of Ashe was Robert Johnson, whose passion was junior tennis for African Americans. A coach and mentor to Ashe, Johnson felt black players could never compete unless they started early. Johnson ran a tennis summer camp, and his first discovery was Althea Gibson, who would go on to cross the color line of international tennis.
"He always dreamed of finding a male player who would be as good as Althea," Arsenault said.
Ashe left Virginia for St. Louis as a senior in high school where he was able to play indoors for the first time. Spending time there improved his game (and his bullet-speed serve), and Ashe then nabbed a scholarship to UCLA–which Jackie Robinson had also attended.
"Arthur found a real home in UCLA," Arsenault said.
Ashe's father had always told his son not to get involved with that "civil rights mess," Arsenault said, but as his fame grew, those around Ashe told him he had to speak out, and not just whack a tennis ball. Jefferson Rogers was one such person. Rev. Rogers of the Church of the Redeemer in Washington, D.C., invited Ashe to speak at his church in 1968. Among the attendees was activist Stokely Carmichael.
From that point on, he took a turn toward activism, and never looked back. Within a year, he founded the National Junior Tennis League (NJTL), an organization that develops physical and mental confidence in underprivileged children and today has more than 300,000 members.
"Some of the great players–the Williams sisters, James Blake and others–came through the NJTL," Arsenault explained.
Even later in life, Ashe felt guilty that he had not done enough for so many worthy struggles and causes when he was a young athlete.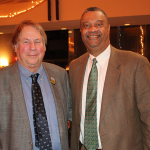 "Pretty much every waking hour for the rest of his life he devoted to some kind of activism," Arsenault said.
Ashe broke barriers as an athlete and humanitarian and has a lasting legacy to this day. In his hometown of Richmond, Va., there is a boulevard named after him, and a bronze statue of his likeness stands in that city as well–amidst a Confederate memorial, of all places.
Raymond Arsenault is the John Hope Franklin Professor of Southern History, the co-founder of the Florida Studies graduate program and the former chairman of the Department of History and Politics at the University of South Florida St. Petersburg. "Arthur Ashe: A Life" was selected as a New York Times Editor's Choice and was chosen as one of The New York Times Book Review's 100 Notable Books of 2018. 
To reach Frank Drouzas, email fdrouzas@theweeklychallenger.com