Dr. Tonjua Williams
BY HOLLY KESTENIS, Staff Writer
ST. PETERSBURG – Black Americans have long struggled to burn the shroud of racist views and socioeconomic obstacles that threaten to oppress their collective voice. Although the road of the past is fraught with horrific events, the black culture has made tremendous strides in attaining equal rights.
But local community leaders are concerned today's youth have forgotten their lineage and want African Americans to remember their heritage and rise up to their full potential.
Rev. Watson Haynes, president and chief executive officer of the Pinellas County Urban League, beamed like a proud papa as he introduced the guest speaker, Dr. Tonjua Williams, at the New Pleasant Grove Baptist Church Black History Breakfast last Saturday at the Enoch Davis Center.
A St. Pete native, Williams is not only the first woman president of St. Petersburg College (SPC), but she's also the first African American to hold the position.
"She started at the bottom. There was no bottom to her bottom," said Haynes, who has known Williams since she was a little girl growing up on the Deuces. He watched her start out as an accounting clerk at SPC, later becoming adjunct faculty, a part-time job.
"When you look at someone like that, you don't expect them to do anything or go anywhere," he said.
But up the ladder she climbed, moving into the position of director of Special Programs to associate provost, to provost, until finally being named the president. Williams is the poster child of the Black Migration.
"I used to make copies and get a quarter a copy," Williams said, recalling the time she worked at a lawyer's office.  She helped clean houses; she did whatever she had to, sacrificed what she needed to in order to travel her path of full potential. "You just don't know how those types of experiences are going to forever change your life."
Williams insists she had a village of caring people encapsulating her during the roughest years of her life, encouraging and often forcing her to change her direction from one of destruction to one of fulfillment. She remembers her bus driver Ms. Flossie. She remembers her neighbors, and she remembers how the village made sure to keep her straight.
"You'd get a whupping from your neighbor, then she'd tell your mama, and you'd get a whupping again,'" explained Williams, who views her childhood as an equal opportunity discipline bonanza. "Some of us got delayed whuppings like when grandma found out a week later, and she'd say, 'Come over here, I want to make sure you don't forget.'"
She said that doesn't happen anymore. Instead, she argues the black migration of the past, has become stagnant. Where before, the time between 1917 and 1970, when African Americans were plagued with decisions daily that could mean life or death, today's black communities seem to fall short.
Williams schooled a crowd of cheering supporters on how black ancestors were tired of being sick and tired. They were fed up with their role as sharecroppers, tired of having no food and not having homes. They defied the laws put forth to confine them to the South where there was no hope.
They started a black migration, one that Williams believes is responsible for the accomplishments and lifestyle of today's black Americans, but she insists blacks today are focusing on the wrong things.
"We will talk about each other; mistreat each other, just to be right. Just to look, to feel good," she said. Instead of being uplifting, Williams states the some in the black community are about getting their digs in, dogging each other and mistreating one another.
"Why would we do each other that way? Because in the other communities they could hate each other, but you'd never know it."
In comparison, Williams educated the crowd on "the digs" of old. There was no fighting among each other. Blacks were fighting for freedom, acceptance and safety. African Americans rose up to build their own cities within cities; started the Harlem Renaissance, survived the degradation of men publicly violated, the hardship of babies stolen out of mothers' arms and the shame of women raped by ruthless slave owners.
They overcame the humiliation of losing their lineage and the idea that they were property. African Americans braved the Underground Railroad, survived the civil war, faced the burning crosses of the KKK and had to avert their eyes to the black bodies swinging from dangling ropes.
"Somebody from your ancestry did that," Williams said, hoping the message was loud and clear. "They did all that, and we are still whining over someone on your job mistreating you? You're crying over some joker who don't want to date you? And we came from that lineage?"
Community leaders want the local black community to work together to continue the black migration efforts of the past. Whether it's through education, showing empathy or investing time in uplifting and mentoring the youth, pooling resources and using one's talent to help each other is the way to continue the migration in a positive direction.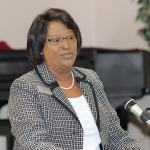 Williams encourages everyone to live their best life but isn't sure the majority understand what that means.
"Those of you who are slacking, who ain't doing what you are supposed to be doing, it's time to rise up. It's time to stand up. It's time to move," she demanded.
After a breakfast of grits, eggs, bacon, sausage, ham, salmon croquettes, pancakes and French toast that Earline Mells and the rest of the culinary committee lovingly prepared, skits on black migration from the 19th and 20th centuries were performed.
The morning was filled with nourishment for the mind and body, and the Enoch Davis Center's auditorium was filled to capacity with those hungering to get their spirit fed.