BY J.A. JONES, Staff Writer
ST. PETERSBURG – As Florida battles COVID-19, Pinellas County is also suffering from another health crisis: the HIV epidemic in St. Petersburg.
According to the most recent data, Pinellas County is one of seven counties in Florida with the highest rates of HIV (Human Immunodeficiency Virus), the precursor to the deadly Acquired Immune Deficiency Syndrome, or AIDS.  
A disease that rocked the country when it spread rapidly among the gay community and appeared with a vengeance in the intravenous drug-using population, AIDS fell out of the news during the 90s and 2000s. In fact, many younger people have no idea about how devastating the AIDS epidemic has been not only in America but worldwide.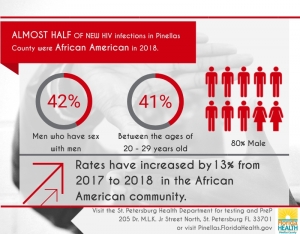 The fact is that HIV and AIDS never "left" the scene. The Kaiser Family Foundation states that more than 1 million people are living with HIV in the U.S. today, while more than 700,000 are reported to have died from AIDS since 1981.
According to the CDC, gay, bisexual and men who have sex with men still account for the majority of new HIV diagnoses in the nation, around 69 percent; 24 percent of cases are among heterosexuals. It is also concerning that one in seven – about 14 percent — of those who have contracted HIV have no idea they are even carrying it.
With the impact of HIV and AIDS still being felt, in 2018, the U.S. Department of Health and Human Services (HHS) began the EHE initiative to end the HIV epidemic in the U.S. by 2030. The initiative focuses on states including Alabama, Arkansas, Kentucky, Mississippi, Missouri, Oklahoma, South Carolina and Puerto Rico, and multiple counties in California, Florida, Georgia, Maryland, New Jersey, New York and Texas, among others.
According to Pinellas EHE 2019 data:
The highest percentage of cases was seen in the 20-29 age group, followed by the 30-39 age group. These age groups together make up more than half of new HIV cases

The 60 plus age group had an increase in cases in 2018 after having a decline in cases between 2016 and 2017

While Blacks make up around 12 percent of Pinellas County residents, they have had consistently higher rates of new HIV cases for the last seven years

Non-Hispanic Whites had a four percent decrease in the rate of new HIV cases between 2017 and 2018

Hispanics or Latinos in Pinellas County have consistently had higher rates of new HIV cases than non-Hispanics

Blacks made up 42 percent of new HIV cases in 2018. Of that number, 80 percent are Black Males; 41 percent are ages 20-29 and 42 percent are men who have sex with men

Highest zip-code rates are 33712, 33701, 33711, 33705 and 33713; these zip codes represent 12 percent of the population in Pinellas
Pinellas County's EHE Advisory Council formed and hosted meetings, focus groups, and listening sessions from December 2019 through September 2020.
The process brought together a cross-section of stakeholders and residents of various races, genders, and ages, in focus groups and listening sessions to understand what the community believed and understood, and felt should be considered. The year-long strategizing sessions culminated in a number of action items to raise awareness and help combat the crisis.
In January, the Florida Department of Health's Ending the HIV Epidemic initiative in Pinellas was awarded $458,000 to combat HIV in Pinellas, with more than $320,000 going to businesses and organizations in St. Pete poised to impact HIV numbers through education, awareness, testing and treatment.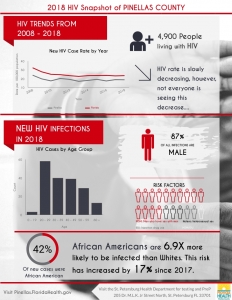 J. Carl Devine sits on the board of the AIDS Foundation, is the founder of The Banyan Tree Project, and sponsors the Ujima Men's Collective. Both organizations work to support, educate and counsel same-gender-loving men – many of whom are in crisis for a variety of reasons, just as a wide range of factors has caused the HIV epidemic.
"It was not really discussed in our community the way it should have been. After 30 years, we are still afraid to talk about it in a healthy manner. We're talking about stigma, we're talking about racism, we're talking about homophobia," he observed.
Now, said Devine, "a lot of people are unaware that they even have it; we're talking about health disparities." Pointing to the emotional toll that stigma, family denial, and emotional abuse, racism, and self-hate can take on young same-gender-loving people, Devine said that helping this population heal is primary in helping them begin to focus on healthy behavior.
Rev. J.C. Pritchett II of Faith Church St. Petersburg and the Interdenominational Ministerial Alliance (IMA) is also engaged in the fight to reduce HIV infections in St. Pete, along with several other area ministers. He believes that the conversations around LGBTQ+ identities that have occurred in the Black church contribute to stigma and isolation.
"I think for too long the Black church has not been willing to have conversations around sex, gender, condoms, HIV and the Black community," Pritchett commented.
Organizations that have committed to fighting the HIV epidemic in Pinellas and St. Pete include EPIC, The Weekly Challenger, Abundant Life Ministries, Metropolitan Charities and Metro Inclusive Health, IMA, Banyan Tree Project, Community Development and Training, Inc., University of South Florida and Help-Us Help-U, Inc., among others.
To reach J.A. Jones, email jjones@theweeklychallenger.com.