Local griot Gwendolyn Reese will join Green Book of Tampa Bay for an upcoming anniversary fundraising event Saturday, May 1. The talk will offer a more in-depth review of Green's "The Negro Motorist Green Book" and its St. Pete connections.
ST. PETERSBURG — April's installment of Community Conversations — a partnership between the African American Heritage Association of St. Petersburg and Tombolo Books — welcomed Green Book of Tampa Bay (GBTB) co-founders Hillary Van Dyke and Joshua Bean to the virtual conversation.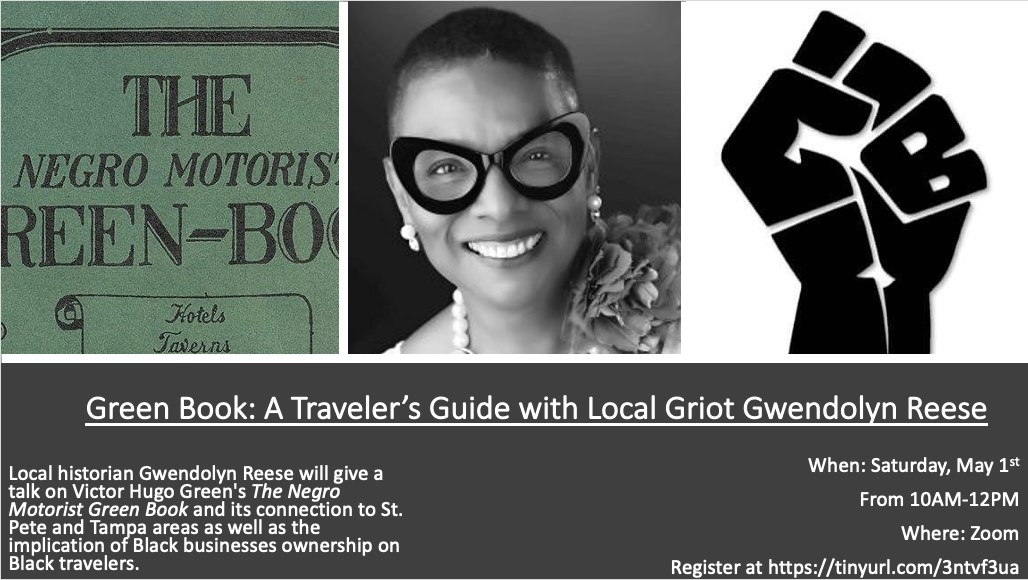 Gwendolyn Reese, president of the African American Heritage Association, Van Dyke and Bean discussed how Victor Hugo Green's "Negro Motorist Green Book," later renamed as "The Negro Travelers' Green Book," inspired the Pinellas County School educators to name their now two-year-old online guide to Black businesses, entrepreneurs, and historical and cultural sites in its honor.
Green's guide, published annually from 1936 to 1966, was a must-have companion for African Americans traveling throughout the Jim Crow South, looking for safe lodging, restaurants, service stations, and stores. It helped Black travelers avoid deadly encounters with racist mobs or equally unfriendly sundown towns – all-white cities practicing segregation, discrimination, and intimidation.
Reese shared that she viewed a copy of one of the annual guides, in which "the Robert James Hotel, Citizens Restaurant and Harris's Restaurant, were the three locations in St. Petersburg noted."
She went on to share that although the "Green Book" was little known outside the African-American community, it was published at a time when Blacks faced widespread racial prejudice, price gouging, and physical violence with the threat of death while traveling around the country.
When Reese turned the floor over to Van Dyke and Bean to share the origin story of GBTB, Van Dyke admitted that, as educators and counselors at Azalea Middle School, they were confronted with the pain of seeing former students "end up in news stories where they have been victims of violence or have been the perpetrator of violence."
Van Dyke acknowledged it was a reminder that they were "living in the Sunshine City — where the sun does not shine on everyone."
The two friends tried several community organizations before stumbling on the first episode of Killer Mike's TV series Trigger Warning when he tried to survive for a period of time only purchasing from Black neighborhood stores – and found it beyond difficult.
Van Dyke noted that the show "aligned with a lot of thinking we were already having around putting dollars in people's pockets, being intentional with your spending."
Bean added that, although they were both history buffs, he had never heard of Green's travel guide until Van Dyke taught about it during one of her equity trainings.
"I didn't learn about it in my Eurocentric upbringing in Oklahoma City's public school system, didn't learn about it in college, so it was like, dang, I thought I was well-versed, and I just wasn't."
He recalled a moment being at the Sunshine City Film Festival with Van Dyke, interviewing filmmaker and activist Jabaar Edmond, and then watching the Archie and David Boston documentary Black Pioneers of the Sunshine City when something came together in his mind.
"I was like, 'Hillary, we got to do the Green Book.'"
Van Dyke added that GBTB now has over 700 businesses.
"Thank you for having the vision and moving forward and making the vision real," said Reese before asking them to share the most significant lessons learned from the project so far. Van Dyke shared that it was continuing to learn and create relationships for her to make the Green Book "the most comprehensive Black-owned business directory in the area."
Bean stated that because the two are educators rather than MBAs, they didn't have business training when they started up, so much of their work has been trial and error. But he also stated that the idea that some communities can't work together had been proven false in the GBTB experience and specifically gave a shout out to One Community and The Deuces Live for their support along the way.
Reese also discussed the connection between the mission of the original "Green Book," and the mission of GBTB.
"Mr. Green published his "Green Book" for African Americans to be safe when they were traveling on the road. Your Green Book is a different kind of safety," noted Reese, adding that "when we talk about equity, equity gives us safety in our life experiences, in our health, and education."
Van Dyke added that the obvious point of GBTB is also to help consumers locate Black businesses, although not because of segregation, like the original "Green Book."
Bean noted for him, the GBTB offered a different look at the concept of "safety." Green Book of Tampa Bay is "helping people who look like me, debunking the myth of what Black neighborhoods and Black areas look like and feel like," to help white people "get out of their bubbles and their comfort zone."
Reese will also be joining Green Book of Tampa Bay for an upcoming anniversary fundraising event on Saturday, May 1: "Green Book: A Traveler's Guide with Local Griot Gwendolyn Reese." The talk will offer a more in-depth review of Green's "The Negro Motorist Green Book" and its St. Pete connections. Tickets are $5 for students, $10 for event only, and $20 for ticket price plus Green Book of Tampa Bay donation. Register at Eventbrite.
To reach J.A. Jones, email jjones@theweeklychallenger.com