Congressman Charlie Christ recently stopped by Mt. Vernon Elementary School to learn more about the Lunch Pals program and saw first-hand the impact it has made on the students.
BY FRANK DROUZAS, Staff Writer
ST. PETERSBURG — To most elementary school children, lunchtime is a chance to take a break from books and to chat and laugh with friends while munching on fries, pizza and other cafeteria fare. But thanks to Lunch Pals, that half hour means so much more to some children.
A partnership between Raymond James Financial and Pinellas County Schools, Lunch Pals is a program that seeks to give students something that young people can always use: mentoring.
Ron Diner, director of Strategic Partnerships at Raymond James, said it was about five years ago that Raymond James partnered with Mt. Vernon Elementary in St. Pete with the aim of helping the students there move forward successfully. The principal had told Diner that the best thing to do was to simply get volunteers to have lunch with the children–especially the students who had "limited or no role models in their lives."
Over the next couple of years, Diner rounded up close to 90 people from Raymond James to donate their time and meet with their own personal lunch pals at the school. Diner then met with Pinellas County Schools Superintendent Dr. Michael Grego and asked if more could be done, and Grego asked Diner if he could provide volunteers and mentors for other Pinellas Schools.
Lunch Pals was then launched to reach out to many more children in other area schools.
There are 100,000 children in the Pinellas County School system, and more than half are economically disadvantaged, Diner noted. Some come from single-parent homes; some live in group homes while others are even homeless. Specifically, regarding some of the schools in south St. Pete, there's a big challenge to get kids to do well in school and move forward with success.
"So there's a tremendous amount of kids out there who could use somebody," he said.
Since the beginning of Lunch Pals, Diner has sought other companies and organizations to encourage their staffs to participate and meet with students once a week during their lunch periods. As of the close of the last school year, 1,000 children had been paired with a mentor.
The goal was to get another 500 Lunch Pals for this school year, and already the program has almost 1,400. The list of partners has grown as well and includes the St. Pete Police Department and the Tampa Bay Times.
Anyone can donate his or her time and be paired with a young Lunch Pal, Diner said. There is an orientation workshop that prospective mentors must attend, which takes about an hour, and they must submit to a background check. The school system provides resources to help mentors connect with their Lunch Pals as well, such as a Lunch Pals newsletter that gives ideas to mentors for activities and topics of discussion.
Mentors and kids don't usually spend their time in the cafeteria, Diner explained, as the raucous atmosphere of a school lunchroom can get rather noisy. Diner himself meets with his lunch pal on the picnic tables outside, and they bond in a variety of ways, which can include talking, reading a book or simply playing a game. Volunteers meet with their Lunch Pals once a week and only during that half hour as there is no contact between them the rest of the week.
It is often the principal, a teacher or guidance counselor at a particular school that identifies a child that would benefit most by being paired up with a lunch pal, and the parents simply have to agree to it.
"Lunch Pals is not a tutoring program," Diner said. "Lunch Pals is a mentoring program. The schools are responsible for helping the kids get better–this is about making the kids feel better. And we only have a half an hour, and kids don't want to study over lunch."
How mentor and child spend the time together isn't as important as the time spent together itself.
"The most important thing you do is show up," Diner said, "because that's what's missing in a child's life. What you do there is almost secondary."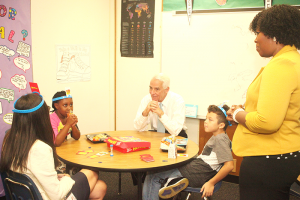 During a visit with one of his lunch pals, Diner said he merely talked about a recent trip he had taken.
"We were just talking about the trip," Diner said, "and I was reminding them that they'll be able to take trips like this as long as they keep doing good in school and get good grades and get a good job!"
Diner has been desperately looking for folks who will volunteer in elementary schools in south St. Pete. It is the program's goal to match black and brown boys and girls with mentors that look like them.
Without much success in reaching African-American professionals and retirees, the program is sending out a call to action to the community, asking for caring adults to spend 30 minutes a day, one day a week investing in a child's life.
If your fraternity, sorority, church, social or civic group is looking for a service program that will enhance the social, economic and educational well-being of the community, contact Keosha Simmons, Lunch Pals Coordinator at 727-588-6000 ext. 1369 or simmonskeo@pcsb.org.
For more information on the Lunch Pals program, log on to lunchpals.org.