Economist and author Heather McGhee draws on a wealth of economic data to show how discriminatory laws and practices targeting Black America also negatively impact society as a whole. Pictured above on March 15 at the University of South Florida St. Petersburg.
BY J. A. JONES, Staff Writer
ST PETERSBURG – "Why can't America have nice things?" This was the opening tongue-in-cheek consideration offered by Heather McGhee, renowned economist and best-selling author of "The Sum of Us: What Racism Costs Everyone and How We Can Prosper Together," during recent talks in St. Pete on March 14 and 15.
But the topic was far from humorous, and McGhee's presentations for the Foundation for a Healthy St. Petersburg's Pinellas Race Equity Leadership Council and USF St. Pete over the two days were sobering reminders of how our country's racist tactics have led to an apparent willingness to continue to "cut off its nose to spite its face."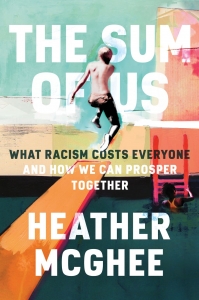 For McGhee, three years of crossing the country to determine why so many of our nation's policies, past and present, have led to shocking inequity in so many areas revealed the disturbing tendency of what she referred to as "the zero-sum paradigm."
The idea, held by large swaths of the white Americans, that progress for Black and Brown people must come at the expense of these same terrified, and whether they know it or not, racist whites.
McGhee's career includes more than two decades in public policy at the think-tank Demos. Accumulating and using research, statistical analysis, and data-enabled her to craft legislation, help shape presidential campaign platforms, testify before Congress, and help design solutions to the country's most pressing economic problems – including lack of affordable health care and housing, student debt, and ongoing poverty.
But when she realized that none of the solutions they recommended had managed to move the needle over that 20 years, McGhee left Demos to try and figure out what was really at play in America's intractable inequality ongoing poverty.
Calling these issues "the sort of bread-and-butter kitchen table issues that it would seem like in a country with the resources of this country, with the ingenuity and people and human capital of this country, we should be able to solve," she admitted that instead, things seemed to be getting worse.
"One percent of the population owned more wealth than the entire middle class, while 40 percent of adult workers were paid too little to meet their basic needs — so something simply wasn't working," she stated.
Over about three years, McGhee went from California to Mississippi, to Maine and back again multiple times trying to discover why America didn't seem to be able to have what other countries with a fraction of America's wealth were able to have, such as universal paid family leave and health insurance and well-funded schools in every neighborhood.
McGhee's book-related research led to disturbing discoveries about the system of structural racism that gradually grew out of the legacy of slavery and reconstruction and continued with the gradual erosion of programs established for the "public good."
Using the example of the draining of public pools, which, as McGhee noted, were shut down across the country once desegregation became law, it became easy to see how the loss of public pools (and sometimes entire recreation centers) — drained, filled, and covered over, rather than forced to integrate — hurt both Blacks and whites.
But some of these public good programs also provided generational wealth for whites – generational wealth not available to Blacks at that time.
An offshoot of the Works Progress Administration and New Deal, and born out of the Great Depression, McGhee referred to the public goods ethos – in which the American government saw itself as having a responsibility to ensure a decent standard of living for people, and to solve larger community problems by providing for these public goods.
The public goods ethos was reflected in things that were more economically significant than swimming pools, including social security for the elderly, investment in housing that workers could afford, the GI Bill that sent a generation of white vets to college, and no-down-payment homeownership.
"These public goods together helped to create the greatest middle class the world had ever seen; the highest standard of living in the world in the 1950s. And yet, virtually everything I just described was in one way or another, racially exclusionary — for whites only," asserted McGhee.
These programs — established for whites before the civil rights gains of the 60s – would be eroded and tossed aside once white Americans were forced to hand equal rights and these same sorts of public goods to Blacks.
Once these public good programs were open to Blacks, "in a very short period of time, we began to see a massive public opinion shift of the majority of white people away from supporting the perfect formula that had created that middle-class prosperity," McGhee added.
This included ideas such as guaranteed jobs and a basic universal income, which, before the 60s, two-thirds of surveyed whites were in favor of. But once the 1963 March on Washington for Jobs and Freedom occurred, support dropped by 50 percent among whites.
Indeed, said McGhee, the country's entire "high growth model" shifted in the wake of the 60s Civil Rights Movement to what she referred to a "drained pool politics," which lowered the investment in public goods, and made public policy less responsive to the core concerns of working and middle-class families.
She noted that it was even one of the factors that caused our higher education model to go from a free education to "debt to diploma" model as we drained the resources for public college, going from grants to loans just as higher education diplomas became more necessary in the American working world.
McGhee also shared the economic damage the ongoing "drained pool" ethos has wrought, including one report that states the loss of money derived by the country's racial divide is as much as $16 trillion lost over the last 20 years.
The cost in damage was recently supported by a regional report by the Tampa Bay Partnership published in 2020 that noted: "eliminating racial and ethnic discrimination in wealth would add $50 billion to the [Tampa Bay] region's $248 billion economy (a 20 percent increase)."
According to the latest research, this zero-sum worldview is very racialized in the U.S. McGhee explained that fixing this huge dilemma means realizing that "our collective economic progress is really being held back by a lie — the lie of the zero-sum; the idea that there's sort of a fixed pie of well-being and if one group gets a bigger smart slice and the next group must get a smaller slice."
In economics, she shared, "It's like a game, and you want all of your players on the field scoring points for your team. You don't want anyone sidelined due to discrimination or disadvantage. But the zero-sum story, this old story that says we are in competition with one another, says that we're not all on the same team."
To reach J.A. Jones, email jjones@theweeklychallenger.com