By Lynn Gordon, Contributor
ST. PETERSBURG — Faith Memorial Missionary Baptist Church invites the community to its Clothes Closet and Community Resource Event Sept. 21 from 9-2 p.m. on Faith Land, located on 18th Avenue between 19th and 20th Streets South.
The event's theme of "Strong Communities Make Strong Families" is based on Psalm 133:1.  Several ministries from Faith have partnered to bring the event to the community, notably the Women's Ministry, Health & Wellness Ministry, the Marriage Ministry.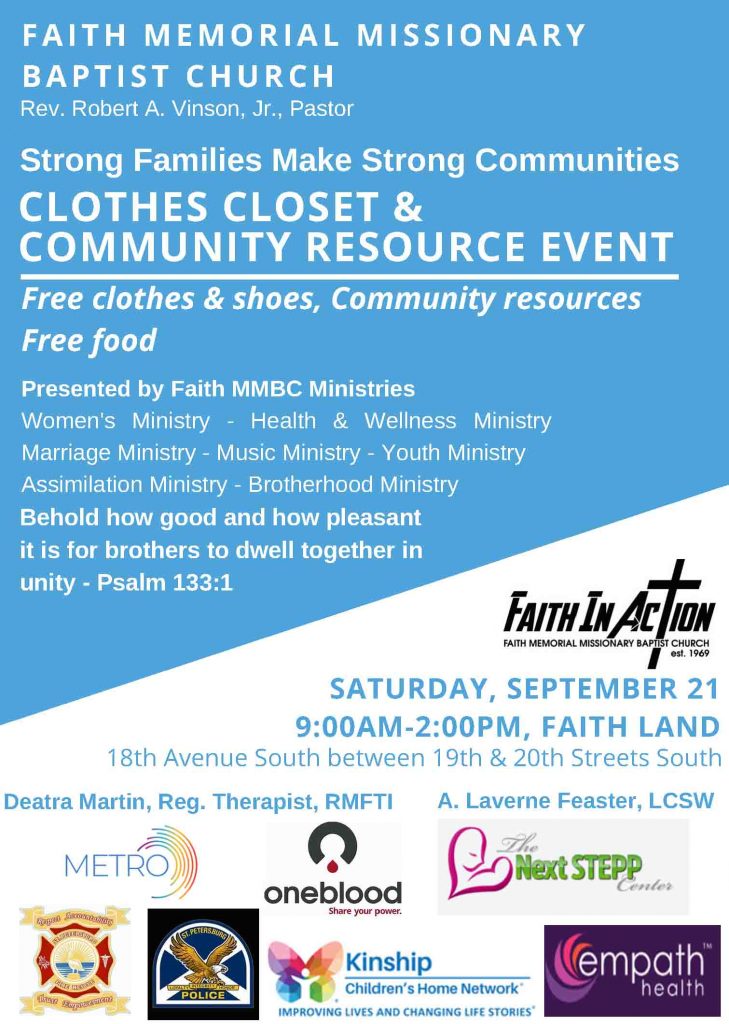 While free clothes and shoes will be available, the event will also focus on health-related community resources and bringing awareness of the importance of strong families, which are the foundation of the community.
Members of various Faith ministries, including the Brotherhood, Youth Ministry, Music Ministry and Assimilation Ministry will be on-site throughout the day to offer prayer and musical assurance.
The long-running annual event was formerly held once a year inside the church's fellowship hall and offered just clothes and shoes.  Over the last two years, it has grown to a bi-annual undertaking held outside of the church, making it more visible to the community and also offering resources and free meals.
Activities on Faith Land are the vision of Pastor Robert A. Vinson, Jr., who recognized the need for the church to be more visible to the surrounding community. In the last couple of years, the church has hosted the Clothes Closet, a community fellowship event, Christmas service and a few small church events in addition to being the home of the Sevenx7 citywide revival for the last several years.