Pastor Robert A. Vinson, Jr
BY RAVEN JOY SHONEL, Staff Writer
ST. PETERSBURG – By day, the empty lot that sits between 18th and 19th Street on 18th Avenue South may look vacant and lonely, but when the sunset last weekend, the large plot of land turned into a stage on which to worship Jesus Christ in a two-day celebration.
Entitled Christmas in the Park 2018, Faith Memorial Missionary Baptist Church invited the community out to celebrate the birth of Christ through music, praise dance and scripture Dec. 15 and 16.
"We wanted to evangelize to our community," said Willie Corbett, music liaison. "We wanted to give our community a chance to come in and worship with us and praise God and just open up to the community."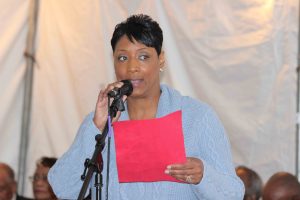 Faith Memorial is making an effort to leave the comfort of their four walls and step outside where the people are.  The vacant lot that sits adjacent to the church has been aptly named Faithland, and last weekend's concerts were the first of many.
Senior Pastor Robert A. Vinson, Jr. was approached by Corbett with an idea to hold a concert on the lot. He felt it was a great idea and the Music Ministry went to work bringing her thoughts to life.
"We can't do something like this overnight. Much prayer, much work and much dedication went into it," said Pastor Vinson, Jr.
However, the event was almost canceled due to inclement weather.
"I came out here last night about 9:40 and if you'd seen what I saw," said Pastor Vinson, Jr.  "I said, 'Lord, it's not going to happen.' It was flooding water over here, and stuff was turned over; one of the polls fell down, but God has the last decision."
The lot dried out and the program went off without a hitch.
"We are so happy that our first music event on this lot was a success," stated Corbett. "Anything that we do in the name of the Lord brings glory to Him and is a success."