Dashiki in The City's 'Black Panther: Wakanda Forever' Viewing Soiree' will take place on Nov. 11 at the AMC Sundial. Pictured above is the 2018 Dashiki in The City 'Black Panther' viewing party. 
BY J.A. JONES, Staff Writer
ST. PETERSBURG – A self-described "child of the arts," Koffee Khan is a multitalented singer, writer, artist, and designer who is also the creator of Dashiki in The City (DiTC), a platform for celebrating the African diaspora through cultural celebrations and events.
Starting in 2016, DiTC kicked off as one of the largest celebrations of Juneteenth in St. Pete after Khan realized that the nationally celebrated holiday deserved its own community celebration.
Although she had no idea it would quickly become such a popular event, Khan was following a calling and the rapid spread of excitement let her know she was on the right track in creating the event.
"It showed me there was a hunger for Black identity and expression here."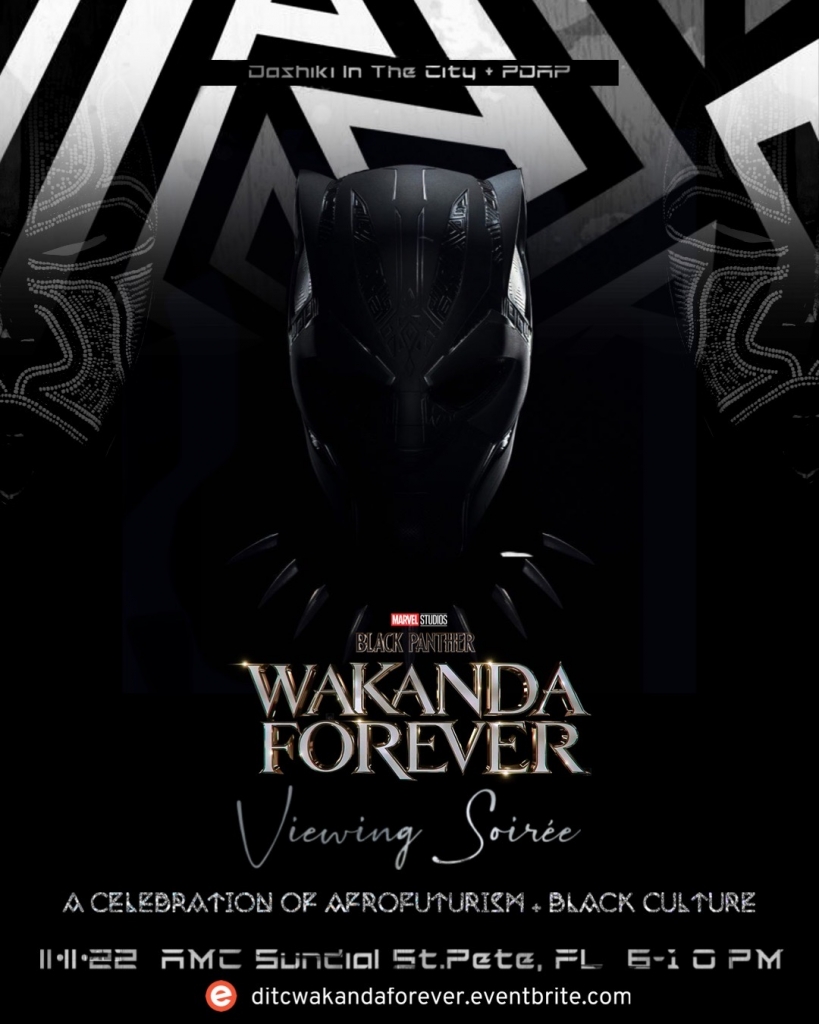 Khan noted that at Pinellas County Center for the Arts (PCCA) at Gibbs High School, she began to think of ways to bring art into the larger community.
But even before that, she recalled cultural experiences with family and community in the Caribbean – festivals, religious gatherings, experiences in nature – where she learned the power of artistic expression in large groups.
With arts in her bloodline, including a father who was a graphic and digital designer, and her grandmother who was a classically trained singer in the Caribbean, it's no surprise Khan graduated wanting to celebrate and highlight the similar and unique aspects of the African diaspora.
When the first "Black Panther" film opened in 2018, DiTC knew it was worthy of another unique community celebration and held its first viewing event at the AMC Sundial – a sold-out night of Afrofuturistic and Wakanda-inspired fun.
Now, as the second movie opening approaches, DiTC is back with another event: "Black Panther: Wakanda Forever" Viewing Soiree, on Nov. 11 at the AMC Sundial. It is sure to be another sold-out fete.
As a special featured event as part of the Tampa Bay Afrofuturism Festival, Nov. 11-13, with several events at different locations in St. Pete, Largo, and Clearwater, DiTC's viewing soiree adds a memorable communal film experience feel to the weekend.
"Our collaboration with the Tampa Bay Afrofuturism Festival aims to lavishly honor Black Panther, as it has transcended the screen and has served as a cultural beacon within Black cultures of the diaspora for its representations of Afrofuturism, African spirituality, Black representation in STEM, Blerd culture and comic book fandoms worldwide," said Khan.
Tickets are going fast, and Khan is prepping for yet another uplifting, exciting, and fun evening that fulfills DiTC's mission to bring members of the African diaspora together for powerful community events. Don't wait; get your tickets today to this memorable night of Wakanda-style joy!
The event includes:
Happy Hour | 6-7 p.m.
Enjoy a diverse bar featuring beverages crafted by Black-owned companies and a delectable menu of soul food-inspired hors d'oeuvres, baked treats and other lite fares. Take this time to network, mingle and selfie it up with your friends! Shop the Wakanda Bazaar, which will be comprised of local BIPOC shops.
Movie Time | 7 p.m.
PG-13 2h 41m
After Party
Following the film, there will be an after-party at Urban Drinkery where all attendees can continue the festivities!
Ticket includes bar, dinner, and film viewing access
Seating is first come, first served, so you are urged to arrive on time
Parking maps will be posted on the Facebook event page. Street parking is also available
Visit the event page on Facebook for more information and buy tickets at ditcwakandaforever.eventbrite.com.