BY J.A. JONES, Staff Writer
ST PETERSBURG – In its fourth year, The Well for Life's fourth annual BIPOC mental health awareness summit, 2021 Healing While Black, returns this week, offering an array of powerful speakers, presentations, community gatherings, and experiences.
Registration for events from Friday, July 23 to Sunday, July 25 is open online now – while a last-minute slot has been added for Thursday, July 22, at 2:30 p.m. with Bob Devin Jones hosting a conversation on healing through art with local artists at Studio@620.
Participants who are fully vaccinated and "feeling well" — as well as those viewing online — will experience events at SPC's Allstate Center at 3200 34th St. S, with additional outdoor events happening at Boyd Hill Nature Preserve, the Deuces Corridor, the Dr. Carter G. Woodson African American Museum, and other location.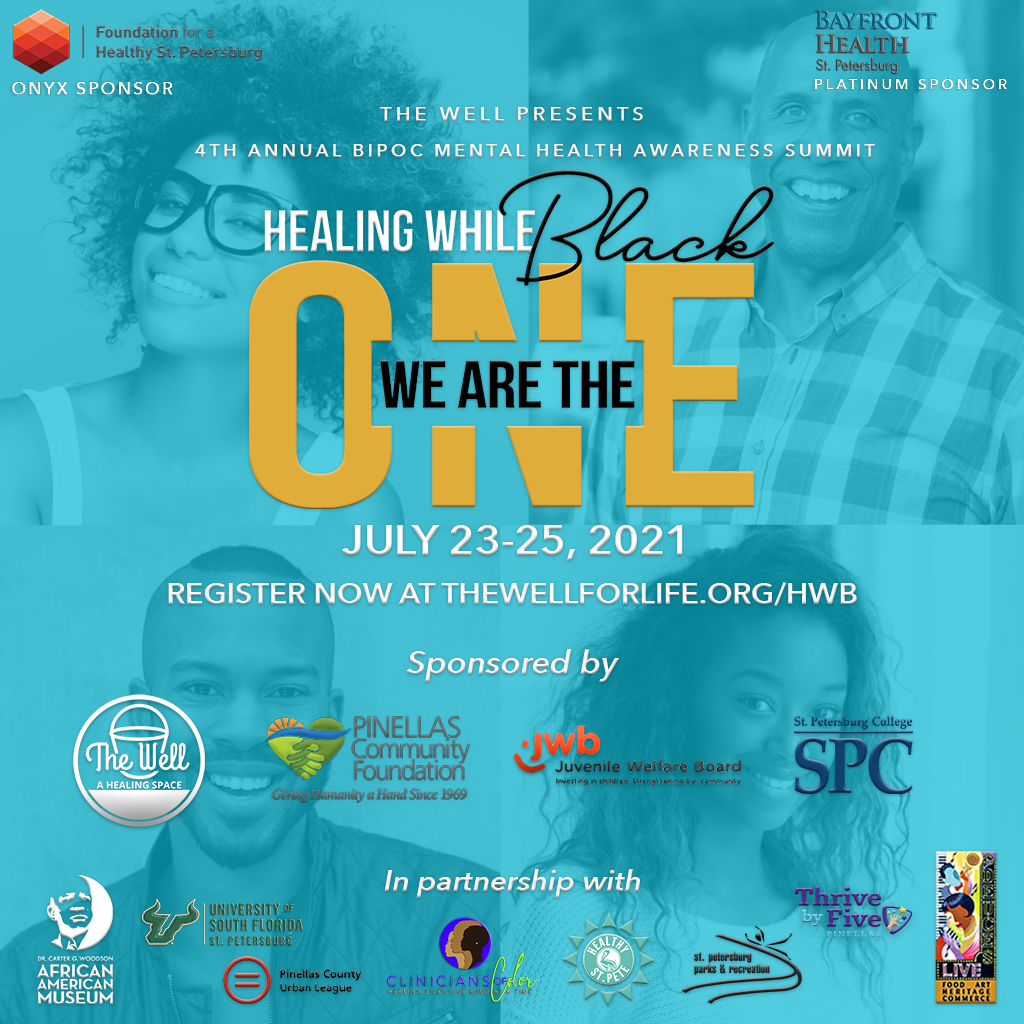 Dr. LaDonna Butler, founder of The Well, said the conference was built around the theme "We are the One" and noted many reasons for imbuing this year's conference with the empowering and uplifting theme.
"It was important for us to focus on our ability to show up as a people. This year is really a celebration of resiliency and a celebration of our strength," she shared.
Noting that the past year had been a difficult one, inspiring the desire to "celebrate the power of collective healing, and well-being, coming through a global pandemic, social and racial unrest, as well as an economic shift in our country."
Butler noted that the theme is inclusive of not just health care practitioners but also the wider community. "We're the ones that show up — we're the ones to take care of our neighbors. We're the ones that have the solution and strategy embedded in us."
She also acknowledged that the theme also takes into account the hardships facing our community. "We also are the ones that are showing up at number one for some of the greatest health disparities, including asthma, diabetes, COVID, HIV."
But, she added, while we are facing these disparities, "We also are the ones that have the capacity to be resilient, and to restore, and to be able to respond to one another in ways that are restorative."
On Friday, the conference focuses on community and professional development, with virtual training in topics, including Applicable Strategies for supporting BIPOC mental health and collaborative learning to aid in long-term solutions for healing communities by leveraging collective power.
On Friday evening, the offerings shift to the James Museum, at 150 Central Ave., for an evening of "artist conversation and poetic expression," including artist Nick Davis and a DJ spinning music.
 Saturday — Deconstructed Series
Melanated Movement: several physical activities, including yoga and mindfulness with Clayton Sizemore, a basketball tournament, an Outdoor Afro Hike, Kickball, and a water aerobics session with Dr. Natasha Rubie
Nourish and Reflect: "Family Picnic," "Brown Girl Brunch," and "Brothers and BBQ"
Textured Conversations: with events at Divine Textures in Gulfport and Central Station Barbershop and Grooming in St. Pete.
Saturday's water aerobics facilitator, Dr. Natasha Rubie, shared how her work contributed to healing. "I got involved with Dr. Butler because I first started out with what she was doing on gun violence in the neighborhood in St Petersburg. And from there, we realized that a lot of those neighboring environments were not allowed to use certain pools. They weren't to allow to be able to get in there and do water aerobics, or anything that's exercise-driven."
Rubie has taught water aerobics for the last seven years and spoke passionately about its restorative power.
"I've seen people able to have movement in their lives. A lot of people don't have a starting point. And so, at least in the water, even if you can't walk, if you're wheelchair-bound, in the water you're able to have water-legs. It's the most amazing thing — I've watched people cry because they didn't realize the power of water."
Sunday, the conference wraps up with "A Celebration of Us" – including painting in the park led by artist Catherine E Weaver, an early morning photo walk conducted by Boyzell Hosey, and the Community Festival featuring local vendors, a food court, two live music areas, and local artists.
Other guest speakers and presenters include Corey B. Best, Rochelle Ritchie, Dr. S. Kent Butler, Dr. Shamarial Roberson, Josh Odom, and Kempis "Ghani" Songster.
Butler noted that "We are the Ones" brings the entire community into the act of self-care – including, in her case, a neighbor who found a family member with dimension wandering the streets and brought her home to stay with her until Butler was contacted.
"It's also our healthcare practitioners who sacrificed their own families, their own time and respond to some of the most dangerous and critical places in our health," said Butler.  It's our organizers who are helping us to stay focused, vocal, and active around the things that keep our communities safe; our media, where we have the power to direct the story in a way that highlights and affirms the truth about our community.
"So, when I say, 'we are the ones,' I'm talking about the collective we."
To register for this week's 2021 Healing While Black Summit, go to thewellforlife.squarespace.com.