Lola B. Morgan's company, A Griot's Corner, offers therapeutic tools to help heal, empower, and transform a person's perspective by achieving better mental health strategies to achieve positive results.
BY JOYCE NANETTE JOHNSON, Staff Writer
ST. PETERSBURG – Transformational life coach Lola B. Morgan advises her clients that to achieve personal success and inner peace, there are three essential steps to begin the journey.
The first is to reflect on where they are at that moment in their lives. Secondly, to learn to hold themselves accountable for the things they want. Thirdly, and most importantly, to give themselves grace.
Her company, A Griot's Corner, LLC, offers therapeutic tools to help "heal, empower, and transform" a person's perspective by achieving better mental health strategies to achieve positive results.
Life has become more complicated as we are bombarded more and more by pestilence, rising crime, distrust in dissolving political systems, drugs and the breakdown of the family.
"People are being attacked by multiple stress factors such as bullying, death, trauma, separation and lack of self-worth," explained Morgan. "Also, children are additionally at risk of bullying daily. "
Morgan is certified in therapeutic arts coaching and as a mental health first aider. She advocates several methods to battle depression and alleviate anxiety and stress. At A Griot's Corner, she offers one-on-one coaching and has been a facilitator for corporations and organizations.
One of the modalities she offers is Cognitive Behavioral Therapy (CBT) techniques to teach people how to navigate life's emotional roller coaster.
"I encourage them to change their mindset and to refocus on their behavior and difficulties," she explained. "CBT encourages the person to assess how and why they got there (the situation) in the first place. We uncover things about themselves that they don't see. I encourage them to be honest about their feelings and that they must honor their true emotions."
Morgan feels that CBT techniques help remove the "blockages" we have placed in our minds that hinder our success.
At the session, the person reviews the different types of blockages that can impede their good mental health and transition. Morgan utilizes several various therapeutic tools to assist her clients during this assessment.
"I introduce them to reflective prompts, intention setting and having mindfulness," she explained. "Lack of self-esteem is one of those self-imposed blockages."
She also states that we must acknowledge what we need to change to get what we want. You can learn to refocus on your mind and behavior by changing your mindset.
One of Morgan's most interesting tools is to have a person create a personal "wellness roadmap."
"By creating a wellness roadmap, the person can examine where they've been in life and where they want to go," asserted Morgan. "It is a vehicle where they can discover their own voice, review past and current relationships and discover their capacity for life and fulfillment."
A Griot's Corner offers several workshops for individuals and corporations:
"Believe It. The Power of I am Workshop: Focuses on the individual, specifically their past accomplishments, and discovering their limitless potential in the future.
20 Day Reflection Challenge Workshop: Teaches people to reflect on their inner voice, what peace means and how to achieve it. Participants will also discover their commitments to others and how their gratitude journey begins and ends with them.
Tips to Build Healthier Coping Mechanisms Workshop: Teaches people to learn their triggers, open communication and how to use their voice. It also teaches how to develop a healthy support system and know when to seek professional help.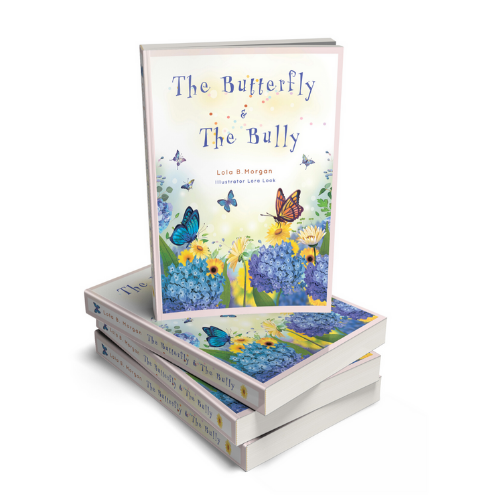 In 2019, Morgan expanded her horizons and became the author of a children's book "The Butterfly and the Bully."  She feels the book is a valuable tool for children because it teaches them to relate to and explore the different traumas they are experiencing and, most importantly, help them heal and learn positive reinforcements.
"I was that little girl," Morgan said about the main character in the book, which was bullied.
As a child, she was a victim of bullying and experienced separation within her family unit.
"My mother inspired me to write to relieve stress and fulfill words I didn't feel comfortable conveying in my adolescent years," Morgan expressed. "My mom built my self-esteem, and my dad showed me how to have confidence and professionalism. His motto was: 'No matter what you go through, you don't have to show it on your face.'"
Morgan also released "THIS IS ME: Interactive Coloring Book," which explores the creativity of our youth while teaching them the power of affirming who they are.
As a client of Samantha Harris, owner of 1st Book Club Publishing Company, she credits her with helping her obtain her dreams and vision.
"I would not be here, literally, today without Sam's generosity," she said, calling her a "human potential activator."
Morgan hopes her books remind the reader that "no matter what you experience in life, it doesn't have to define you."
Morgan will be at the 2023 Annual Collard Green Festival with her books and some sage advice. Mark your calendar to attend Feb. 18 from 10-5 p.m. at the Woodson Museum, 2240 9th Ave. S, St. Petersburg.