Uniquely Original Art Studio's Catherine Weaver was at the Juneteenth Black Business Expo to sell her art and held painting classes throughout the day. She was seen here posing with Mayor Rick Kriseman.
BY MARK PARKER, Staff Writer
ST. PETERSBURG — Attendees and vendors at the second annual Juneteenth Business Expo had an extra reason to celebrate Saturday, as just days earlier, the government finally recognized Juneteenth as a federal holiday.
Juneteenth marks the day that federal troops arrived in Galveston, Texas, in 1865 to take control of the state and free its 250,000 enslaved people. Although the Emancipation Proclamation was signed two and a half years before Confederate General Robert E. Lee surrendered in Virginia two months prior, slavery was primarily unaffected in Texas.
That is until General Gordon Granger personally set foot in the isolated state to read General Orders No. 3: "The people of Texas are informed that, in accordance with a proclamation from the Executive of the United States, all slaves are free."
Freedmen in Texas organized the first celebration of what was then known as "Jubilee Day" on June 19, 1866. The commemoration would soon spread to other states – eventually becoming known as the longest-celebrated African-American holiday.
In 1979, Texas became the first state to make Juneteenth an official holiday, and on June 17, it became a national holiday when President Joe Biden signed it into law.
Community activist Corey Givens Jr. said that Juneteenth must be about more than a federal holiday.
"It has to be about more than what was given," said Givens. "It must be about what has already been claimed – freedom from oppression and injustice."
If the vendor and community turnout at the expo was any indication, people were ready to celebrate and fellowship together.
Founded by B.Blaze Hair Boutique and Three Generations food truck and sponsored by BD Mortgage Group, the expo was held outside on the Deuces – creating a vibrant assortment of black-owned businesses in an area once nicknamed the Black Wall Street.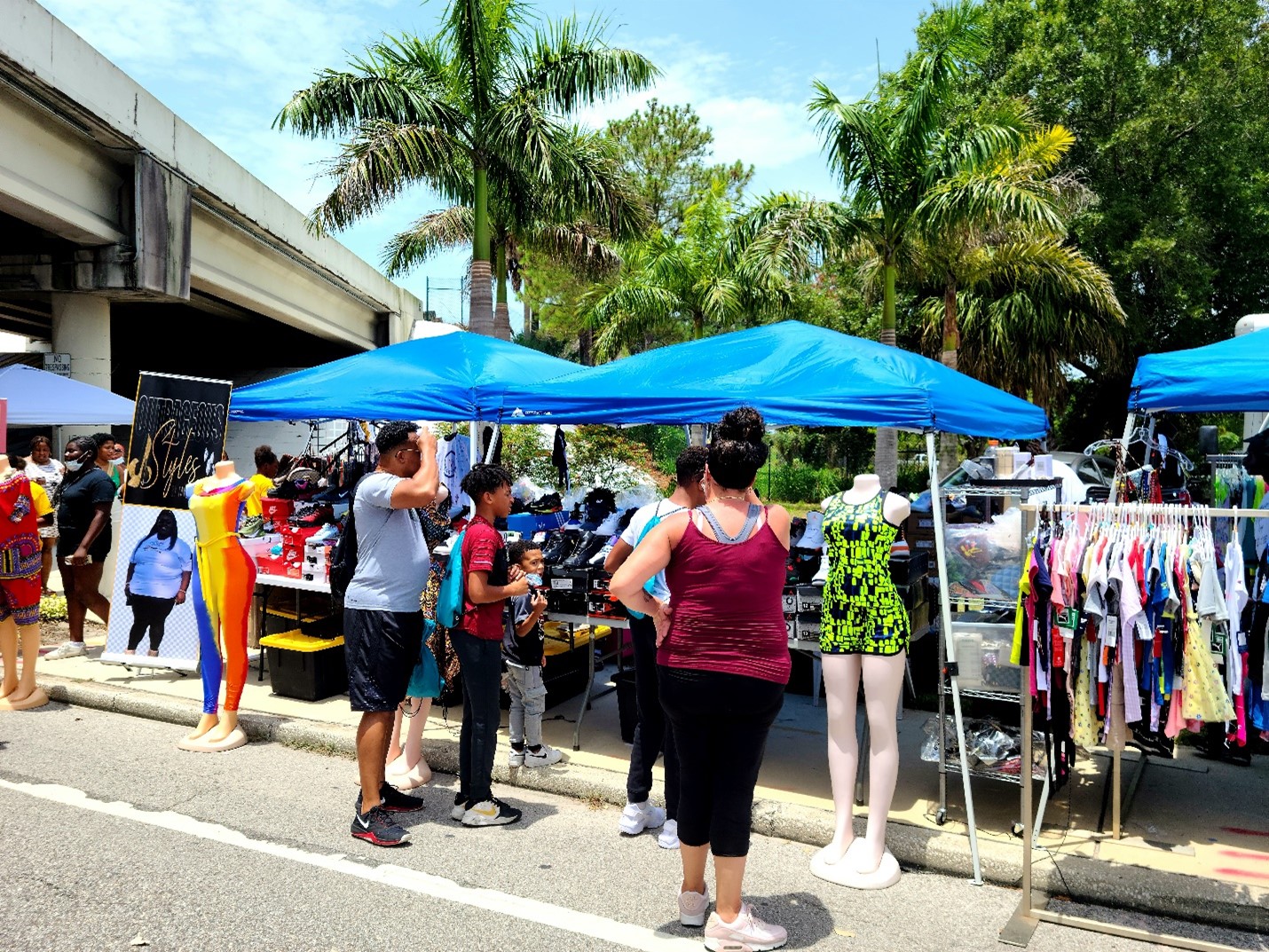 Malynda Washington of Lynda Elle Public Relations said that 600-700 people attended the event held between 10-5 p.m. and featured 107 vendors. There was a myriad of food options, although mouth-watering barbecue was the prevalent smell that delighted attendees from the moment they began the walk up to the festival area.
The lively event resembled a family barbecue, not just from the food but also from the music and fellowship. St. Peterburg Mayor Rick Kriseman was seen milling about in his shorts, boat shoes, and sunglasses.
In addition to the many food vendors, there were Black-owned businesses featured from every industry one could imagine. Many clothing, art, educational, and health booths were on hand, as were financial services and realtors.
Catherine Weaver, who operates the Uniquely Original Art Studio and offers Cultural Art Painting Parties, was there to sell her art and held painting classes throughout the day. She thought the business expo was "excellent" and "well-needed" as it is impossible for a brick-and-mortar shop to get that amount of foot traffic in a day.
She also appreciates having these big events close to home, as she used to travel to Atlanta for such celebrations.
"To have this right down the street from me, right in our neighborhood – it's just special," she said.
Weaver, who was also an artist featured in the Black Lives Matter mural outside of the Carter G. Woodson Museum, also thought that this year was more meaningful and that it was reflected in the crowd size.
"To have this at the same time (Juneteenth becoming a federal holiday) is just awesome," said Weaver. "I think way more people showed up."
Washington also thinks that this business expo holds a much deeper meaning.
"I think it makes us recognize our ancestors – where we are and where we came from," said averred. "To see 107 vendors of Black-owned businesses across all industries, educational and kid-friendly activities, and just the journey of black artists and creatives, the music, it just makes us reflect on what our ancestors went through…and what we can accomplish today.
Givens said that "the expo was amazing; it was a cultural hub of some of the best talent and opportunities that St. Pete has to offer."
He added that it made it difficult to attend each one with many Juneteenth events happening across the city.
"I'd like to see organizers come together to host one major event in the same location," said Givens. "It would be easier to support everyone at the same time."
Washington also wants to see the Black Business Expo expand, possibly with a partnership with the city. She hopes Juneteenth becoming a federal holiday will also open doors to perhaps putting on a bigger event on Central Avenue.
"We'd love to have collaborations with some of our bigger businesses to amplify the event and the message of Juneteenth," said Washington. "There's nothing like amplifying the message."
To reach Mark Parker, email mparker@theweeklychallenger.com