ST. PETERSBURG — The Delta Omicron Sigma chapter of Phi Beta Sigma Fraternity, Inc. presented two new brothers to St. Pete on Feb. 10 amid an overflow crowd at The Warehouse @ The Pavilion.
Chapter president Antwann Jackson introduced Joel Shedrick, Jr. and Darion Bentley as the newest brothers inducted into the Delta Omicron Sigma chapter of Phi Beta Sigma. About 50 people–Sigma brothers and members of their youth group, the Sigma Beta Club, sisters of Zeta Phi Beta, the constitutional sorority to Sigma, family and friends–were on hand at the new, intimate banquet spot on 49th Street South to publicly acknowledge Shedrick and Bentley's achievement.
"They already are brothers," Christopher Lampley, first vice president of the local chapter, explained to the crowd. "We just have been so busy working in the community. This is the first break we've had to present these new brothers to the community, where they already have been working hard."
After several weeks of studying the 105-year-old fraternity's history, symbolism, constitution and culture, Shedrick and Bentley were made brothers of Phi Beta Sigma during a ceremony Dec. 21. The solemn and sacred induction ceremony is private, as is the case with most Greek-letter organizations, especially the historically black fraternities and sororities collectively known as the Divine Nine. Typically, a "New Members Reception" follows shortly after to publicly acknowledge the accomplishment.
Shedrick is a native of St. Pete and a graduate of St. Petersburg High School and St. Petersburg College. He is pursuing a Bachelors of Applied Science in business management and leadership.
He has worked for Humana for seven years and is a Medicaid prior authorization coordinator, and has one daughter.
Bentley was born and raised in St. Pete also and is a graduate of Florida Agricultural and Mechanical University (FAMU), where he earned a degree in elementary education. He is an on-site substitute at the Midtown Academy Center for Cultural Arts & Gifted Studies and an educational specialist for the City of St. Petersburg.
Bentley and Shedrick took right to the fraternity's focus on lifting local communities. Bentley serves as a tutor to the Sigma Beta Club, which consists of boys eight to 18, and Shedrick is chapter co-director of the Sigma Beta Club.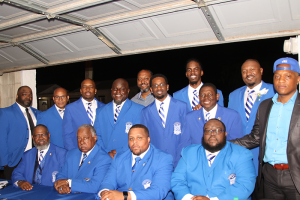 Delta Omicron Sigma is a Phi Beta Sigma chapter of college graduates carrying out the fraternity's motto: "Culture for Service, and Service for Humanity." The fraternity was founded Jan. 9, 1914, at Howard University in Washington, D.C., on the high ideals of brotherhood, scholarship and service. The Delta Omicron Sigma chapter was established in St. Petersburg on Nov. 14, 1963.
The Feb. 10 reception was planned by brother Dr. Cody Clark, chapter director of education, and brothers Lampley, Greg Perkins, chapter director of the Sigma Beta Club and Walter Brown.
Sponsors or participants in the reception included The Pavilion, "a community of unique shoppes" at 559 49th St. S, George's Grill at 1836 49th St. S and Reader's Choice Books, owned by Tangela Murph-Bailey, 4341 34th St. S.