COUNTYWIDE — Pinellas County Schools seeks educators to work in its Transformation Zone. The Transformation Zone is an area where schools provide an environment with researched strategies and systems in an effort to increase student achievement and ensure college and career readiness for students.
An information session/job fair will be held Saturday, March 2 from 9-11:30 a.m. at the University of South Florida South St. Petersburg's Lynn Pippenger Hall, 350-378 7th Ave. S, St. Petersburg. The information session will be held in rooms LPH 127 and LPH 128. Teachers, counselors, psychologists and social workers are invited to attend the session.
A career in the Transformation Zone is a rewarding opportunity to change lives and additionally offers opportunities such as:
Additional Compensation
High quality ongoing professional development
Highly effective instructional leaders
High performing teachers
Extended learning day
Full-time Student Services team
Transformation Zone District Support Team
Leadership development
Data Analysis and accountability
The Transformation Zone is led by proven turnaround leaders and is designed to move schools out of Differentiated Accountability status as a result of being designated a "D' or an "F" by the Florida Department of Education. The mission is to improve academic outcomes by providing intense teaching and intervention that leads to a turnaround in student achievement, school culture and climate, and community engagement.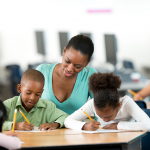 With an innovative, 21 Century model of quality education, Transformation Zone classrooms are led by teachers, counselors, psychologist, social workers, and instructional coaches. Transformation Zone teachers do not work in silos but work shoulder-to-shoulder with colleagues for the successful education of every student.
A culture of collaboration is a hallmark of working in the Transformation Zone. The positive impact of the Transformation Zone is the ability to deliver caring, committed, and content expert educators throughout every classroom experience.
For more information, contact Raquel Perez-Russo at 727-588-5007 or perez-russor@pcsb.org and or Jennifer MacClinchy at 588-6450 email macclinchyj@pcsb.org.
Click here to register for the Transformation Zone Information Session.