Calvin Smith, National Senior Games reps slated to speak at the Healthy Aging event.
ST. PETERSBURG — Olympian Calvin Smith, along with Healthy St. Pete, the Sunshine Center and the National Senior Games Association, will present "A Call to Action for Healthy Aging" on Monday, Feb. 25 from 5:30-7 p.m. at The Sunshine Center, 330 Fifth St. N, St. Pete.
Smith, who earned a Gold Medal in the 4×100-meter relay in the 1984 Olympic Games in Los Angeles and a Bronze Medal in the 100-meter dash in the 1988 Games, will present reflections on his track career and lessons learned about staying healthy and fit for life.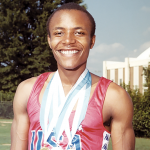 Representatives of the National Senior Games Association, the Sunshine Center and Healthy St. Pete will also speak about the health, fitness and social benefits of participating in senior sports and recreational activities at local, state and national levels. Attendees can learn about the many opportunities in Florida to join the Senior Games Movement.
The first 10 people to pre-register and attend the event will receive a free copy of Calvin Smith's book "It Should Have Been Gold."
To pre-register, call (727) 893-7101. Refreshments provided.