BY RAVEN JOY SHONEL, 

Staff Writer
ST. PETERSBURG – For the third year in a row, Mayor Rick Kriseman raised the Dr. Carter G. Woodson African American History Museum flag above City Hall Feb. 1 to kick off Black History Month.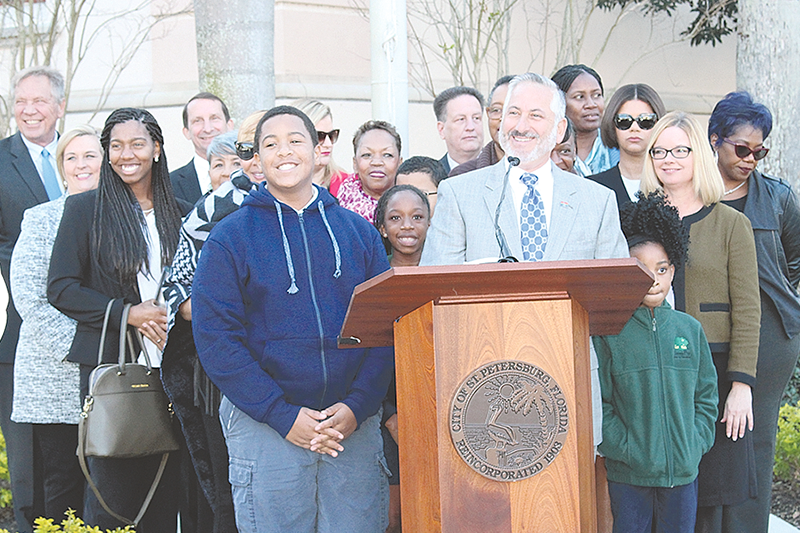 Mayor Kriseman stated that one of the highlights of his first term was being a position, with the support of city council, to purchase the land that the Woodson Museum sits on. That purchase last year will ensure its continued existence in the community.
"This city is committed to providing the Woodson with a proper space, one that allows the museum to flourish and grow," he said. "We are dedicated to making the space bigger and better and truly treating it like the gem that it is."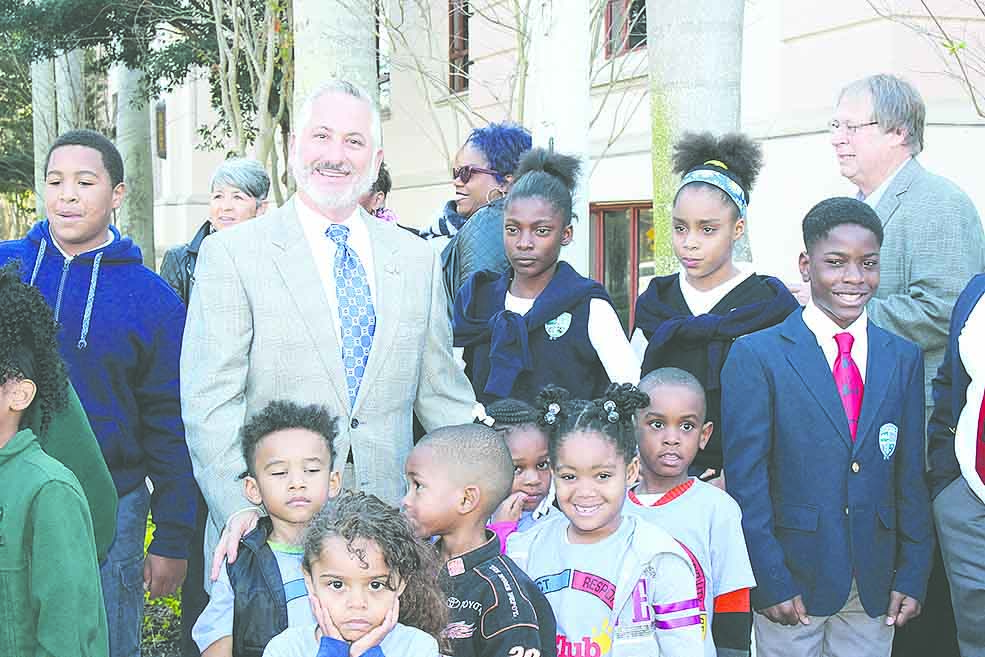 The mayor went on to recognize a few African-American leaders and city employees who "help makes the sun shine brightly on the city," such as Police Chief Anthony Holloway, Deputy Mayor and City Administrator Dr. Kanika Tomalin, Assistant City Attorney Jeannine Williams, Director of Sanitation Ben Shirley, Director of Urban Affairs Nikki Gaskin-Capehart, Director of Education Leah McCrae, City Council Chair Lisa Wheeler-Bowman, Director of Code Enforcement James Corbett, City Clerk Chan Srinivasa, School Board Chair Rene Flowers and County Commissioner and Chair Ken Welch.
Before handing the podium over to Terri Lipsey Scott, chair of the executive board of directors for the Woodson Museum, the mayor said, "The list of talented and dedicated city employees goes on and on and on."
Lipsey Scott declared Mayor Kriseman a leader who understands the merit of celebrating the contributions of a race that "continues to lag in the respect that it's due."
"We are proud today of the residents and friends who are here with us who to understand the importance and significance of embracing, acknowledging, sharing and celebrating the success and contributions that African Americans have made and continue to make throughout our community and nation," she stated.
Mentioning the conversation that arises every February in American, she said she takes pride in knowing that we as a city have not fallen for the rhetoric that suggests there should be no month that singles out the contributions of any particular race, "but that we understand that we are not at that place yet in time where we as a race have overcome."
She also took the time to give a history lesson on the current #MeToo Movement, which is used on social media to help demonstrate the widespread prevalence of sexual assault and harassment, especially in the workplace. First used by African-American civil rights activist Tarana Burke in 2006, Lipsey Scott went back a little further.
"Allow me to speak to the history of the originators of the #MeToo Movement," she preached. "Woman whose tears were suppressed as their bosses, whom they called 'massa,' violated them day in and day out despite the evidence that was born of their crimes; who too were forced to remain silent for fear of losing something greater than a job, in fact, their lives."
In celebration of Black History Month and women in the community, Lipsey Scott recognized a few names such as Patricia Alsup, the U.S. Ambassador to the Republic of The Gambia and Jessie Boyce, first African-American Outstanding Educator of the Year in Pinellas County.
She finished by thanking Kriseman for demonstrating to the city, state and nation that St. Petersburg "is a home to hope, a place of promise and a community filled with love and respect for all."