The 2017-18 class of Men In The Making celebrated their rite of passage ceremony Friday, May 11 at the Vinoy Renaissance Resort in downtown St. Petersburg
BY RAVEN JOY SHONEL, Staff Writer
ST. PETERSBURG – The Vinoy Renaissance is a luxurious million-dollar resort in downtown St. Petersburg, but it's doubtful if it had ever hosted such a distinguished group of young men before the

Men In The Making

(MIM) held their rite of passage celebration last Friday, May 11.
Fifty-eight young men successfully completed the 2017-18 MIM program, which is a progressive initiative focusing on role modeling, academic enrichment and life skill support to increase male minority success from the cradle to college. Emphasis is placed on academic excellence, social responsibility, emotional stability and cultural acuity in the curriculum and exposure outings.
Established in 2015, MIM is directly funded by

Cross and Anvil Human Services

. Local law enforcement and St. Petersburg College all joined in to create a safe space for the young men.
This year's 30 adult male role models and mentors completed a Florida Department of Law Enforcement background check and were trained and certified as youth advocates. Throughout the program year, these role models developed relationships that positively impact the youths they were mentoring.
Built on the dedication of men of faith, fathers, law enforcement officers, pastors, coaches, businessmen, concerned citizens and students who lead by example, these selfless men help repair the breach and create social capital and financial resources while redirecting the current pipeline from dropout to prison.
ABC Action News journalist Jasmine Styles

played the role of mistress of ceremony. She is all too familiar with reports of young men and women on the news for all the wrong reasons, "so it's so nice to see young men of color being honored," she said.
A few MIM participants were chomping at the bit to say a few words about the program such as mentor Clayton Sizemore, who feels honored to be a part of the program.
"It's about the boys; it's about the right choices. It's an honor and privileged to be here helping these young men," he stated.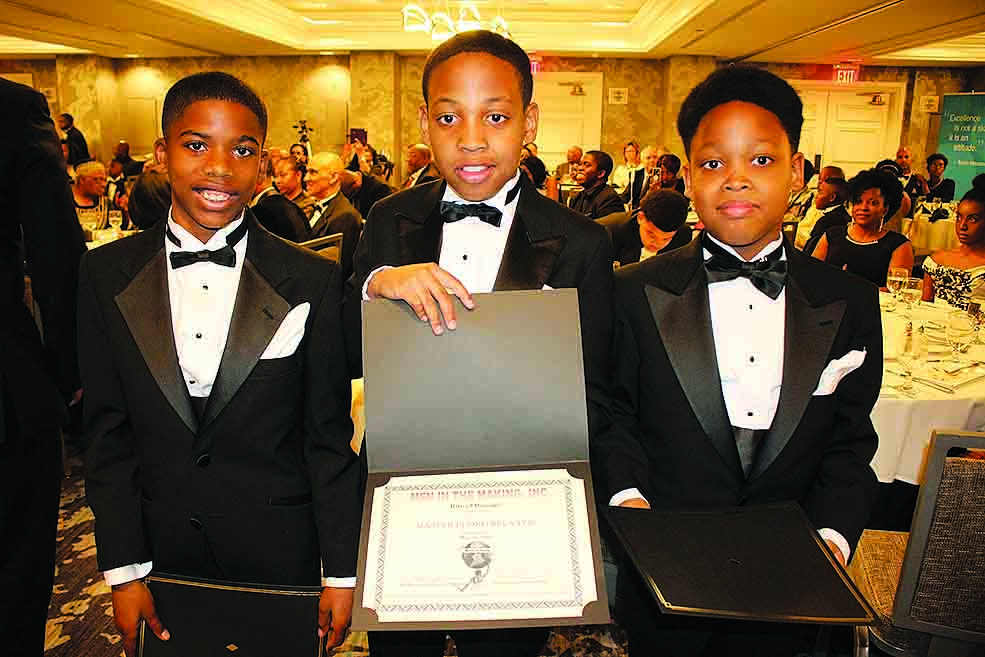 "This program has taught all of us many different things, things that we probably would not have even thought of having an interested in," said mentee Daniel Sanders, revealing that after his time in the program, he is now considering a career in journalism.
Eric Washington, who is graduating from Dixie Hollins this week, met program founder and President Rev. Kenny Irby in the sixth grade through the Write Field Program at the Poynter Institute. When he heard of MIM, he made sure he signed up.
"I come from a very loving family but I have a father who has a brain injury and he really did not know how to teach me how to be a man and the responsibilities that came with that," explained Washington, adding that he knew he would get the instruction he needed through MIM.
Sixteen-year-old Morris McCray signed up for the program for a totally different reason — he wanted a break from his mother on the weekends. Like Washington, he attended the Write Field Program and matriculated into MIM.
"I just love the work that they are doing and all the work that they have put into us," said McCray.
Former Tampa Bay Buccaneer Head Coach

Tony Dungy

took time out of his busy schedule to congratulate the young men and say a few words.
"On this occasion and to see these young men in the making does my heart good," he expressed.
Dungy became the first African-American head coach to win the Super Bowl when he led the Indianapolis Colts to victory in 2007. He established another NFL first by leading his team to the playoffs for 10 consecutive years.
Known for bringing the Buccaneer franchise back from the dead, he's also recognized for his work with a wide variety of charitable organizations, including the Fellowship of Christian Athletes, Athletics in Action, Mentors for Life, Big Brothers Big Sisters, Boys & Girls Club, the Prison Crusade Ministry and All Pro Dad.
His first meeting with the players as a head coach, he told them their goal was to win a Super Bowl Championship, but if that were all they did, it wouldn't be very meaningful.
"We needed to make the Tampa area a better place to live. They needed to get involved in the community; they needed to give back, reach out to other people," he said. "I was blessed because we had so many young men who took it to heart and gave back and made Tampa a better place to live."
Last Friday night, however, Dungy was not there talk about himself. He came to impart a little wisdom to the MIM. He had three pieces of advice for the young men that have served him well in life. The first came from his father who said: "Be a leader, not a follower."
Dungy said his father's advice did not mean you couldn't follow anyone because we all have to follow someone, especially the Word of God, he said. He was warning them about not following the crowd.
"The crowd can go in a lot of directions; the crowd can change," he explained. "Do what God puts in your heart to do, and if the crowd is not with that, be a leader and pretty soon the crowd will be following you."
The second piece of advice came from his mother. Her favorite verse in the bible was Mark 8:36, which asks: What good is it for someone to gain the whole world, yet forfeit their soul?
He stressed that God would give them passion and talent, "but don't let anyone compromise your integrity."
The third piece of advice was taken from Proverbs 3:1-12. In the odd verses, King Solomon gives advice, and the even verses he explains the promises that God will keep if the advice is followed.
Store God's commands in your heart, never let loyalty and kindness leave you, trust in the Lord with all your heart and don't depend on your understanding; don't be impressed by your own wisdom, honor the Lord with your wealth and accept His discipline.
In doing so, God promises you'll enjoy a long and satisfying life; have favor with Him and man, enjoy a good reputation, receive direction from God, have material blessings and have a disciplined life as one who God loves.
"Who wouldn't want that," Dungy asked. "God bless all of you young men. I'm proud of you."
A host of community leaders took turns at the microphone advising the young men to stay on the right path.
"You can knock your head up against the wall and keep listening to your friends, but your parents, mentors and elders only want the best for you," stated

St. Petersburg College President Dr. Tonjua Williams

.
Melissa Seixas from Duke Energy warned the youth that if they are shown love than they need to embrace, but if they are shown the opposite, they must have "the strength to walk away."
Program certificates and awards were distributed, and Rev. Clarence Williams, chairman of Cross & Anvil, thanked sponsors, community partners and the parents for entrusting MIM with the care of their children.
2018 Awardees
Most Improved Academic Performance: 
Academic Excellence:
Eric Washington

Josh Hughes

Jeremiah Furse

Arabian Robinson

Godfrey Gato
Community Service Award:
Hooded Awards:
Morris McCray

Daniel Sanders

Martin Reid

David Gato

Eric Washington
Youth of the Year: 
Erica Riggins Community Service Award:
Dr. Tonjua Williams

Reverend Clarence Williams

Sergeant Matthew Furse
President's Award: