PETERSBURG — A Tampa Bay area non-profit wants to take the stigma out of seeking behavioral health services such as therapy. Through a series of "Lunch & learn" sessions, Pinellas County Urban League Young Professionals (PCULYP) are exploring the reasons why many don't get the help they need.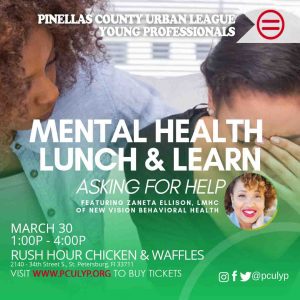 According to the National Alliance of Mental Illness, mental health issues go untreated more often in communities of color due to lack of access, insurance coverage, bias and other factors.
This first event will focus on knowing when and how to seek help for yourself or a loved one.  With the advice of licensed mental health counselor Zaneta Ellison of New Vision Behavioral Health, Inc., those that attend can expect to get a healthy helping of ways to recognize, consult a professional and how to choose the right course of treatment.
"Unfortunately, there is still a stigma associated with seeking help from mental health professionals, especially in the African-American community," said PCULYP Health and Wellness Chair Dr. Brittany Peters. "We will bring awareness and hopefully provide solutions as we initiate dialogue with a licensed mental health counselor regarding how to recognize we need help and how to ask for help."
"Mental Health Lunch & Learn: Asking for Help," will happen Saturday, March 30 at Rush Hour Chicken & Waffles from 1-4 p.m. The event is open to the public, but seating is limited, and RSVP is required by Wednesday, March 27.
 More information is available at www.pculyp.org. Hashtags: #YPFit #PCULYP #curestigma
Pinellas County Urban League Young Professionals
PCULYP is an auxiliary organization of the Pinellas County Urban League, which engages young professionals ages 21-45 in the movement of achieving social and economic equality for all. PCULYP supports the goals and mission of the Pinellas County Urban League by serving local communities and developing members through personal and professional development programming, networking opportunities, political engagement, and community service.