TAMPA – Being kind is its own reward, but For The Family is going a big step further during the National Days of Kindness (NDK) that began March 17.  You and your friends are invited to do a random act of kindness and describe it in a smartphone "selfie" video that's emailed to ForTheFamilyTampa@gmail.com by March 30.
It can be as simple as making people happy at a senior center, school or hospital.  If you want to be creatively kind, so much the better. You can even record your kind action as it happens. Everyone knows that the reward for brightening someone's day is larger than the effort it takes.
However, For The Family will make it even more worth your while by presenting a $25 Publix gift card for the winning video. Every NDK video is also eligible to win a Family Flame Award and a $100 gift card in the Random Act of Kindness category at the fourth annual National FAM Awards in November.
This is the Academy Awards of Kindness where the best videos are honored just like films receive Oscars. It's the culmination of Kindness of the Heart activities that take place from coast-to-coast in the U.S. and Canada.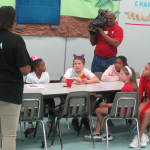 Meanwhile, the Family Flame Awards and $100 gift cards will also be presented for smartphone "selfie" videos that nominate deserving parents, sisters, brothers, sons, daughters, volunteers and first responders.  Praise & Gratitude and Kindness to & from Animals are other award categories.
For The Family is already accepting video nominations at ForTheFamilyTampa@gmail.com.
There's no easier way to let kindness shine. Thanks for helping to prove how powerful it can be.