Through March 1, the Pinellas County African American History Museum presents "Living Legends and Lives of African Americans in Entertainment (1850-1970)," a collection on loan from historian and avid collector Willis Hakim Jones of Savannah, Ga. This Friday, the museum will also host a 'Florida Talks Event: The Jim Crow Era' at 7 p.m.
By J.A. Jones, Staff Writer
CLEARWATER — The Pinellas County African American History Museum at The Curtis (PCAAHM) serves as a repository of historical and cultural information and physical artifacts relating to African Americans in Florida. The museum is located in the former segregation-era school for Black children, Curtis Elementary School, named for renowned educator S.W. Curtis.
Currently on exhibit at the museum is "Living Legends and Lives of African Americans in Entertainment (1850-1970)," a collection on loan from historian and avid collector Willis Hakim Jones of Savannah, Ga.
"Living Legends" is the second Willis Hakim Jones exhibit acquired by PCAAHM, noted the museum's co-founder and director Sandra Rooks. "We had already acquired his exhibit on the Gullah Geechee culture in 2019; his wide collection of artifacts are even in the National Museum of African American History and Culture," she shared.
PCAAHM acquired the exhibit as part of Florida African American Heritage Preservation Network (FAAHPN), a professional museum and historical preservation association with over 40 museums throughout the state. The network's mission is to promote the preservation of African-American landmarks and legacies and assist statewide museums in discovering, archiving, and illuminating African American contributions and experiences while serving as a public resource through tourism and education.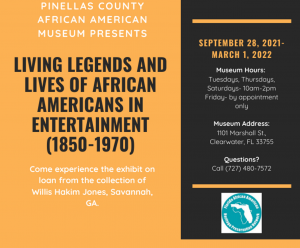 The network helps find exhibits like this one and supports the costs incurred in the laborious and costly packing and transfer of artifacts, art, and research materials.
Rooks co-founded the museum with Dr. Randy Lightfoot, who explained that the "Living Legends" exhibit examines the important contributions that early African-American entertainers and businesspeople made in the face of racism, opposition, and few resources.
"The exhibit shows how we were able to overcome, and, despite all the things that the performers had to go through, they did quality work. And after they did their quality work, of course, the larger companies came in and bought them out, and they were the ones that made the big profits," Lightfoot relayed.
Willis Hakim Jones shared an example of this during the talk he presented virtually for the opening at PCAAHM/Curtis Museum. Jones describes how Black Swan Records was started by a Black man named Harry Pace in 1921 in New York City's Harlem.
While Black Swan was the label that actually released the 1921 Ethel Waters hit "Down Home Blues," the cost of recording and distribution was too much for the Black-owned record company. Once white record companies such as Paramount and Columbia got in the Black music business, with their extensive resources and connections, Black Swan was forced out of business within only two years, selling its catalog to Paramount.
PCAAHM also has their ongoing Jim Crow exhibit open for viewing and will be hosting a Florida Humanities' "Florida Talks Event: The Jim Crow Era in Florida" this Friday, Jan. 28, at 7 p.m.
Dr. Martha Bireda will present an overview of the Jim Crow era and its continued influence on American culture. Bireda is director of the Blanchard House Museum of African History and Culture in Punta Gorda, Fla., another FAAHPN member.
Lightfoot commented on the significance of investigating Jim Crow and its impact today in light of the ongoing revelation of the mistreatment and disregard of African-American graveyards such as those recently uncovered in Clearwater.
"Jim Crow has to do with the laws that segregated the society during that particular period in American history," said Lightfoot. "I think that's important because right now we're dealing with the thing about the graves. Because of Jim Crow and all the things that happened under Jim Crow, that lack of respect translated into what they did as far as our graves were concerned. If you don't even respect people's resting place, that's in line with what they were doing to our communities during the Jim Crow period."
He also noted that Florida, like many other southern states, can still feel the remnants of Jim Crow. Instead of racial segregation, today, there is economical and class segregation impacting Black and Brown people.
The museum's Jim Crow exhibit puts on display artifacts that some might find offensive, including posters and art depicting Black caricatures such as pickaninnies and an actual Ku Klux Klan robe — but Rooks said she feels like it's important to acknowledge the history of America found in those objects rather than ignore or deny them.
"History has a tendency to repeat itself," Rooks asserted, noting that becoming too lax, denying, or disregarding historical truths is dangerous. "Look at what they're trying to do now – take away our voting rights."
For her, continuing to share the truth of America's past is integral to protecting Black freedom and the democracy of our future.
"Florida Talks Event: The Jim Crow Era in Florida" will be held this Friday, Jan. 28, at 7 p.m., at the museum, 1101 Marshall Street in Clearwater. Parking and entrance are on Grant Street.
"Living Legends and Lives of African Americans in Entertainment (1850-1970)" exhibit is on display through March 1. The museum is open on Tuesdays, Thursdays, and Saturdays from 10-2 p.m., or Fridays by appointment only.