Retirement party for Gibbs High School educator Ozzie Mitchell will be held April 9, from 2:30-4 p.m.
ST. PETERSBURG – Gibbs High School educator Ozzie Mitchell is retiring this year after teacher for 52 years. Throughout her time as an educator, she taught generations of families here in St. Pete.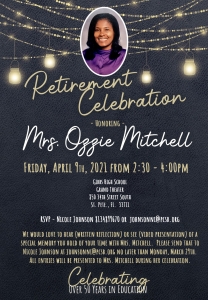 Mrs. Mitchell started her career in Polk County, where she taught for eight years. She next moved on to Gibbs High School, where she's taught English teacher for the past 44 years.  Mrs. Mitchell has been a pillar at Gibbs High and will be sorely missed.
Her colleagues describe Mrs. Mitchell as a role model for teachers and students alike. She demanded the best from each of her students and always gave them a loving but firm hand. Mrs. Mitchell is seen as an institution at Gibbs High School.
On Friday, April 9, Gibbs High School is sending Mrs. Mitchell off with a bang! Students, staff, and the community are welcome to join the party between 2:30-4 p.m. to express their gratitude and share stories about the wonderful educator that is Mrs. Ozzie Mitchell.