City Councilmember Lisa Wheeler-Bowman taught her grandchildren, Mikiyah Stone, 9, and Mikah Stone, 10, the importance of voting at the Roll to the Polls event Saturday, Oct. 10.
Deirdre O'Leary, Staff Writer
ST. PETERSBURG — Talk Black and the Tampa Bay Rays have partnered with the Dr. Carter G. Woodson African American Museum in "Voting is Our Voice," a citywide effort to increase voter turnout in the upcoming election. Hundreds of volunteers and supporters gathered for the kickoff event on Oct. 17 at Tropicana Field before canvassing St. Pete neighborhoods in their cars.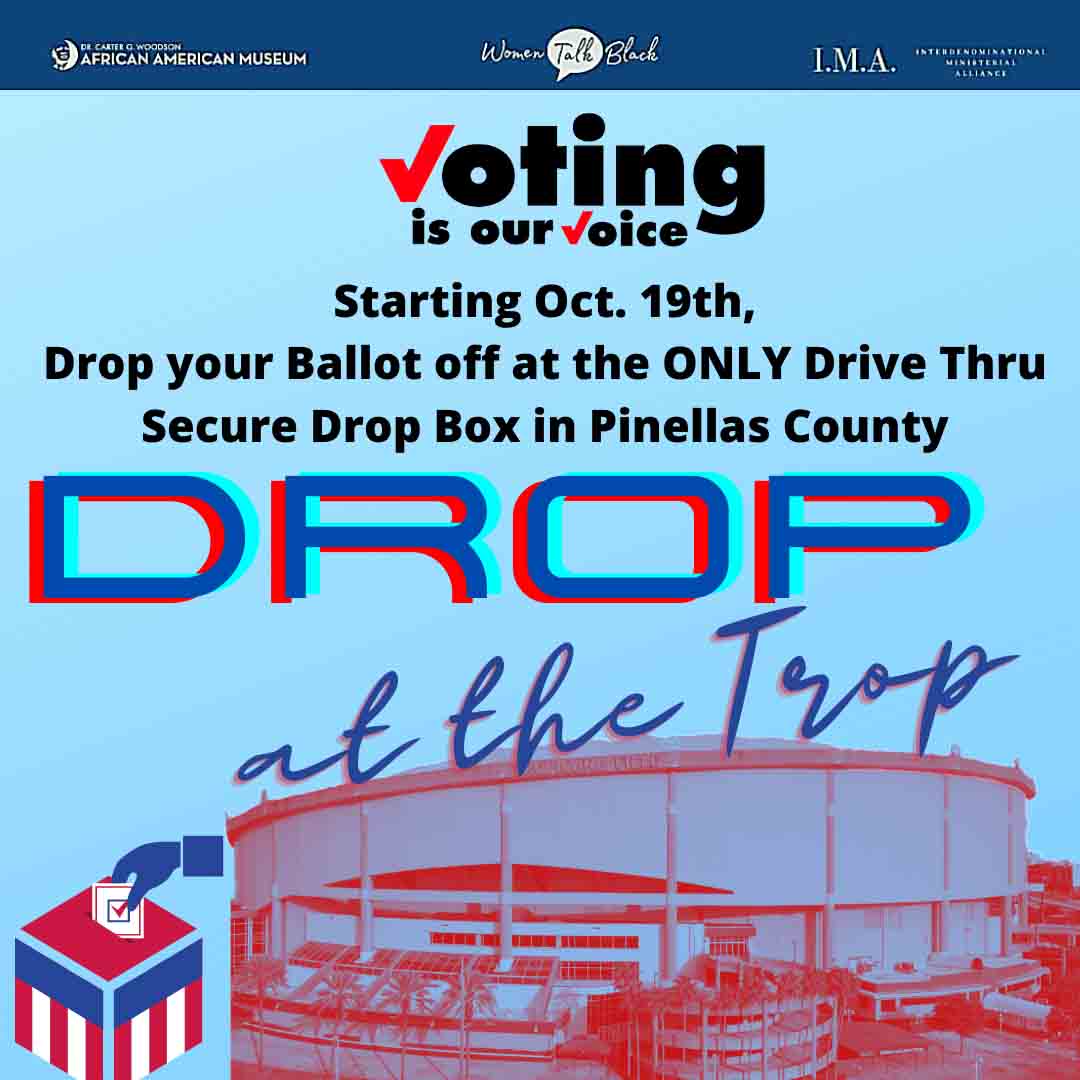 Last Saturday's event was the first of three dubbed "Roll to the Polls," as canvassers will use all the wheels at their disposal to get out the vote.  Canvassers used cars at the first event and will expand to include bicycles, motorcycles, skates and skateboards the following two Saturdays. Organizers said 60 community organizations have joined with the Rolls to the Polls.
Tropicana Field is the only drive-thru ballot drop-off site in Pinellas County as early voting began on Monday.  The drop-off boxes are located at Gate 1 and will be staffed by a representative of the Supervisor of Elections office.  Voters can stay in their cars while depositing their ballots, minimizing contact with others.
Mayor Rick Kriseman and Congressman Charlie Crist gave speeches urging residents to vote and vote early.  They were joined on stage by City Councilors Amy Foster, Gina Driscoll, Lisa Wheeler-Bowman and Deborah Figgs-Sanders.
Rev. Watson L. Haynes, president of the Pinellas County Urban League, delivered an invocation and a short speech. "People have died to make sure we have the right to vote," Haynes reminded the crowd.
Michele Rayner, incoming Florida State Representative for District 70, spoke of her 75-year-old activist mother expressing, "this is the most consequential election of her lifetime."
Other speakers included Stephan Thomas of the Rays Baseball Foundation, Adam David of ISPS, and Loralei Matisse of Come Out St. Pete.  Other elected officials in attendance were State Representative Jennifer Webb (District 69) and outgoing County Commissioner Ken Welch.  School board candidates Laura Hine and Caprice Edmond came out to lend support.
Stephanie Owens, a longtime political consultant and founder of Women Talk Black, demonstrated the ins and outs of filling out a ballot.
"Despite any information that people may hear about the integrity of our election system or voter suppression, the only way we win is to vote."  Referring to ballots already mailed in, Owens said, "There are massive numbers coming in across the nation, and St. Pete is right there with them."
Dr. Linsey Grove, president of the St. Pete League of Women Voters, advised that should there be any issues with a ballot, a voter has until Nov. 5 to "cure" it.  Anyone encountering problems at the polls can call 1-866-YOUR-VOTE.  Anyone who encounters physical intimidation or violence is advised to call 911.
Terri Lipsey Scott, executive director of the Woodson Museum, gave a rousing speech to conclude the rally.  "Take your ballot and drop it at the Trop.  We are going to vote like our lives depend on it."
In a demonstration of democracy, Oct. 24 and 31, Voting is Our Voice is sponsoring a Roll to the Polls motorcade. Residents are asked to join the procession to the polls, honoring the legacy of the Honorable John Lewis. This safe and fun parade will begin at 1:30 p.m. with staging in Tropicana Field Lot 4.
Don't let COVID-19 stop you from voting
Without a doubt, COVID-19 has changed how we live our lives. We're working remotely from home, our children are learning through virtual classes, and we're using video conferencing as a way to stay in touch with family and friends.
Those changes show we didn't let COVID-19 stop us from doing what's essential. We just found a way to do them safely. The same is true for the Nov. 3 election. You can make sure your voice is heard and still be safe.
The rhetoric in the bitter presidential race has left some people discouraged, wondering if voting even matters. It does. Our country is at a crossroads, where whoever wins the presidential race will impact the direction for much more than a four-year term.
But this election is about more than the presidential race. This election is also about choosing sheriffs who keep our communities safe, commissioners who make decisions on what we'll pay in taxes and how that money is spent in our counties, and school board members who help decide the quality of education our children receive.
Now that you know the stakes, here are ways you can stay safe while voting.
Voting by mail
This is a good option if you're concerned about voting in person because you have a high-risk medical condition, if you're a caregiver for someone who does or if you're not comfortable being in public settings. You must request a ballot by 5 p.m. Oct. 24.
Please return your completed ballot as soon as possible and check with your county's Supervisor of Elections Office to ensure it has been received and accepted. In addition to mailing your ballot, you can put it in a secure drop box at the main and branch offices for your elections supervisor and at early voting sites. The ballots must be received by 7 p.m. on Election Day.
Voting early
Each county must offer early voting for at least eight days before the election, but officials can add more days. Check with your county's Supervisor of Elections Office for dates, times and locations. The benefits of voting early include smaller crowds, shorter lines and being able to vote on weekends. As with any time you're in public, make sure you wear a mask, practice social distancing and wash your hands or use hand sanitizer if you touch a shared surface.
Voting on Election Day
This is typically when you'll see the largest crowds and longest lines. But you can still be safe by following the rules we've been living by for months: wear a mask, stay at least six feet away from others and use hand sanitizer or wash your hands after touching any shared surface.
Try to avoid the busiest times of the day, like before and after work and during lunch. And it's best not to bring your children or other people who aren't voting with you to the polls to keep them from being exposed to COVID-19. Many companies, including Florida Blue, have flexible policies to ensure their employees have time to vote.
Voting during a pandemic
While COVID-19 is an experience we've never encountered before, this isn't the first time the country has had an election during a pandemic. In 1918, the Spanish flu spread across the United States, peaking in the weeks before the November election.
There wasn't a presidential election that year, but important topics for that time, like alcohol prohibition, were on the ballot in several states. Voters were encouraged then to follow the same precautions we are using today: wear a mask, keep a safe distance between each other and to "exercise all sanitary precautions."
Our country did it then, and we can do it now. Stay safe and make your voice heard.