by Keisha Bell
It is not enough to have talent. For various reasons, some will still attempt to discourage you. The choice is yours. Will you press on or sit it out?
Meet Marian Ann Anderson. A woman deemed one of the best American contraltos who has ever lived. She was born in Philadelphia on Feb. 27, 1897, and died on April 8, 1993, in Portland, Ore. Anderson received honorary doctoral degrees from Howard University, Smith College and Temple University.
On Jan. 7, 1955, Anderson was the first African American to sing at the New York's Metropolitan Opera House. In 1984, she was the first recipient of the Eleanor Roosevelt Human Rights Award of the City of New York.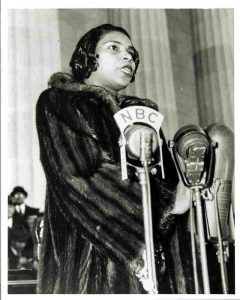 Anderson sang at the presidential inaugurations of both Dwight D. Eisenhower and John F. Kennedy. In 1958, President Eisenhower appointed Anderson a delegate to the Thirteenth General Assembly of the United Nations. Also, in 1977, she was awarded the UN Peace Prize.
Anderson's extraordinary singing ability was recognized at an early age. At that time, however, her parents could not afford to provide her with music lessons. Still, she took advantage of musical opportunities given to her through her church. Eventually, community and church members raised funds for her to attend a music school for a year as well as to attend high school.
After graduating from high school, Anderson applied to an all-white music school but was denied admission. With the support of Philadelphia's African-American community, Anderson pursued her studies privately.
By the time she was 19 years old, she had become a pupil of the famous Giuseppe Boghetti, a teacher to notable opera singers. Boghetti was so impressed by Anderson's talent that he gave her free lessons for a year.
Anderson's big break occurred in 1925 when she won first prize in a singing competition sponsored by the New York Philharmonic. Winning the competition meant that Anderson got to perform in concert with the orchestra on August 26, 1925. Her performance impressed the audience and music critics alike.
Due to the severity of racial prejudice in the United States, in the 1930s Anderson went to Europe where she launched very successful European singing tours. In 1939, she attempted to rent Constitution Hall, a concert facility in Washington, D.C. owned by the Daughters of the American Revolution (DAR). As talented and tested as she was, Anderson was not allowed to perform because of her race. Many protested, including then-First Lady to the United States Eleanor Roosevelt.
Mrs. Roosevelt, along with many other prominent women, resigned from the DAR because of this injustice. Instead of singing at Constitution Hall, Anderson performed at the Lincoln Memorial. Drawing a crowd was no problem. On that Easter Sunday of 1939, 75,000 people heard her sing.
Interestingly, in 1943 Anderson ended up sing to an integrated audience at Constitution Hall through an invitation of the DAR. Their membership requested Anderson to use her voice as part of a benefit for the American Red Cross. It appeared that over the course of four years, DAR had evolved to a more inclusive stance.
When thinking about Anderson's life, one is not surprised that she was active in supporting the Civil Rights Movement during the 1960s. She used her voice not only for her personal advancement, but to enhance the lives of those around her.
As you can image, Anderson received numerous honors and awards, which included the Presidential Medal of Freedom in 1963, the Congressional Gold Medal in 1977, the Kennedy Center Honors in 1978, the National Medal of Arts in 1986 and a Grammy Lifetime Achievement Award in 1991.
When the world told Anderson "no," she used her voice anyway. Are you using yours?
Keisha Bell is an attorney, author, and public servant. www.emergingfree.com