Kevin Johnson, former NBA All-Star for the Phoenix Suns and mayor of Sacramento, is a senior advisor for JMA and was the master of ceremony on Monday night.
BY MARK PARKER, Staff Writer
ST. PETERSBURG — The City of St. Petersburg has narrowed its choice of developers for the contentious Tropicana Field redevelopment project down to just two. The Carter G. Woodson African American Museum hosted one of the finalists – Sugar Hill Community Partners – for a lively community information session on Monday evening.
Terri Lipsey-Scott, executive director of the Woodson, said that she would not have invited Sugar Hill Partners – led by San Francisco developer JMA ventures and named after a prosperous area of the Black neighborhood Tropicana Field replaced – if she did not think they were willing to be held accountable to the community.
"We're holding all of you who have called us here accountable," said Lipsey-Scott. "And we are hoping that we will learn together and that we might be able to understand better what's being presented to us this evening so that we can be a part of what the future holds for us there."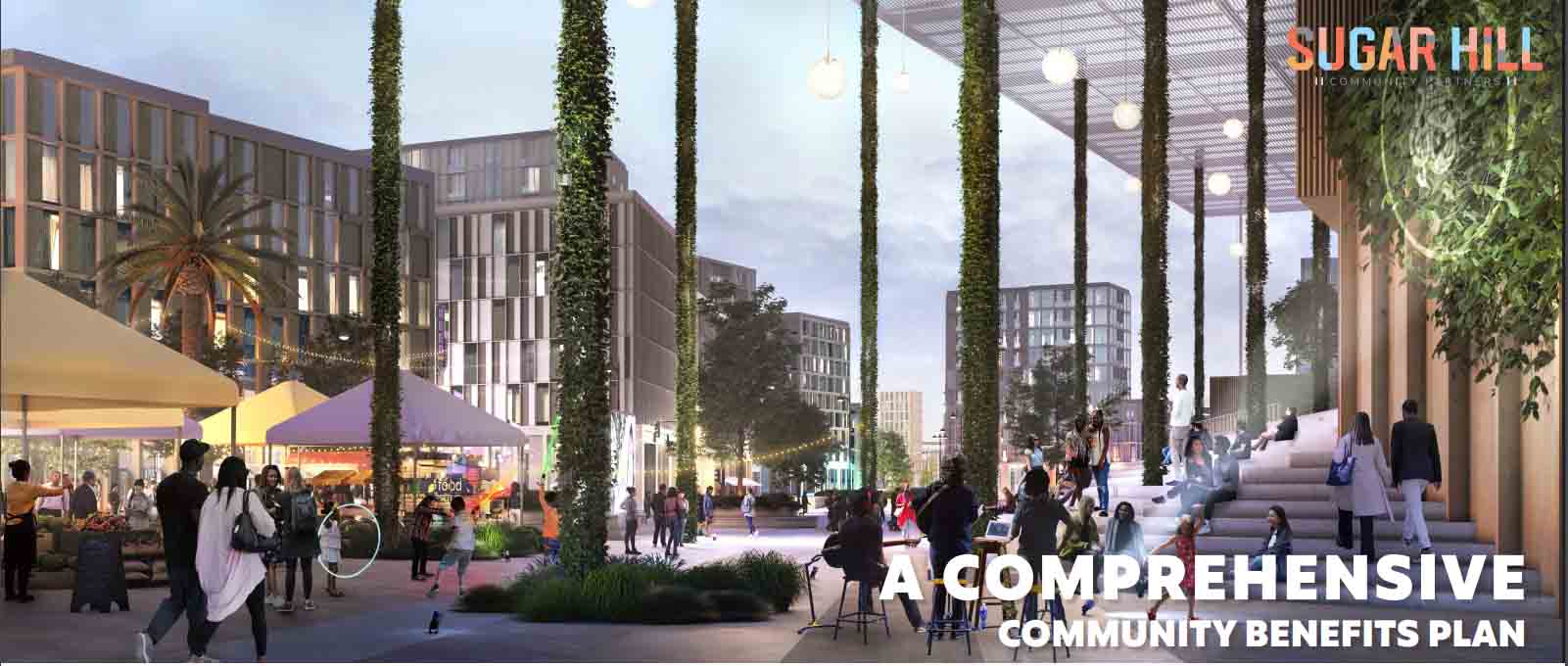 For most of the session, people milled about, however, checking out the 1:150 scale model of the development and various pictures and bullet points that were placed around the room, and speaking to various members of the Sugar Hill team that were accessible and eager to answer questions about the project.
Kevin Johnson, former NBA All-Star for the Phoenix Suns and mayor of Sacramento, is a senior advisor for JMA and seemed genuinely happy to be there as he laughed, took pictures, and worked the room. He also acted as master of the ceremony when it came time for the question and answer portion towards the conclusion.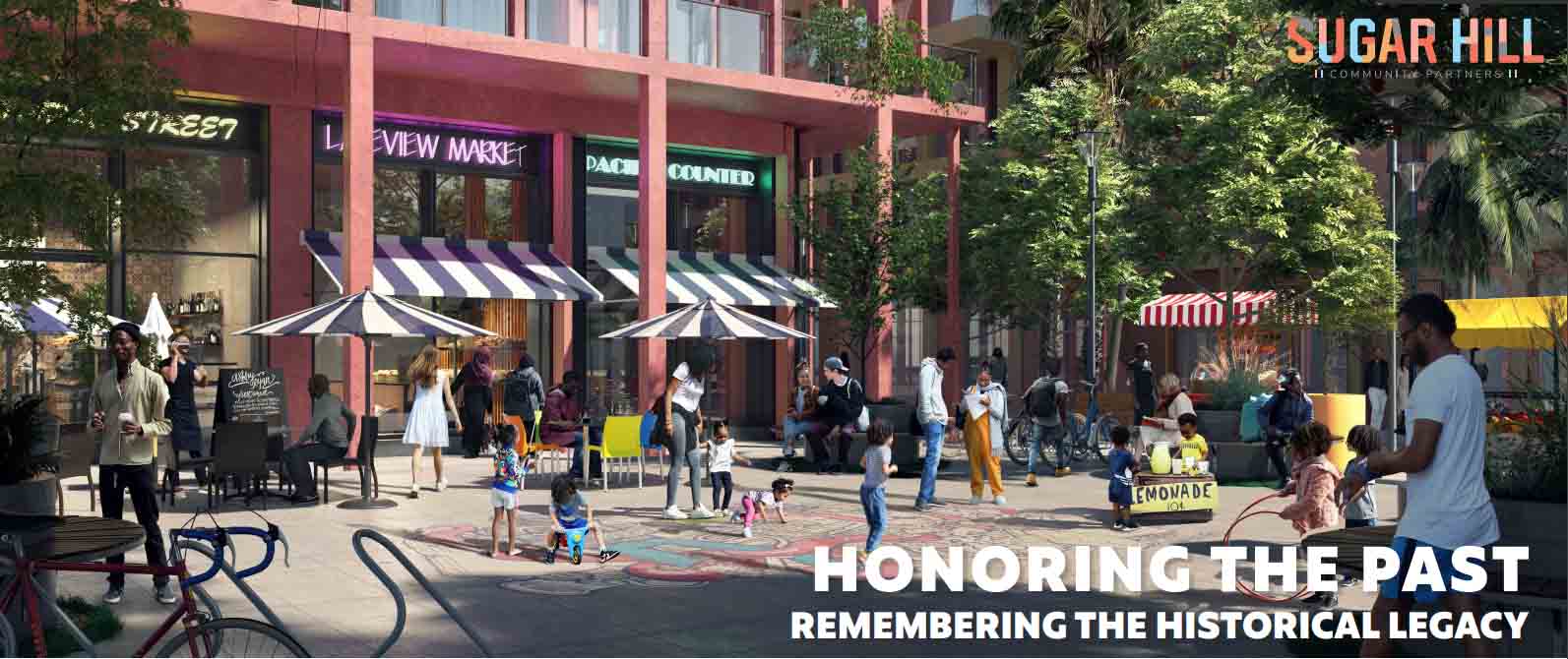 Sugar Hill said they are "committed to redeveloping the Trop on the foundations of inclusion and equity," which they believe is the most fitting way to honor the site's history. They intend on accomplishing this through some key initiatives:
Reconnect, rebuild, and remember: This includes creating strong connections to the surrounding neighborhoods and the vibrant history of the site, with the goal of balancing density and scale to provide intimate spaces and a sense of place. Connecting to surrounding neighborhoods will be aided if the city decides to remove part of the interstate.
Connect through nature: They plan to revitalize Booker Creek and create green space around it, including public access where children can splash in the shallow waters.
Extend a human-scaled downtown: The aim here is to build a central pedestrian artery that connects the site to downtown and serves as the home for the History Walk. The History Walk is included in both proposals – with a new stadium and without – and will be an "integrated linear museum" telling the story of the neighborhoods that the site was once home to.
Create a civic stage: They will establish a new city gathering place where the Booker Creek Park and the History Walk intersect. This will be fed by walking promenades, bike lanes, and green trails with the goal of drawing residents from across the city.
Sugar Hill said that workforce development is a top priority. They are partnering with St. Petersburg College to develop a workforce development pipeline, ensuring that south St. Petersburg residents are aware of and are professionally trained for the wide range of jobs that the development will provide. The many contractors involved said they are eager to not only hire locals but also provide mentorship programs.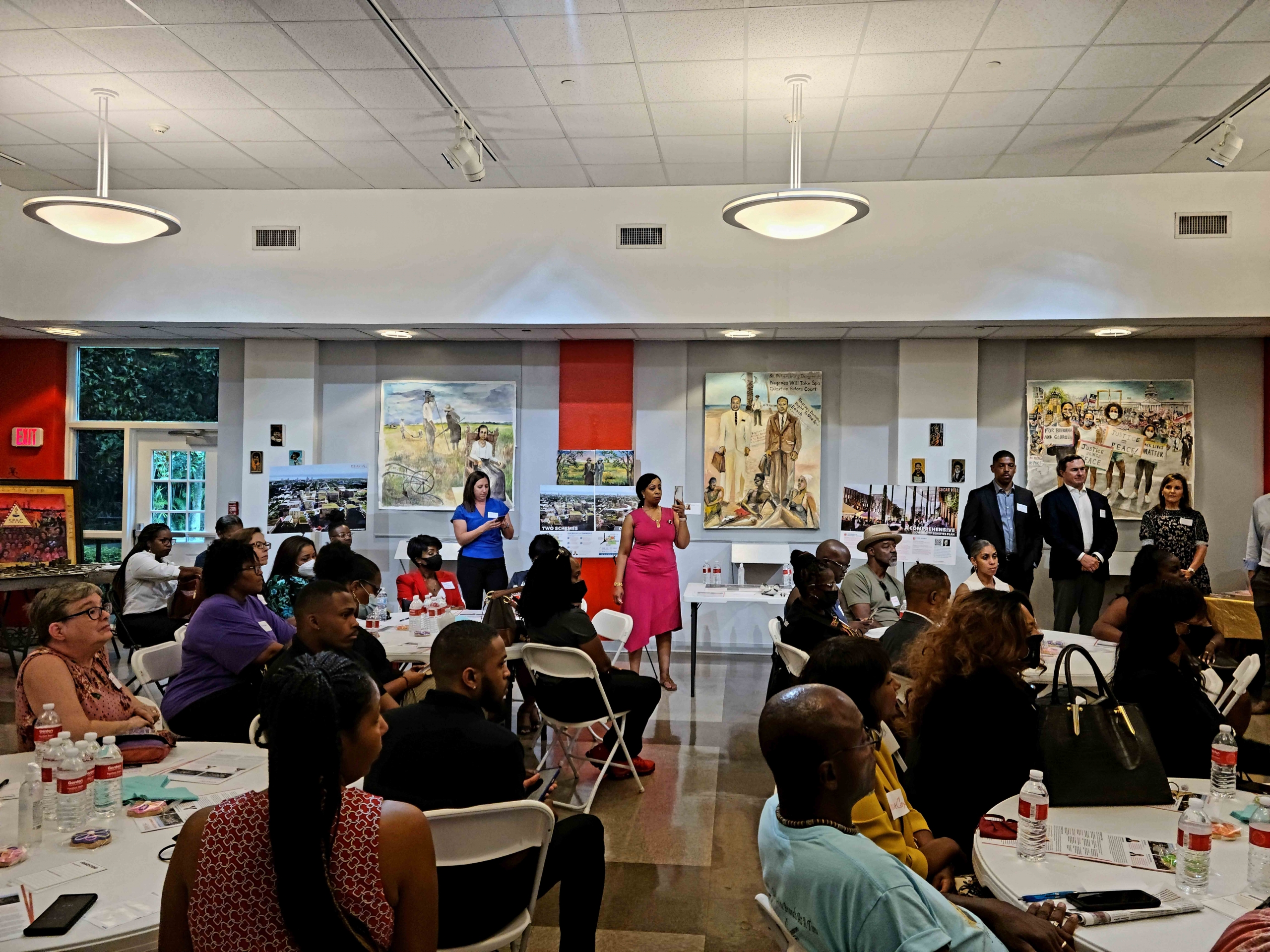 "I need to hire 70 new employees, and my hope is that they all come from here," said Mercedes Young of Vivid Consulting Group.
Providing affordable housing is another key focus, and under both designs, 50 percent of residential units will be designated as affordable or workforce housing – between 1,000 to 1,600 total units. However, the formula to decide what constitutes "affordable" and who they will be affordable to remains unclear.
Another important facet of the development is addressing food insecurity. Sugar Hill plans to bring the fruit trees and gardens that were once so prevalent at the site back to the community. They are in talks with USF Health and Emmanuel Roux, manager of the 15th Street Agrihub, to be the managing partner. They will also establish an on-site farmer's market that will also provide learning experiences for John Hopkins Middle School, Melrose, and Campbell Park Elementary Schools.
While the meeting was mostly upbeat and hopeful, there were concerns. First was a lack of parking and traffic worries. One concerned citizen asked what effect that 6,000 new residents and 10,000 new workers would have on an area that already becomes gridlocked with traffic at certain times of the day.
The developers said that would be mitigated as the new influx of people can work, live, and play in the same space. The idea is that there will not be 16,000 people driving to and from their homes every day.
Instead, most will live there or nearby and take scooters, bicycles, and short trips on public transport to get to where they are working. It is essential for this plan to work, as there are no significant parking lots included in the project.
The most contentious part of the evening came when community activist Themba Tshibanda asked how the project will repay the Black community displaced from the land for the original stadium development.
"How are those people who were dispossessed, their property stolen, how are they going to regain their economic development," asked Tshibanda. "The property is worth a billion dollars, and 33 percent of the Black community right now lives under the poverty line, as a direct correlation."
Thomas Huggins, who represents the Ariel Business Group and is a local leader in diversity and inclusion, said that he takes these concerns to heart as a resident of the area for almost 30 years. Huggins said that before joining the project, he made sure that this would not be just another white developer that comes in and takes from the community, gives a few jobs to some contractors, and then leaves.
"That's not something I want to be a part of," said Huggins. "I understand what the community has gone through and witnessed it firsthand."
Huggins said that before signing on to the project, he wanted assurances that there would be equity opportunities for minority businesses, not only for the construction but also for the development and operational side, as well as in the commercial complex. He also added that the diverse team of partners was intentional and unique.
"If you look up here now, you see people of color that's a part of this team," said Huggins. "You don't see that anywhere else, any of the other eight developers that were here. So, if you talk about hiring folks, you've got Black business owners that are here today that can write checks and hire people now."
"We're committed to this process."
"There were 100 Black businesses that were there," added Tshibanda. "And now you're talking about creating jobs and getting first dibs; they had first dibs when they were there. If they would have been allowed to be there for the last 20-30 years, we wouldn't be having this conversation. That equity you were talking about would be here right now."
Sugar Hill Community Partners said that they gave one last pitch to Mayor Kriseman and the city before the community meeting. They expect a decision in 35 to 45 days.
To reach Mark Parker, email mparker@theweeklychallenger.com