BY MARLO SCOTT, COLUMNIST
Who is the man known as Dr. Frogue? Who is this hairstyling virtuoso that has had his hands in practically every woman's hair in St. Petersburg at some time or another? Most people aren't aware that his real name is William Bennett III, but what they are aware of is that he has been an unstoppable force in the hair game for over 40 years.
Situated on the edge of the MLK Business District, Dr. Frogue's Hair Styling, 2535 MLK St. S., is a testament to years of hard work and dedication.
Let's clear up any misconceptions about the moniker of "Dr. Frogue" before we get too deep into the story.
"I got the nickname when I was in the seventh grade running track at 16th Street Middle School. My gift was jumping; I could jump really high. So it doesn't have anything to do with my feet or my nice big eyes," Bennett explained. "So it became my brand and I embraced the name I once slightly despised."
This Dapper Don of dos has been a professional barber/stylist since the 1970s. He was trained by an Italian instructor at Sunstate Barber Academy in Largo, and- went on to work as an educator/platform artist for L'Oréal SoftSheen-Carson.
During his tenure with the famous brand, Dr. Frogue taught classes in business management and was their lead relaxer instructor for the southeast region. He also worked as a consultant in over 20 countries.
No stranger to the spotlight, Dr. Frogue has been featured in magazines, newspaper articles and has won numerous awards including the Top International Haircutting Trainer Award.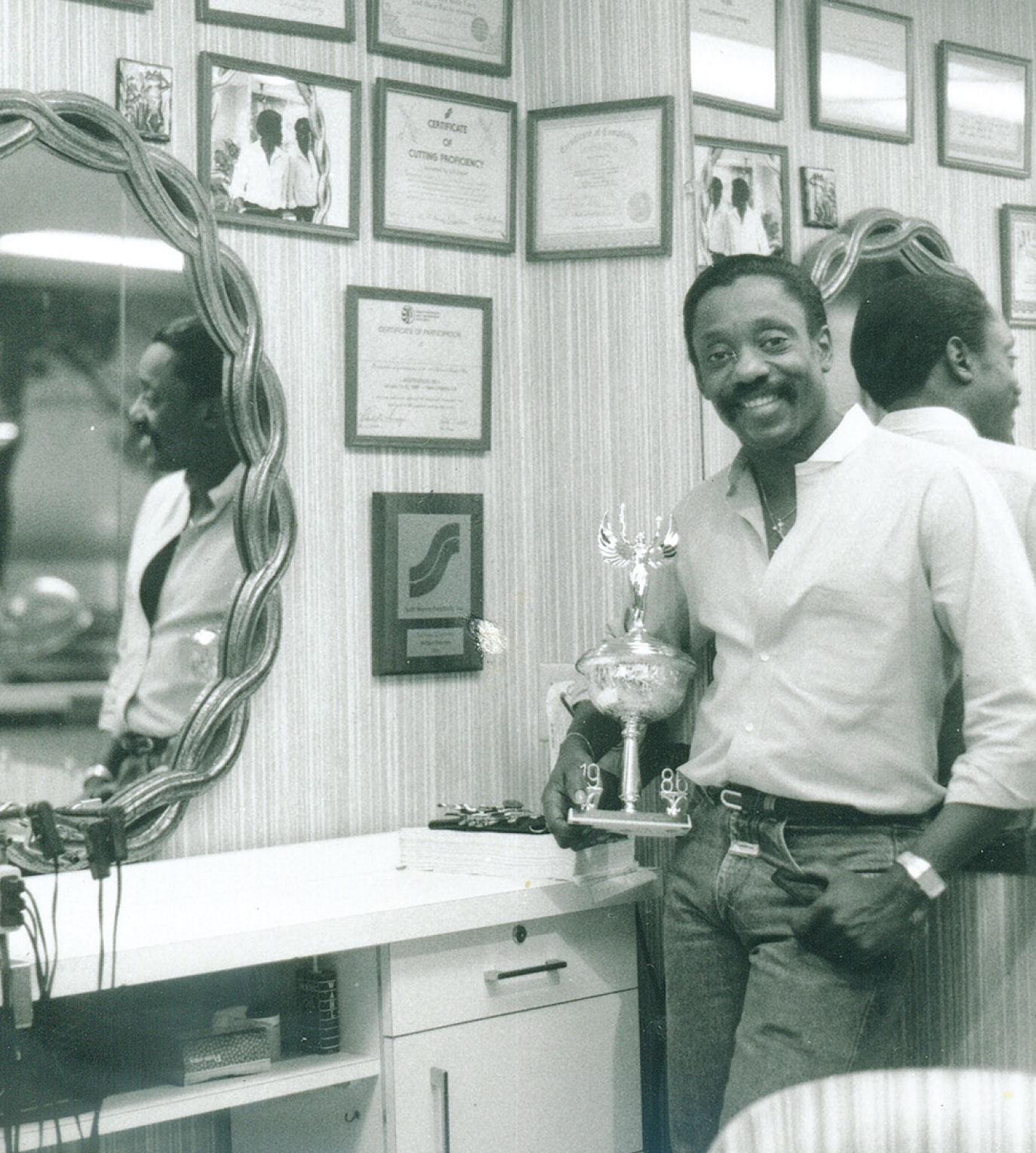 In the 1970s, Dr. Frogue found himself working as a barber at Johnson Hair Styling in the old Times Square Shopping Center located on the corner of 22nd Avenue and 31st Street South.
Fasten the seat belts of your mind and let's take a fantastic voyage down memory lane with the Godfather. The industry has changed and the Godfather has weathered many storms to get where he is today.
For an example, relaxers as we know them today are quite different from when Dr. Frogue started out.
"Relaxers were a two part application; we would take mineral oil and mix it with Vaseline to base the scalp. This duo would be placed in a large container and would then be mixed into an emulsion and applied to the hair and scalp to protect it from the effects of the sodium hydroxide. And those were some nice healthy relaxers back then," said Dr. Frogue.
He explained that this process was the hottest thing to hit the beauty industry since the straightening comb technique was developed.
"I never did the press and comb; things were changing and chemical services were definitely sweeping in a new era of hair care. Everybody wanted the new thing—the relaxer," he explained.
Dr. Frogue was a fresh, faced young man during the inception of the chemical relaxer. He helped bring about a choice for women. The days of either Afros or getting your ears burned by hot combs were in the past.
While other stylists were following the new trend of applying chemicals, Dr. Frogue was one step ahead of them by performing precision cuts.
"I remember so well when this lady came in one day with a picture of a white lady with a precise cut and asked me if I could do it. I executed the cut with confidence and poise," he said as he explained that back in his day black schools were not teaching high-level haircutting skills so he stood out from most other stylist.
The schools of yesteryear might not have been teaching high level haircutting skills, but what they did require was a two year apprenticeship that Dr. Frogue feels is vital in teaching a new cosmetologist the business outside of styling hair.
"The apprenticeship program was designed to prepare the young stylist to have strong ethics. You had to be to work on time, wear a uniform and have set hours like 8 – 6 p.m. The gentleman I worked for, Nubin Johnson, knew a lot about hair styling. He processed men's hair, knew all about potash and potatoes, the rolling of the hair and curling irons," he said.
Armed with a great work ethic and top-notch haircutting skills, Dr. Frogue became known as the man who could recreate any hairstyle from a picture. He boasts of being able to take hair and produce an excellent 40-degree angle to a 90-degree angle.
"I am not trying to toot my own horn, but if I see it I'm most confident that I can do it, and I'm still doing it 43 years later," he said as he explained the process of a perfect hairdo. "I relaxed the hair then rolled and teased it. An African-American woman's hair has to be formed and reshaped because the relaxer takes out all the body in the hair, so you have to give the hair volume."
Dr. Frogue has an answer for those who thought he cut off too much hair back in the day.
"I was kind of known for cutting off too much of your hair," said Dr. Frogue as he smiled. See I entered into the industry when women were giving up years of pressed hair. I had to do a lot of clipping of dead ends and cutting out damaged areas left behind from the straightening comb."
Dr. Frogue worked for Johnson until his death about three years later. After working for another owner, he decided to go into business for himself. He partnered with Leroy "Gabby" Gary and opened up a new business called Frogue and Gabby Hair Styling. His name has been on a building in St. Petersburg ever since.
He credits his mentor, the late, great Olive Benson, Thomas Hayden and Linda Gazovey for paving the way for him in the beauty industry, and in return he has trained countless amounts of stylists who worked in his salons, many of whom are salon owners today such as Donna Bean of Sheer Essence, J.D. Heirs of Heirs Hair Styling and Kay Smith of Styles Salon.
There have been so many great stylists and assistants who had the good fortune to share a space with the Godfather that it is impossible to list them all. He has granted close to 100 opportunities to stylist throughout his career and feels grateful for having worked with all of them.
A consummate businessman, Dr. Frogue requires that a new hairstylist start out as an assistant to enforce what they've learned in school. He feels this approach builds up their confidence and skills while developing their work ethic.
"Being a hairstylist is a business not a hustle, he stated. "I put emphasis on training people and developing their customer service skills. Once the person graduates from school and passes their state board exams, they are already a hairstylist. So I try to instill in them the skillset of managing a business."
When the Godfather moved the salon from the Times Square Shopping Center location to the 34th Street South location back in 1980, he eventually implemented the three-day workweek, which was Thursday through Saturday. When they moved to Central Avenue in 2004, he took on one more day adding Wednesday to the roster.
For two years he kept up the four-day work schedule until he decided to take some time out for himself, eliminating Saturdays as he started the process of semi-retirement.
In 2007 when he purchased the former doctor's office where he is currently located, 2535 MLK St. S., he decided to change the name to Dr. Frogue's Hair Styling to maintain the integrity of the building.
At this present location, he instituted the concept of individual salon suites housed in the same building. Each suite comes equipped with everything a stylist needs including a shampoo bowl and dryer chair.
These suites are currently occupied with established businesses. Suite one houses Cyfonique Salon, which is owned by Cynthia Davis. You can find Hair It Iz Natural & Chemical Salon LLC owned by myself, Marlo Scott, in suite two. Suite number three is occupied by Bee Artistry owned by Bonnie Harvin and Transformations in suite four is owned by Londa Starling.
The Godfather has a large suite almost twice the size as the others and always has an assistant on duty when he's present.
Being in business for over 40 years, Dr. Frogue has seen many changes in the industry. He had some harsh words to say about the way the salon business has evolved since the 1990s. That era saw the end of commission-minded salons, which he feels is a detriment to the industry.
"Business owners are more like landlords now. Hourly and commission stylists are needed in this industry because this is a fundamental training ground for the young stylist. If you take this route you'll be a superstar in the industry," he said.
That era also saw the end of professionalism according to Dr. Frogue. "The stylist comes to work at all different times of the day and the clothing that they wear now is inappropriate for a professional work environment. The post graduate is now lacking the skills received during the apprenticeship years."
Now that you've met Dr. Frogue the hairstylist, it's time to meet the man behind the legend—William Bennett III.
After over 40 years in the hair industry, Bennett has no plans on starting anything new except maybe doing some consulting work. "I am finally beginning to find God's peace, and I don't plan on having anything interrupt it especially a job."
In his semi-retirement, he manages five salons including his own. All of the salon owners are experienced and independent operators with their own hours of operation. His business partner Valarie Williams handles the managerial aspects of the business.
One thing Bennett has discovered throughout the 42 years of being around women so much is their strength and faith.
"I have had the opportunity to view women from all types of circumstances such as loves, successes and failures, and I feel God is at the head of them. A woman is so much stronger than I could have ever imagined. They are kind but not weak; there can be no better support than that which a man receives from a woman," Bennett said as he continued to speak about how strong a woman's faith is during adversities.
As Bennett grows older, his spirituality grows stronger. He feels that God has guided his thoughts and decisions and allowed him to find his way to Him.
"Basically I am just getting off my knees and learning how to stand in Christ. I now know that I could not exist without the presence of the Lord. I know that right or wrong, good or bad God loves me," he said.
As a member of Friendship Missionary Baptist Church, where the Pastor John Evans presides, he is looking to serve in some capacity he just has to decide on which one.
Bennett is the proud father of five adult children and numerous grandchildren. Currently there is no special someone in his life, so his full attention is directed towards his 16-month-old spoiled rotten puppy.
Enjoying semi-retirement, he is an avid golfer and enjoys traveling to exotic locales.  He's visited Jamaica, Barbados, St. Martin, St. Kitts, Granada, Costa Rica and his most recent adventure was in Central America. He's just not at the golf course either in these countries; he enjoys zip lining and plans to go white water rafting.
He has no future plans on taking on more work, but he has definite life plans he's preparing for.
"I am involved in preparing for the next phase of my life which will be the elderly gentlemen. My focus is to first be healthy, so I need to get this little stomach out of the way," Bennett said patting his stomach.
"I want to be able to run, jump and play with my grandchildren. I want to be spiritually grounded with a sound mind and economically able to fulfill all my desires and make many people happy," he said as he ended the interview by thanking St. Petersburg and the surrounding areas for supporting him for 42 years.
You can find the Godfather in his salon making the world beautiful one head at a time on Thursdays and Fridays from 8-6 p.m. To contact the Don, please call 727- 826-3555.