Mordecai Walker (right) was invited by instructor Orlando Pizana to come into his class as living history and tell his story. To help facilitate the talk, his son Andrew Walker was by his side.
BY FRANK DROUZAS, Staff Writer
ST. PETERSBURG — Orlando Pizana, an instructor at the Midtown campus of St. Petersburg College, invited 98-year-old Mordecai Walker to come into his class as living history and tell his story. To help facilitate the talk, his son Andrew Walker was by his side.
Pizana, who teaches composition, came to St. Pete in 2005 and urges his students to learn more about the rich Black history of St. Pete, which includes iconic locations like the Royal Theater and the Manhattan Casino. And what better way, he thought, to teach them about it than to bring in his friend Mr. Walker, whom he considers a "treasure trove" of history?
"I wanted to have a connection between my students and the community," he said. "And I thought, how fitting to have Mordecai Walker, a living legend — a living legacy, if you will –speak about the history of St. Petersburg."
Over the years, Pizana and Mr. Walker developed a friendship where they would have lunch, and Mr. Walker would regale the professor with endless anecdotes. It was Mr. Walker that stressed the importance of a publication like The Weekly Challenger to Pizana, with its stories about the city's Black communities that wouldn't be found in other papers.
Aiming to mix a dose of the bygone days into his composition classes, Pizana has his students write about the city's abundant African-American history and landmarks.
Whether serving in the Pacific during World War II, shaking the hand of Eleanor Roosevelt or watching Joe Louis fight a championship bout, there is little that Mr. Walker hasn't done in a life that has spanned nearly a century.
Born on July 4, 1924, Mr. Walker grew up in Citrus Park, about 20 miles northeast of Tampa, where he attended a segregated school.
"They had Citrus Park school for coloreds and Citrus Park school for whites," the 98-year-old recalled.
Mr. Walker finished high school in 1943 and started putting down payments on five acres of land that same year when it cost $50 per acre. He then began to attend Bethune Cookman College, where he met Eleanor Roosevelt and Mary McLeod Bethune and "got a chance to shake both of their hands," Mr. Walker recalled. But as the war raged in Europe and the Pacific, he was drafted into service.
He took his basic training in Virginia, and at times Mr. Walker realized that growing up in the country would come in handy. One day, he recalled, he and his fellow soldiers had to hike about a mile and a half and cross a creek to reach their bivouac. When all the others slogged through the water waist-deep to get to the other side, Mr. Walker deftly jumped from "log to stump to log" until he made his way across.
"I was the only one that wasn't wet!" he said.
It is no surprise that Mr. Walker knew his way around logs as his father, a lumberman, had helped clear the land on the Tampa side to construct the Gandy bridge. Growing up in rural Hillsborough near a lake, Mr. Walker found his family wasn't ever far from wildlife. One day his mother, when checking her fishing line in the lake, had a run-in with a scaly Florida native.
"An alligator came out of the lake and went in the house," he said. "[When] she got back in the house, the alligator was standing up on his tail looking over in the baby bed!"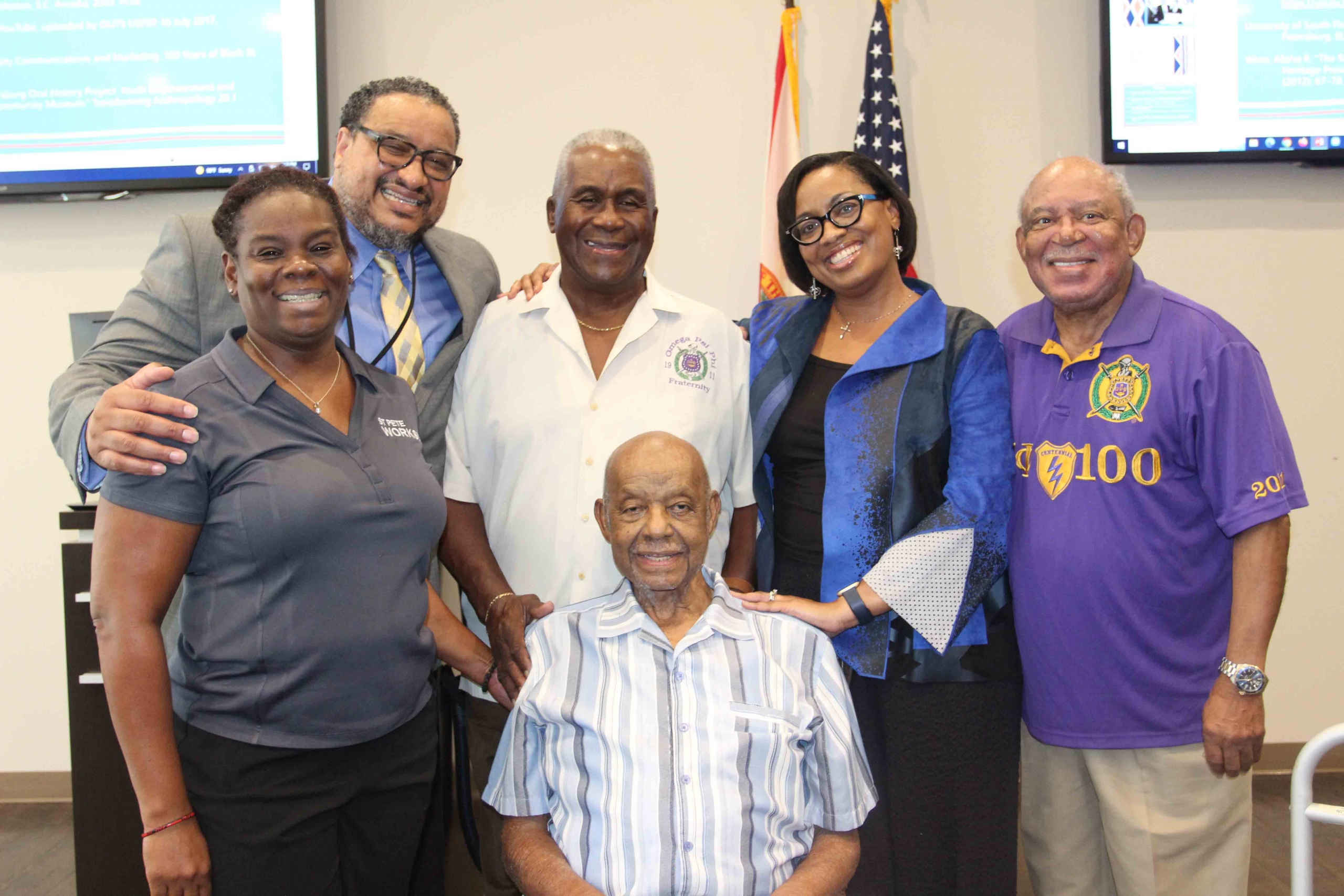 Mr. Walker's mother threw fish at the intruder, who went back out the door with his prize. The family decided to move the next day, "a long way from the lake," he said.
Serving overseas in the army in New Guinea, Mr. Walker corresponded with pen pals back in the States, who would write to keep soldiers' morale up. One of them sent him a pamphlet for Tennessee State University, and when Mr. Walker got out of the army, he decided to attend TSU.
Taking writing classes, he wrote a prize-winning essay that answered the question of who was more popular, Jackie Robinson or Joe Louis. Mr. Walker eloquently opined that although Robinson had broken the color line in baseball, he was a member of a team — while heavyweight boxer Louis was the sole champion of the entire world. Mr. Walker's prize was a coveted ringside seat to the 1947 Joe Louis-Joe Walcott fight in New York, all expenses paid.
Mr. Walker pledged to Omega Psi Phi Fraternity at TSU and would go on to become one of the original seven founders of the Eta Rho Chapter. He graduated in 1951 and found temporary work in Clarksville, Tenn., where he met Wilma Rudolph's parents.
He said Rudolph, who would become a champion Olympic sprinter in 1960, was a child then who had suffered from polio but still had blazing speed. Mr. Walker noted that Ed Temple, who coached track at TSU and at the Olympics, also coached Rudolph.
Returning to Florida, Mr. Walker found work at a Sun City school for African Americans as a science teacher. He also worked to get an agricultural program underway and took charge of writing letters and raising funds for it.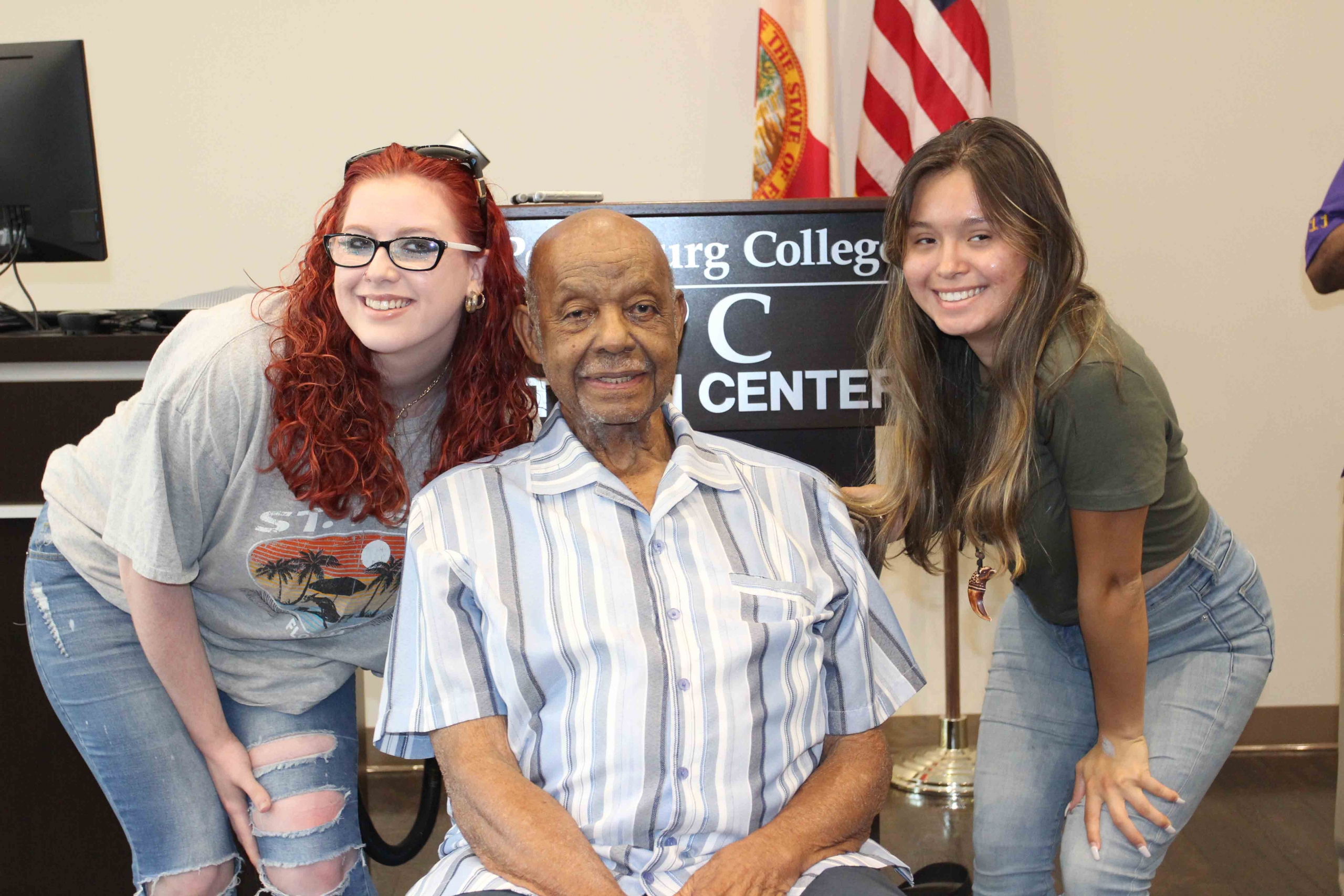 For Black college graduates, he noted, the options were limited to them in those days — most could only become doctors, lawyers, or schoolteachers for their communities. Often, Mr. Walker said, Black educators had to pay so they could even land jobs. When Mr. Walker refused to pay for a job on principle, he said he didn't work for three years.
Eventually landing a job, Mr. Walker had to teach at segregated schools, but he said it wasn't much different from the world around him, with establishments, streets and even entire parts of town that had not yet become integrated.
He came to St. Pete in 1958, the year he married Anna Marie Polk. He met her as a young man working in Hillsborough County. He recalled his first date with her, for which he had donned boots, Levi jeans and a Stetson hat. Once they got in the car, Polk turned to him, apparently appraising his outfit, and asked him if he had any money. Young Walker learned he was dressed inappropriately and would have to rectify the situation to take out Miss Polk.
"I bought everything new but my underwear!" he said, chuckling.
Mr. Walker taught at Perkins Elementary, where he was a very popular teacher. His philosophy was to ensure that all students took away something from his classes so he never failed a student.
He was also a member of the Ambassadors Club, an influential group advocating for civil rights that was founded in 1953 by Dr. Ralph Wimbish. The club featured events with prominent keynote speakers and a Citizen of the Year award.
"It was a civic club," Mr. Walker explained, "and the philosophy was that we didn't want to destroy nothing or change nothing, but how can we better work in the system that we already have."
Living through a time when African Americans in St. Pete had limited entertainment options, Mr. Walker believes in the preservation of such landmarks as the Manhattan Casino, which once featured acts like Duke Ellington and Count Basie.
"It was the best place — the only place — we had to go to have a dance," he said, adding that the Coliseum "was out of the question," as Blacks could not attend events there.
With 98 years of experience behind him, his message to students today is to look ahead.
"Be concerned about your future because that's where we all must spend the rest of our lives: in the future," Mr. Walker said. "And try to improve it."