BY KAYIANNA HUGHES
ST. PETERSBURG — In the middle of a busy street, there is a unique bookstore right within your reach.  Come right in and have a ball because today you are shopping at the Tombolo Mall!
Surprisingly, great books are all within reach in this tiny, fascinating store.  Old- fashioned but usable typewriters are at your service and you can type a note or a poem right in the store.
Tombolo Books is co-owned by Alsace Walentine and The Paper Seahorse, a Tampa-based stationary and vintage typewriter store. Walentine, a petite, middle-aged woman sees the shop as a place for people to meet authors and to meet each other. As customer service is her number one priority, you will never be treated badly or unfairly.
Tombolo Books opened its doors on Dec. 1, and as tiny as the building is, she wants it to become big!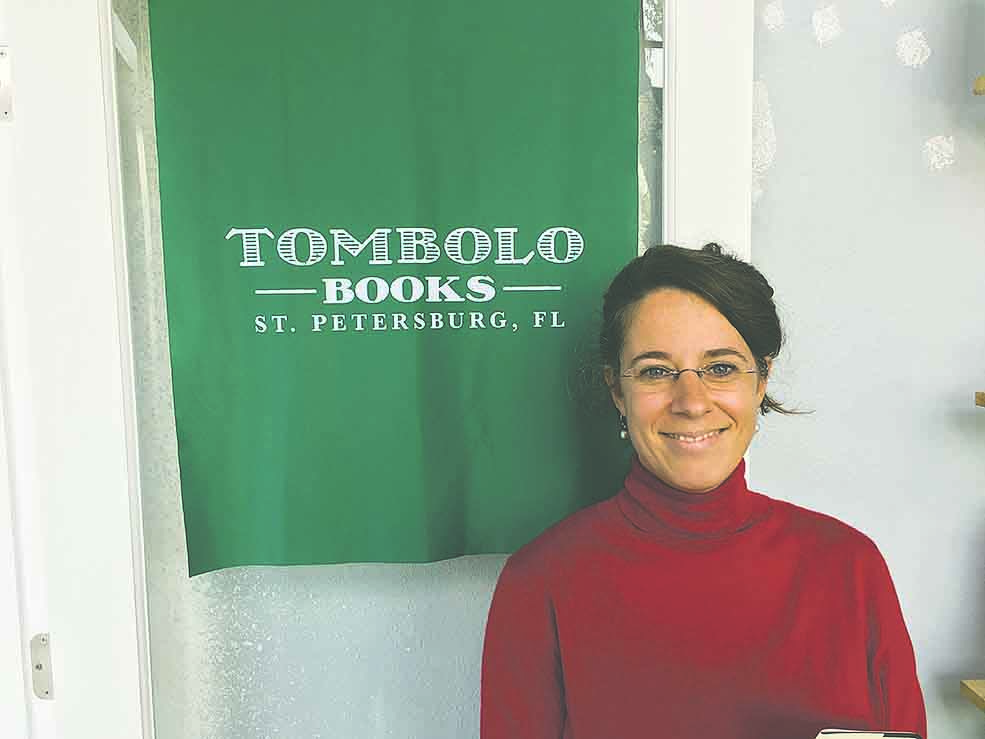 "I have to make sure my store was different from all the other stores," said Walentine, who feels her biggest competitor is Amazon.
"The types of books we carry are different. We carry small independent and highly regarded publishers. We have books for all ages. We only carry new books. Our programming and author events will be different. Mostly, our selection is different."
How does she pick which books to sell? She reads books reviews constantly and tries to have something for everyone. Walentine is always talking with peers in the industry. She stays in touch with other booksellers—hundreds of them.
"I'm always looking for something excellent that is not at Barnes and Noble."
When asked what the hardest thing is about being a bookseller, she replied: "Not getting to read while I am at work."
Walentine's time is filled with waiting on her customers.  Eventually she will have a manager to assist her, but for now, it's a one-woman show.
Her advice for being a successful business owner is having excellent customer service, not taking anything for granted, be thrifty with your resources and being mindful of your spending.
"An example is paying attention when sales representatives let me know that there are certain books on sale and shopping when the sales are on."
She's always looking for opportunities to save money. A friend donated some tables for her to use and another table was plucked off the street with a "free" sign hanging from it.
"I do my own marketing, my own Facebook and my own social media."
Walentine loves the Central Avenue neighborhood because it's in a location where tourists will come by looking for local shops and people like to hang out in the area.
"A whole lot of different people come in. I love that."
All of her books are by diverse authors. One of the books she has is a banned book in Texas entitled "The Hate You Give."  The book demonstrates the character of a young African- American woman who fights through difficulties in life and how to move through life with obstacles in her way.
"After buying this book, I loved the results. My family members decided to read this book as well," she revealed.
Part of Walentine's personal mission is diversity, which is one of the reasons she left Asheville. She said there wasn't as much diversity and the little it had was diminishing.
"I love the diversity here and I want to serve the market and it's just really important to me.  Reading is about learning about people who are different from me. I want to understand how people work and who they are and how they live."
Her most exciting moment since Tombolo Books opened was when a woman bought a bunch of books and canceled her Amazon order while she was in the store. The woman said she wanted to buy from someone who was growing their business rather than giving her money to a mega corporation.
Branching out all around, Alsace Walentine gives a helping hand to our town.
Kayianna Hughes is a seventh grader at Academy Prep in St. Petersburg. She plans to become a photojournalist.