USF's Athletics Department partnered with Habitat Pinellas and West Pasco to volunteer on build sites.
PINELLAS PARK — The University of South Florida Athletics Department recently provided hands-on opportunities for its student-athletes to give back to the community. The partnership with Habitat for Humanity of Pinellas and West Pasco Counties brought coaches, players, and alumni from the university's football and basketball programs to volunteer on build sites in Pinellas Park.
On Friday, Sept. 24, the USF Men's Basketball team and coaching staff were on-site volunteering alongside Cynthia Thompson, a future Habitat homeowner. Thompson is a single mom to her 10-year-old daughter, Abbey, who is a cancer survivor.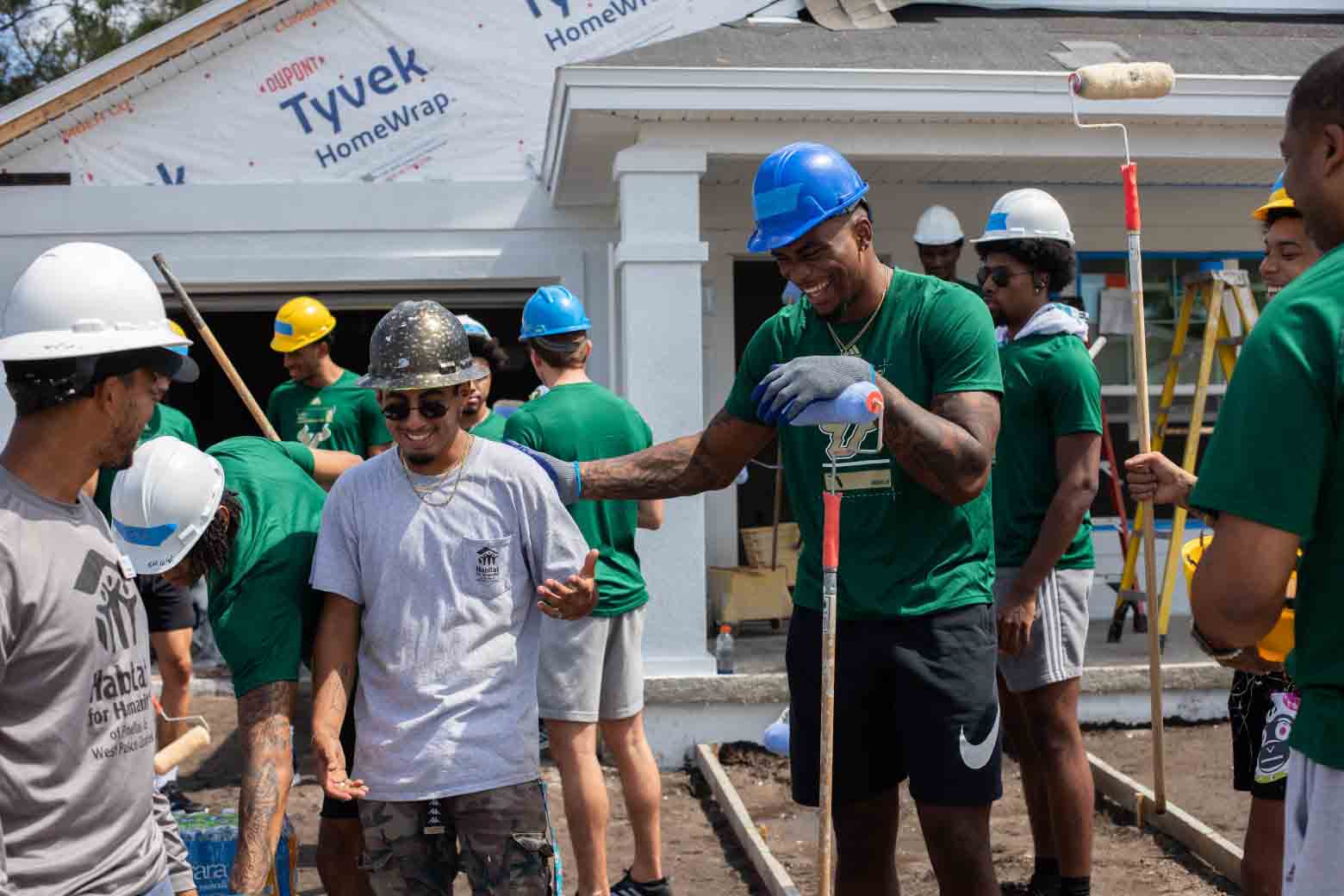 The Fishman Family Foundation sponsored the Thompsons' home. Jeffrey Fishman is a Habitat sponsor through his foundation and his company, Investors Title, and a USF Alumni and donor.
Abbey recently won her battle with cancer and is finally cancer-free but struggled with being in and out of the hospital for nine months.
"She had four surgeries and four weeklong rounds of three types of chemo. It was rough, and moving into my own place didn't seem realistic." The Thompson's will be moving into their safe and affordable Habitat home on Nov. 19.
Earlier this week, the USF Football team decided to jump in. Volunteers from the team were on multiple sites in Tellor Estates. Soon to be home to 75 families, Tellor Estates is the affiliate's largest development to date. USF student-athletes completed projects such as landscaping, painting, and installing hurricane shutters.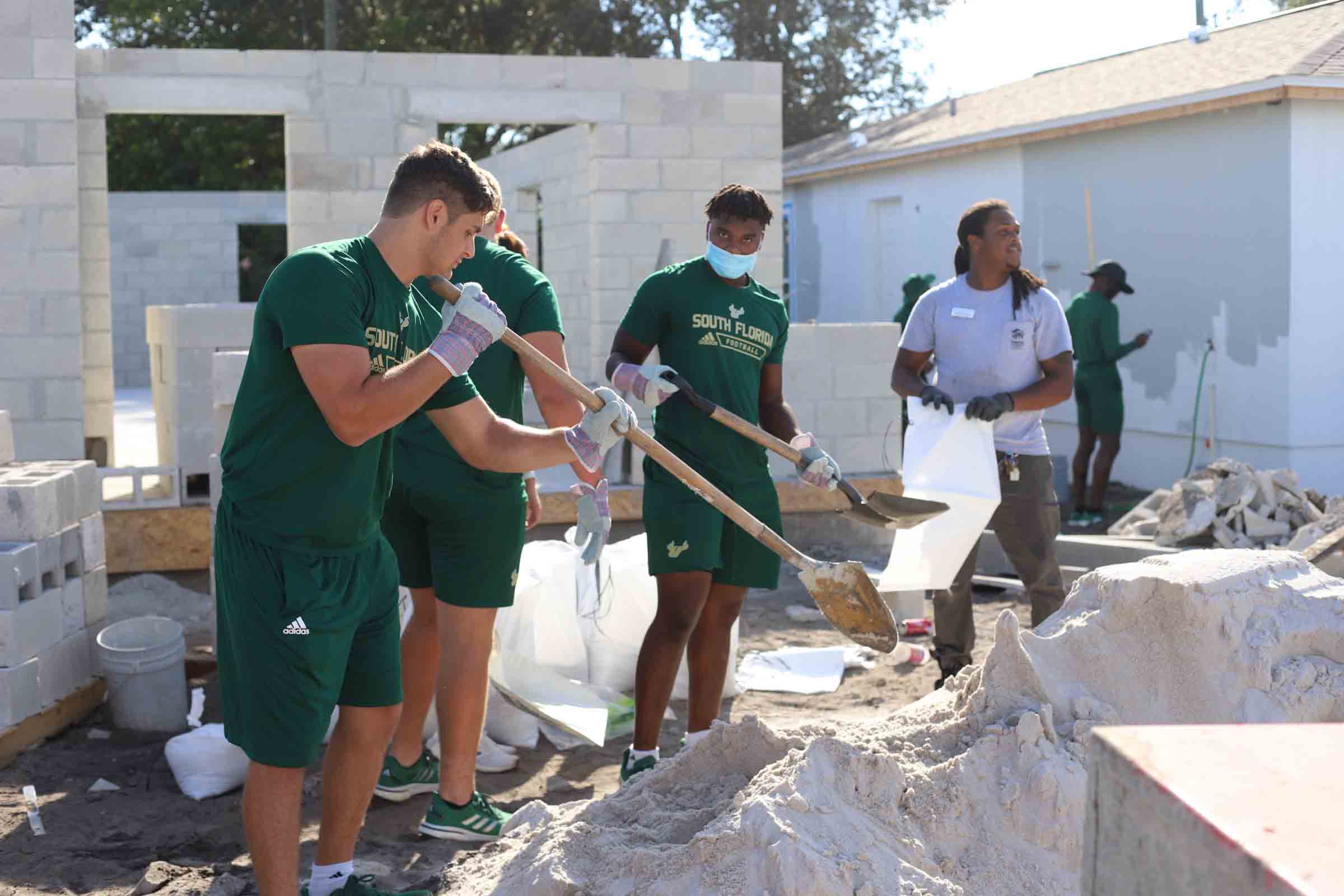 One volunteer home site includes that of Habitat's homeowner partner family, the McCammons.
"What volunteers are doing for families such as ours will never be forgotten. With this house, my kids will finally feel secure and have a place to call home," said Sherri McCammon, mother of five. The family's home is to be dedicated later this month.
Habitat sponsor and USF alum Fishman connected with the team, making a great partnership between the two organizations.
"Given the fact that we're in a pandemic, the team hasn't been able to do any kind of community service, which is important to USF athletes to give them a realistic picture of the community. Volunteering with Habitat and being outside on the build sites is a great opportunity to get the team out in the community, so I was happy to help make the connection," said Fishman.
"The opportunity for us to partner with University of South Florida Athletics and have volunteer efforts for a number of Habitat homes just means that more families will be closer to the end goal of receiving their keys," said Mike Sutton, president and CEO of Habitat for Humanity and USF alum. "We thank the athletic department, players from both teams, and Jeffrey Fishman of Investors Title and Fishman Family Foundation for this partnership to build more affordable homes in our community."
Habitat for Humanity of Pinellas County and West Pasco Counties
Since 1985, Habitat for Humanity of Pinellas and West Pasco Counties has served over 900 families and individuals through its new home buyer and neighborhood revitalization programs using locally raised funds.
Volunteers and the future homeowners construct the homes, which are sold at no profit and financed with a zero-interest loan. Habitat homeowner candidates earn 30 to 80 percent of area median income. Candidates must demonstrate the need for adequate shelter, the ability to pay back a zero-interest loan, and willingness to partner with Habitat to invest 350 to 450 "sweat equity" hours.
Mortgage monies are used to build even more homes, making each donation to Habitat a perpetual legacy to the community. Habitat believes that homeownership contributes to family stability, leading, in turn, to community stability. Additionally, the affiliate raises funds through their two ReStores, home improvement outlets where donated household and building items are sold to the public.
For more information about Habitat for Humanity of Pinellas and West Pasco Counties, call (727) 536-4755 or visit www.habitatpwp.org.