City officials held a press conference on Wednesday, asking for help with solving the murder of K'Mia Simmons, 21, who was killed on March 30 while riding in the passenger seat of a car.
FRANK DROUZAS, Staff Writer
ST. PETERSBURG — In the first three months of 2021, homicides in St. Pete have almost outnumbered 2020's total; one day saw two separate fatal shootings – all the victims and suspects are Black.
K'Mia Simmons, 21, was killed on March 30 while riding along in the passenger seat of a car as multiple gunshots were fired into the vehicle at the intersection of 18th Avenue and 22nd Street South. She was holding her 1-year-old baby when she was shot, as her 2-year-old child sat in the back seat. Neither the male driver nor the two children were harmed.
Dquaz Davis, 20, was shot to death in front of a residence near the intersection of Fargo Street and 13th Avenue South. He was taken to a local hospital, where he died of his injuries. Paul Alexander Reaves, 21, and Ajay Alvarez, 19, have been arrested in Davis's fatal shooting.
Mayor Rick Kriseman and Police Chief Anthony Holloway, speaking from the St. Pete Police Department the day after the shootings, made public appeals for the gun violence to stop. The mayor cited a Time magazine article that noted 2020 was the deadliest year for gun violence in 20 years. But that story, the mayor said, was not the St. Pete story in 2020.
"Thanks to our community, our police chief, the men and women who wear the uniform every day, and the countless policies and programs we've had in place since 2014, we've managed to hit some record lows in violent crime," he said. "We've done a good job — until now."
Kriseman, flanked by city council members Lisa Wheeler-Bowman and Deborah Figgs-Sanders, then made a direct plea to the community, hoping the right people were listening: "Put the guns away! Please!"
No problem is worth taking a life, he stressed, and every homicide is two lives lost — the deceased and the murderer. The mayor allowed that this pandemic year had been a particularly tough and stressful one, and it may have played a role in the nationwide increase in gun violence.
"And so, our work must continue," he said, citing anti-crime initiatives such as "Not My Son" and "Enough is Enough," and the city's community-oriented policing as factors that have worked in the past to curb violent crime.
"This is St. Pete," Kriseman said. "We are a safe city. We are a loving city. We are a healthy city, and gun violence has everything to do with public health. We are better than this, and we will keep working every day to make sure of that. But we need some folks to think twice about their actions. We need them to understand that pulling the trigger is a final act. Once it's done, there's no turning back."
Holloway made a similar appeal: "These homicides have to stop in our city! It has to end today!"
This year the city has seen 12 homicides and one case of manslaughter, the chief said, compared to last year's total of 15 homicides. The 12 homicides were all African Americans, and 11 of them were killed by gunshots. Every one of the suspects is African American, Holloway said.
"As an African American, this pains me," the chief said.
Since the creation of the Not My Son campaign in 2016, St. Pete saw a considerable reduction in the number of violent deaths of Black teens. Now, Holloway said, we need to ask the community for help again. We need to stop settling our differences with guns, he underscored.
"We're losing too many of our residents to homicide and incarceration," he said, adding that we need to focus on prevention.
The 12 homicides, Holloway said, were not random killings but cases of people trying to settle differences with lethal force. Yet once the bullet leaves the gun, it has no name assigned to it. The death of Simmons is an example of that.
"She was not the intended target, he said, "but that bullet struck and killed her."
Holloway said SPPD believes the car that Simmons was in — a Volvo sedan — was targeted, but she was not. The vehicle was stopped at a stop sign when another vehicle swerved around it to block it, and a shooter then fired into the Volvo. The male driver of the Volvo left the scene with the two small children, and the chief wants him to come forward and provide any information that might lead to an arrest of any suspects.
"We want to talk to the person that was driving the car; we want to talk to anybody that was in the area that can help us find this guy that killed a 21-year-old female and shot at two babies," Holloway said.
"We are tired of this," said Wheeler-Bowman, whose son Cabretti was shot to death in 2008. "We are tired of losing loved ones."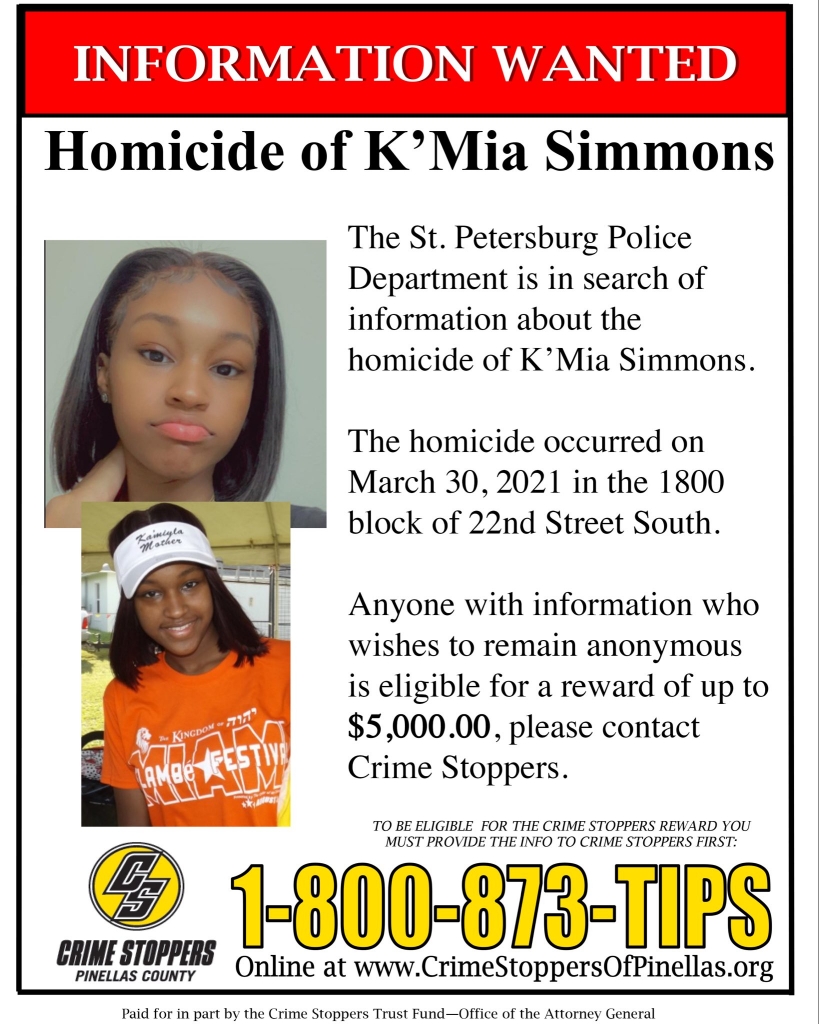 She read from a social media post she said was made by the driver of the Volvo who left the scene. "K'Mia was a good girl, went to school, all that, did whatever for her lil' girls," she read. "I just wanna shoot myself in the head."
Also, in the post she read, he claimed he left the crime scene because of what the police would do to him because he is a felon.
"You talk about all that, you know who was after you, and you won't come forward," said Wheeler-Bowman.  "Don't blame my police officers, don't blame me, blame yourself. Do the right thing and turn him in; you know who it is."
Still reeling from her son's death, she told reporters, "Every time there's a murder … I know what the family is feeling, and it breaks my heart. No one should have to lose their loved one to senseless gun violence," she said, holding back the tears.  "Nobody wants to stand up and do the right thing, and I'm sick of it."
Anyone who has any information should call St. Pete police at (727) 893-7780 or text SPPD plus your tip to TIP411.