Mayor Ken Welch updated St. Pete on his accomplishments in his first 100 days in office on the steps of City Hall on April 18. He also gave residents a glimpse into the future, announcing he would choose a developer for the 86-acre Tropicana Field by June 30.
ST. PETERSBURG — Mayor Ken Welch celebrated his 100thday in office on April 18, the 103rd day, on the steps of City Hall. The milestone was an opportunity to reflect on his administration's early accomplishments, evaluate how his actions align with his pillars for progress, and continue to look forward to the next steps in office.
"This is an important time for our city. It is an important opportunity to reflect on who we are as a city — to understand our history and culture, develop a clear-eyed consensus on the opportunities and challenges facing us, and to develop impactful plans or opportunity agendas, to build a path to progress for every St. Pete resident, worker, visitor and stakeholder," said Mayor Welch.
"The first 100 days have been enlightening. We confirmed just how much progress can be accomplished when we come together with common goals, unified in purpose, to address the challenges before us."
The Welch administration utilizes six principles for accountable and responsive government: in-touch, inclusive, innovative, informed, impactful and intentional equity.
These principles are applied to five pillars for progress including housing opportunities for all; environment, infrastructure and resilience; equitable development, arts and business opportunities; youth education and opportunity; and neighborhood health and safety.
By focusing on these key areas and utilizing these important principles, our administration has already increased affordable housing stock, improved internal policies to benefit city employees, reinvigorated community relationships, established new programs to boost equity, and so much more.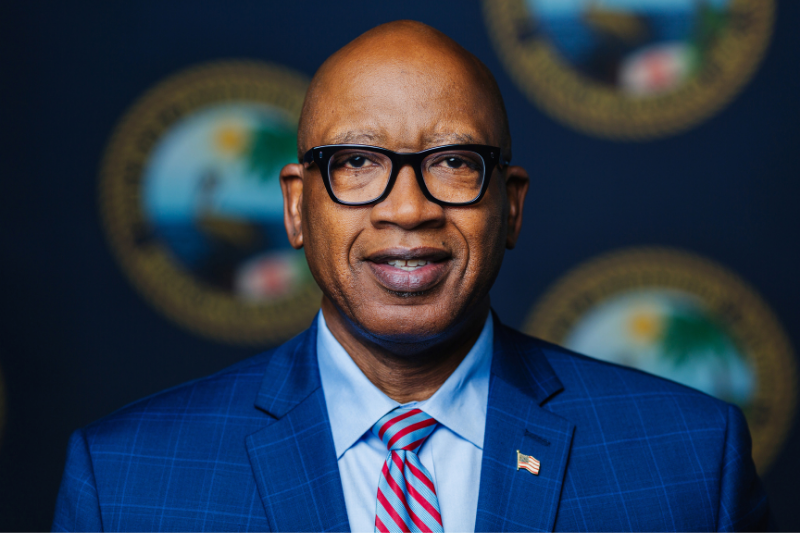 First 100 days accomplishments:
Housing Opportunities for All
— Down payment assistance for first-time homebuyers: In early February, just over a month into his administration, Mayor Welch signed off on a policy change increasing the amount of down payment assistance available to first-time homebuyers to $60,000. The city also expanded its loan forgiveness policy for the assistance, allowing full-forgiveness to those earning at or below 80 percent of the Area Median Income (AMI) after 10-years of continued occupancy in the home. For those earning above 80 percent AMI, full repayment was previously required. Under the new policy, those individuals could qualify for half loan forgiveness.
— Homeowner Rehabilitation Assistance Program: The city also expanded its program for existing homeowners to make needed improvements to their homes, ensuring residents are able to stay in the homes they already own. Under the previous policy, homeowners in the extremely low-income to moderate-income range could receive up to $45,000 for home repairs and improvements, with up to 50% reimbursement required over 15 years. The new policy increased the funding available to qualifying homeowners to $60,000 and is now offering full-forgiveness of the loan to households earning at or below 80% AMI after 10-years of continued occupancy in the home.
— South St. Petersburg CRA Developer Incentive Program-Land Acquisition Incentive: Also implemented in early February, the city expanded the amount available to developers constructing affordable single-family homes within the South St. Petersburg CRA. Previously, developers could tap into a direct $10,000 incentive for homes constructed within the CRA targeting buyers at or below 120 percent AMI.
The city added a new reimbursement of up to half of the land acquisition cost to developers, up to $40,000, if the developer sells the new single-family home to a buyer at or below 80 percent AMI. The city also increased its standard incentive from $10,000 to $15,000, with the existing 120 percent AMI threshold still in place if the buyer is already a resident renter within the CRA.
— Delmar 745: In early March, residents began moving into the Delmar 745 affordable housing project in downtown St. Pete. The project provides access to true affordable and workforce housing within a 12-story, 65-unit apartment community.
Half of the units (33) are targeted for individuals and families who were formerly unhoused. The city partnered with developer McCormack Baron Salazar on the project, with Boley Centers providing on-site access to social services for renters.
— Emergency Rental Assistance: In partnership with Pinellas County government, the St. Petersburg City Council approved in mid-March expanding access to Emergency Rental Assistance funding from the County.
Due to increased demand for assistance, the city exhausted all of its $16 million available for rental assistance. The County agreed to make $18 million from its portion of the American Rescue Plan Act available to St. Pete residents, which was previously only accessible to residents residing within the county.
The deal also included expanding access to those who reside in motels and other short-term housing who were previously ineligible for the assistance.
Under the agreement, qualifying households will receive assistance for up to 120-days, subject to fund availability. The expanded access is crucial for St. Pete residents. More than 43% of the county's low- and moderate-income residents reside within the city, despite only 27% of the county's residents living within city limits.
— Harvard Kennedy Affordable Housing Study: This comprehensive affordable housing study completed by a team of graduate students from the Harvard Kennedy School evaluated existing challenges the city faces with affordable housing, possible solutions and future information-gathering needs.  The study sought to answer four questions: What does affordable housing mean for St. Pete; what factors have caused St. Pete's current housing crisis; what policies are most effective/ineffective for addressing housing affordability; and who do various policy options serve, and who do they exclude?
The study found the price of new rentals in St. Pete jumped nearly 25 percent in 2021, the third highest increase in the nation. One reason for the increase in prices is that, as demand for housing has increased, supply has not caught up. The study found that from 2020 to 2021, investor purchases of residential land increased by 79 percent. From 2011 to 2021, investor residential purchases increased 520 percent.
Environment, Infrastructure and Resilience
— Transportation leadership: Mayor Welch has been a leader in the transit and transportation space for well over a decade, including 10 years of service as a board member for the Pinellas Suncoast Transit Authority with various stints as the board's chair. He served and continues to serve as a relentless advocate for all modes of transportation including quality public transportation that serves all citizens and visitors of Pinellas County and St. Pete.
This robust resume provides the administration with experienced leadership to continue progress in the transportation space within our city.
— New rapid flashing beacon-equipped crosswalks in south St. Pete: Part of the City's Complete Streets Plan, City Council approved, and Mayor Welch supported adding five new high-emphasis crosswalks in South St. Pete. The new crosswalks will increase safety by better alerting motorists to crossing pedestrians and cyclists.
— Skyway Trail connection: The city completed in March a new trail connection from 34th Street to the Skyway Trail along 30th Ave. South, called for in the Skyway Marina District Improvement Plan. The new connection links the Skyway Trail to the Clam Bayou Trail, the Bayway Trail and the Pinellas Trail, providing a safe pedestrian and cyclist corridor to benefit local residents, workers and visitors.
Mayor Welch supported adding a new high-emphasis crosswalk serving the connection at 30th Ave. South and 37th Street to allow residents in surrounding neighborhoods to have safe, convenient access to various trails. Mayor Welch approved moving forward with funding the design and construction of the new crosswalk as well as four others in South St. Pete.
— Safe Streets Pinellas: This month, the administration agreed to sign onto the Safe Streets Pinellas Vision Zero approach to traffic safety. Initially launched by Forward Pinellas, the agreement augments the City's Complete Streets Program to guide the city toward safer streets for all roadway users. The administration is also seeking a sidewalk masterplan to ensure safe pedestrian corridors.
— 2022 Regional Resilience Summit participation: Mayor Welch joined other area Mayors and City Council Vice Chair Brandi Gabbard for the leadership summit, including in a panel discussion with other area Mayors to better collaborate on regional sustainability and resilience.
The Summit tackled issues including affordable housing, stormwater infrastructure, electric vehicle accessibility, multi-modal transportation and funding, including targeting federal funding, and the need for increased cooperation on ways to adapt to climate change.
— Federal funding opportunities for our Integrated Sustainability Action Plan: Congress approved $1.2 trillion in its Infrastructure Investments and Jobs Act to provide competitive funding opportunities for states, cities, towns and municipalities for various infrastructure programs including $73 billion to update electric grids, $65 billion for broadband, $47 billion for climate resilience, $21 billion for environmental projects, $15 billion for removing lead service lines and $7.5 billion for electric vehicle charging stations.
The administration is pursuing grants under this program, prioritizing projects within the Integrated Sustainability Action Plan. The goal is to pursue funding for projects that fit within the federal framework, but that also fit within the city's plans to position St. Pete as a sustainable and resilient location. Our Office of Sustainability and Resilience, Public Works, Engineering, Capital Improvements and city administration are working with the city's grant team to identify attainable funding opportunities.
Equitable Development, Arts and Business Opportunities
— Tropicana Field site redevelopment: City officials this month sent a list of 15 questions to two prospective Tropicana Field site developers — Midtown Development and Sugar Hill Community Partners. As he pledged on the campaign trail and in the early days of his administration, Mayor Welch is committed to ensuring the eventual developer's plans for the city check all five of his administration's pillars for progress and principles for accountable and responsive government.
The additional questions seek to provide further clarity on how plans can adapt to changes that have occurred since the proposals were first developed, including new supply chain challenges and labor shortages resulting from the COVID-19 pandemic and new projections for office space as more and more businesses have adopted work from home and hybrid office models.
The questions also address developers' knowledge of the city's structural racism study showing Black residents are disproportionately prone to lower wages and higher mortality.
One key component of the latest round of inquiries involves developers' commitments to honoring the community that was displaced by Tropicana Field's initial construction, then known as the Gas Plant district. Mayor Welch is demanding equity for that community in any redevelopment plan.
— Implementation of the CBA: In 2021, City Council approved the Community Benefits Agreement program as a major step toward more equitable economic growth. It creates a process that considers the social and community impact of major development plans.
The city launched the program last month by requesting applications for the newly created Community Benefits Advisory Committee (CBAC) — a non-partisan board that advises the Mayor, City Council and the citizens of St. Pete on implementation of the City's Community Benefit Agreement Program (CBA Program).
Internal milestones
— $15 minimum wage for ALL city employees: St. Petersburg City Council approved a $15 minimum wage for City employees in 2015, but it left some employees behind through a carve-out for part-time employees with fewer than five years' experience with the city.
The Welch administration believes all its employees should have access to a livable wage and eliminated that loophole by expanding the $15 minimum wage to all employees, regardless of hours worked or experience on the job.
— Structural racism: Following up on a structural racism study, Mayor Welch has moved forward with funding for a new Equity Office within city government, a recommendation that is now being fulfilled.
The city commissioned the University of South Florida to conduct a structural racism study in 2021, which found increased mortality rates among Black residents fueled by reduced access to healthy food, health care, affordable housing and stable job opportunities.
Work on additional recommendations is underway, with plans to workshop next steps with a facilitator and a meeting with the administration to update action plans in the coming weeks.
— Implementation of disparity study recommendations: The city commissioned in 2019 a Women-and Minority- Owned Business Enterprise Availability and Utilization Disparity Study to examine the extent to which disparities exist in the city's procurement practices and use of qualified minority and women-owned enterprises as contractors and subcontractors.
We are beginning the process to create equitable economic opportunity by increasing our contracting with diverse suppliers and vendors for professional services, construction, and other goods and services. The city has begun to implement recommendations from the disparity study, starting with selecting David Malone as the City's new Director of Procurement. With a new leader to helm the city's procurement procedure changes, we intend to eliminate historic barriers to city contractor participation.
In addition to city policies, feedback from our local women- and minority-owned businesses has guided our decision to launch programs that will build and nurture a pipeline of certified diverse suppliers with skills and services accessible to the City and all businesses.
We are in-touch
— Reestablishing relationships with Rays, community partners: Mayor Welch knows that success is a team effort, and progress is best accomplished when we work together. That's why he's made rebuilding relationships a top priority in his first 100-days in office, including with the Tampa Bay Rays, County Commissioners, members of City Council and community stakeholders and residents.
Mayor Welch has met with Rays leadership several times to discuss the team's future in the region. Talks have been positive, and the Rays' executive team has renewed its commitment to working with the city and other partners on plans moving forward.
Conversations about the future of Major League Baseball in St. Pete also include open dialogues with County Commissioners, many of whom Mayor Welch served with during his two decades as a County Commissioner.
— Community Conversations: Partnering with the Foundation for a Healthy St. Petersburg, the Downtown Partnership and the University of South Florida St. Petersburg, Mayor Welch held three Community Conversations Dec. 10-13, two in-person and one virtual, to hear from members of the St. Pete community about their opinions on five areas: housing opportunities for all; equitable development and business opportunities; environment, infrastructure and resilience; education and youth opportunities; and neighborhood health and safety.
Residents and stakeholders were later asked to rank themes identified into their top-three areas of concern. The results are being used to further develop priority issues.
Looking Forward
— New affordable housing: Construction is currently underway on The Shores, located at 31st Street South and 26th Avenue, which will include 51 affordable units, and at Jordan Park, which includes a new 60-unit affordable housing building and the renovation of 206 affordable rental units.
Last week, we received support from City Council for a new 264-unit apartment development near Gibbs High. All the units will be affordable and workforce housing, some to families making 50 percent of the Area Median Income (or about $12/hr.). This is the first development of its kind in the state under HB 1339, which allows municipal governments "to approve development of affordable housing on any parcel zoned for residential, commercial, or industrial use." This is how innovation, collaboration and common purpose move us to success.
Work is currently underway to expand zoning for Accessory Dwelling Units and Neighborhood Traditional Multi-Family (NTM) zoning districts to create opportunities for more affordable housing options.
— Youth Opportunity Agenda: Economic mobility and the opportunity to create wealth is what every individual and family in St. Pete deserves. Learning skills, critical thinking, and even how to pay bills and manage finances is part of a lifelong continuum. It begins with youth engagement and education by reimagining how we put them on a trajectory for success.
As technology takes hold in every industry, we must be innovative in our approach for providing resources and opportunities for young people to master these skills.
Our administration is taking a deep dive into existing infrastructure — our city internship program, after school programming and mentorship opportunities — to identify areas where we can expand, build and excel.
Click here for more accomplishments.