BY Keisha Bell
One's vote is one's power. Knowing how to read and how to comprehend are critical components in maximizing that power. It is no surprise then that there has been, and continues to be, great pushback for ensuring these things for our nation's poor and minority groups.
The Voting Rights Act was signed in 1965, yet far too many are still fighting for the right to vote. Do you ever wonder if those fighting with you are truly fighting with you? Progress does not have to be slow, especially when you vote.
Meet Amelia Isadora Platts Boynton Robinson. (For this article, she will be referred to as "Boynton.")
Boynton lived from August 18, 1911, until August 26, 2015. Not only was she a leader in the Civil Rights Movement, but she was also a key figure in the 1965 Selma to Montgomery marches. She was awarded the Martin Luther King, Jr., Freedom Medal in 1990.
Boynton's parents encouraged her and her siblings to learn how to read. As a youth, she became involved in campaigning for women's suffrage. In 1927, Boynton obtained a degree in home economics from what is now known as Tuskegee University. Note, Boynton also studied at what is now known as Savannah State University, Tennessee State, Virginia State and Temple University.
Born in Savannah, Ga., by 1934, Boynton had relocated to Alabama. Its state constitution sanctioned discriminatory practices, which in effect excluded African Americans from the political process. That year, however, Boynton registered to vote.
By the early 1960s, there was an increase in activism in the Civil Rights Movement. Boynton was residing in Selma, Ala. In an attempt to encourage more African Americans to vote, in 1964 she ran for Congress.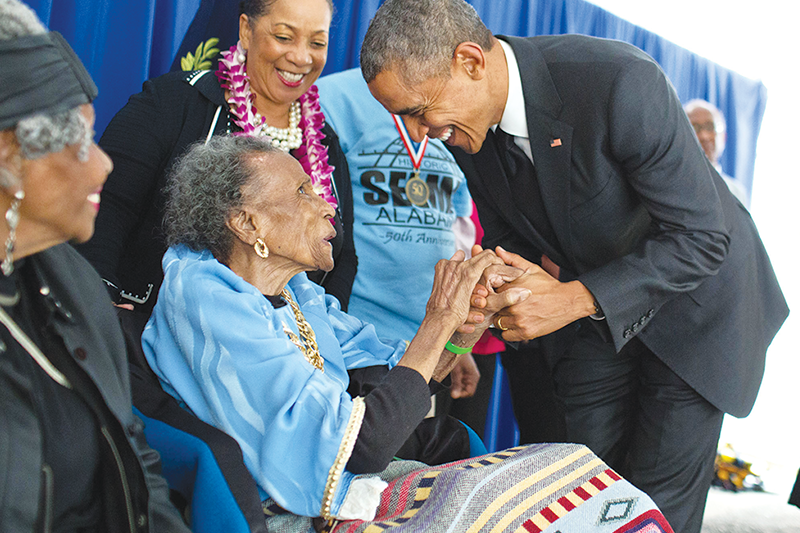 By doing so, Boynton made history by becoming the first African-American woman to run for office in Alabama and the first woman of any race to run for the ticket of the Democratic Party in the state. Boynton received 10 percent of the vote.
In 1965, Selma had a population that was 50 percent black, but only 300 of its African-American residents were registered as voters. By1966, after the passage of the Voting Rights Act of 1965, that number grew significantly to 11,000.
Boynton helped to organize a march to Montgomery, Alabama's state capital. Its goal was to protest the continued segregation and disenfranchisement of blacks.
The event became known as "Bloody Sunday" because county and state police stopped the march and beat demonstrators after they crossed the Edmund Pettus Bridge. Boynton was beaten unconscious, and a photograph of her lying on Edmund Pettus Bridge circulated around the world.
After regaining consciousness, Boynton continued to participate in marches to reach Selma. Note, the marchers continued to be deterred after crossing the Pettus Bridge. More and more people joined the march. With federal protection, finally, the marchers reached Montgomery on March 24, 1965.
The power of the people's demand for voting rights shifted the national public opinion on the issue. Soon afterwards, the Voting Rights Act of 1965 passed.
Boynton was a guest of honor at the ceremony when President Lyndon Johnson signed the Voting Rights Act into law. Some would have thought this to be a miracle, but could the miracle really have been when she regained consciousness?
Keisha Bell is an Attorney, author, and public servant. www.emergingfree.com