Wengay Newton feels the focus for some time now has been centered on downtown, and as mayor, he will bring it back to neighborhoods and communities.
BY FRANK DROUZAS, Staff Writer
ST. PETERSBURG — The St. Pete Catalyst, the Suncoast Tiger Bay Club, and Eckerd College sponsored a live, in-person forum among St. Petersburg mayoral candidates on Monday, June 28.
The event was live-streamed from the Isla del Sol Clubhouse and included candidates Ken Welch, Wengay Newton, Darden Rice, Robert Blackmon, Marcile Power, Michael Ingram, Pete Boland and Torry Nelson.
Each candidate had 15 minutes in front of the invited audience to answer questions from moderator Kelly Kirschner.
Newton, a St. Pete native that served eight years on the City of St. Petersburg City Council, is vying to become the city's next mayor. As he has also served four years in the Florida Legislature, he said this experience has helped him build bridges and relationships that will help him move the city forward.
"I think now is the time to make sure we have a leader and a mayor who is not partisan," he said, "and get rid of this partisan bickering. We also [need to] make sure we have a relationship with Tallahassee."
Newton said St. Pete is thriving, but the city needs to focus on areas that have been neglected, and he favors STEM middle schools and vocational institutions to create opportunities for young people.
"We can talk about affordability. It's all relevant to the money you make," he noted. "And if we don't provide opportunity for these young kids, then that's not going to happen."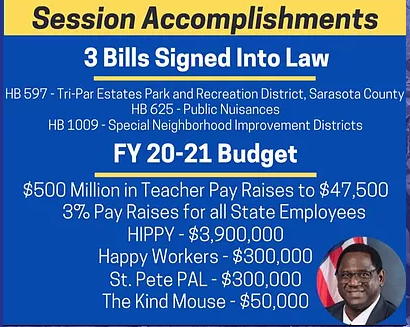 Newton served on the council when there was significant sewage overflow and acknowledges that securing state money for infrastructure improvements is vital.
"Because we don't have a relationship currently with Tallahassee, you suffered a 43 percent increase in your sewage rates," he said. "If you don't have a relationship to be able to draw down those funds from Tallahassee and use them in the city, you're going to build this infrastructure on the backs of people who cannot afford it."
As downtown zoning generally allows for large-scale development, Newton said zoning and planning are essential when it comes to preserving a Main Street feeling of Central Avenue and its historic charm.
"What's happening now is we've got a lot of out-of-state billionaires or millionaires coming in, buying up blocks, building stuff high as they can get it, blocking out the sun for people that want solar," he said.
"What we're going to need to do going forward is revisit that and to make sure that we've got the proper zoning in place, because truth be told, if you own the property and it's allowed, you get to build it — it's called property rights. But when they come in and ask for variants and zone changes, that means it does not fit. If it does not fit, we shouldn't be doing it."
Concerning the rising cost of living in St. Pete, where locals being priced out of the market, Newton said he wants to ensure that people can afford to pay mortgages rather than high rents. He supported increasing the minimum wage and better educational opportunities, such as STEM schools, which ultimately led to higher earnings.
"My philosophy is if you're paying a $1,000 to $2,000 a month rent, you're already paying a mortgage; it's just not yours," he said. "I want to make sure they have the proper financial literacy so they can get a mortgage and own a home."
On moving forward with the Tropicana site redevelopment project if he is elected mayor, Newton said there is a place for affordable housing and businesses in that area, but he'd also like to repay some of the damage that was done by the state to what was once a bustling area for African Americans.
"If you don't know, that was our Black Wall Street," he said, adding that 85 cents of every dollar that came into those Black businesses stayed in that community. "When they ran the interstate for their own purpose then dropped the Trop on top of it, it was dire. So now you've got impoverished areas just across the street from somewhere where they're making millions if not billions of dollars.
"So, I want to make sure with that billion-dollar development potential, first and foremost, I want to try and get it drawn back into the Southside CRA."
As for working with Tallahassee's Republican majority to benefit the city, Newton said he has already been working for years with state officials to get needed resources and results, adding he "does not see party."
"I got legislation passed, I brought home appropriations," he said. "The relationship's important."
Newton believes the citizens should have input on generating the city's annual budget, saying, "We should go near and far and talk to everybody we can and invite them in, let them see what we're doing."
"My attention is going to be first and foremost back to these neighborhoods and these communities," he said, adding that the focus for some time now has been centered on downtown. "But for people that own these homes and own these properties, they're paying the freight."
Newton asserted that his oath of office affirms he is a recipient of public funds.
"So, by virtue of that, I work for the public," he said. "If they've got a problem, I've got a problem. I governed that way in '07; I'm going to govern that way in 2021 as your mayor."
For more information on Newton's views, visit www.newt4mayor.com.
To reach Frank Drouzas, email fdrouzas@theweeklychallenger.com